They say necessity is the mother of invention, and that's an adage that certainly rang true for Sarah and Nick when hunting for their perfect family home.
Project notes
The owners: Sarah Constantinou, a business consultant, and her husband Nick, a senior project manager, live here with their daughters Freya, 12, and Harriet, seven
The property: A detached, five-bedroom architect-designed home built on to an existing bungalow in Hardingstone, Northampton
Total project cost: £245,000
'Looking back, I think it was desperation that made us consider this project!' laughs Sarah. 'We'd spent two years looking for a detached house with an open-plan kitchen, decent-sized bedrooms and a south-facing garden, but we just couldn't tick all the boxes with any property we viewed.'
The couple had been living in a converted Victorian workhouse with daughters Freya and Harriet and while they loved the building's character, they were fast outgrowing it.
'When this dated bungalow came up for sale in a lovely village close to the girls' school, we decided to take the plunge and alter it to get what we wanted within our budget,' reveals Sarah.
A large hallway painted in Farrow & Ball's punchy Stiffkey Blue greets you as you step into the family's home. Sarah and Nick sourced the white staircase from Northamptonshire Joinery. Armchair, Made.com. Mirror and stars, both from Homesense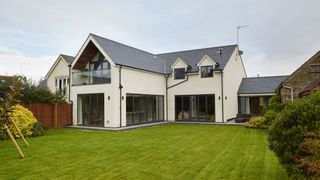 Aluminium bi-fold doors and windows by Opus Windows maximise light entering the house. An off-white render and slate roof tiles create a crisp, modern exterior
The couple had never even put a new kitchen in a house before, let alone done any building work, but with guidance from architectural consultant Lee Randall, who was recommended to them, they planned to reconfigure and build upon the existing bungalow to create a two-storey family home.
The bedrooms, bathroom and kitchen would be turned into a lounge, office and playroom. To the rear, the previous living and dining room, study, utility and WC, which were arranged in an L-shape overlooking the garden, would be redesigned to create an open-plan living-dining area leading through to a spacious kitchen, with swathes of glazing to flood the space with light.
A comfortable corner sofa and footstool from Ikea echo the footprint of the kitchen-diner, which links to the kitchen through an archway. Limestone flooring from Quorn Stone runs throughout the ground floor. For similar cushions, try Matalan. Rug, Ikea
Another storey would then be added, housing a master bedroom with dressing room and en suite, two further en suite bedrooms for the girls, two guest bedrooms, and a family bathroom. The existing brick façade and new upper floor would be rendered in off-white with aluminium windows added to create a more contemporary look.
One of the couple's criteria for the house was plenty of room for guests, as neither of their families live nearby and often come to stay. Furniture, Ikea. Blind and cushion, made by local curtain maker; for similar, try Blinds2Go. For similar lamps and light, try Homebase. Mustard throw, John Lewis
Sarah and Nick made an offer on the bungalow, subject to planning permission being approved.
'It sits just outside a conservation area, so we had to be sympathetic to the character of the houses nearby by putting real slate on the roof and minimising glazing at the front,' she explains. 'Luckily, the planners recognised it was an improvement on what was there and we had approval within four months.'
The 1970s bungalow was small and dated, but Sarah and Nick could see the potential to renovate and extend
The process hit a bump in the road, however, when the sale of their own property fell through due to a flood from a broken pipe.
'Thankfully, the couple we were buying from waited until it was repaired and we sold again, but it took 15 months before we finally got the keys to this place,' recalls Sarah. Building work started immediately, with the family moving into a rented property as they didn't want any disruption for the girls.
The colourful playroom with its comfy beanbags is a great hangout for Freya and Harriet, keeping all their toys in one place. Carpet, Whilton Locks. For similar lighting, try Next. Beanbags and pouffe, Homesense. Wall painted in Farrow & Ball's Stiffkey Blue
The couple took out a build mortgage to fund their project. 'We had to find a specialist mortgage provider because we were building on top of an existing house,' she explains. 'One of the conditions was that it had to be eco-friendly, so we had to improve the EPC rating, double insulate everywhere, and have energy-efficient heating, which in our case was an air-source heat pump.'
The balcony that overlooks the garden from the master bedroom was a late addition to the plans after Sarah and Nick felt that setting the window back would provide more privacy. Furniture, Ikea. Carpet, Whilton Locks. Bedlinen, Holly Willoughby at Dunelm. Curtains, made by local curtain maker; for similar, try John Lewis. The red chair was from a factory outlet; for similar, try Arlo & Jacob. For a similar ceiling pendant and bedside lamps, try Dunelm
By agreeing a fixed price with their builder and sourcing many items themselves, such as flooring, bathrooms, appliances, staircase, windows and doors, Sarah and Nick were able to closely manage their budget, despite one major setback.
'We had to reinforce the foundations when it was discovered that they weren't strong enough to take the weight of the second storey, which cost over £5,000 that we hadn't accounted for, but we managed to pull it back elsewhere,' Sarah explains.
The main bathroom has ample room for a freestanding bath and spacious shower enclosure. Continuing the grey colour scheme, it features Mimica Vanato porcelain marble-effect tiles in a mix of smooth and textured finishes, all from Mandarin Stone. Bath, tap, shower, sink and towel rail, Better Bathrooms. Shower screen, Victoria Plum. For a similar wall colour, try Farrow & Ball's Clunch in a moisture-resistant Estate Eggshell finish
Costs
Building work: £140,000
Windows and doors: £30,000
Kitchen: £27,000
Flooring: £17,000
Bathrooms: £14,000
Air-source heat pump: £7,000
Decoration: £6,000
Garden: £4,000
Total: £245,000
Sarah relished the design and decorating process, making scrapbooks for every room. 'I wanted to take the same colours all the way through the house,' she explains. 'So I chose greys with blue accents to run throughout the space.' A beautiful brushed limestone floor runs over underfloor heating through the main areas of the ground floor, with neutral carpets upstairs.
At the heart of the home is a bespoke, Shaker-style kitchen with a huge island and white quartz worktops, while the bathrooms and en suites are simple and contemporary. 'I really enjoyed the design process but I struggled choosing the bathrooms as we had one weekend to pick five bathrooms and toilets – I had a bit of a meltdown over that!' she laughs.
Sarah wanted a modern yet timeless kitchen so this Shaker design with white quartz worktops, made by Zest Kitchens, is the ideal choice. The units are painted in Mole's Breath and the walls in Purbeck Stone, both by Farrow & Ball Trio of pendant lights, Bells of Northampton. Bar stools, Lakeland Furniture. Grey armchair, Made.com. Curtains, Takara by Harlequin
Although the house was not fully finished, after 10 months, the family was able to move in. 'There were lots of jobs left to do, which took most of the following year to complete and the front lounge is still a work in progress,' smiles Sarah. Despite this, they are justifiably proud of the stylish and relaxed family home they have tailor-made for themselves and that, at last, ticks all the right boxes.
Sarah and Nick asked Zest Kitchens to design and make a vanity unit for the downstairs WC, painted in Farrow & Ball's Stiffkey Blue, with a marble top. Basin and WC, Better Bathrooms. Mirror, Ikea. Wall paint, Farrow & Ball's Worsted
Contacts