Dated rooms, faded Edwardian grandeur and a concrete bomb shelter in the garden had put most people off buying this tired old house in Grimsby's Conservation Area. By the time James and Matt heard about it and decided to take a look, it had been standing empty and forlorn for more than a year. But the moment they saw it, they fell for its faded charm.
'We had spent four years renovating a terraced house and were looking to move on,' says James. 'This still had all its original features and beautiful proportions. Best of all it had a wonderful private walled garden. A lot of people don't want big gardens these days but we loved it – and it was all within walking distance of the town centre.'
Within six weeks of seeing the property, James and Matt had sold their last house and bought their new home. They moved in full of ideas and enthusiasm and spent the first six months refurbishing the front of the house, bringing the hall, drawing room, an office and dining room up to date in their own distinctive style. There was no structural work involved, but they panelled walls, replaced a 1980s white plaster fire surround in the lounge with a mahogany one bought online for £50, and built a bar in the dining room. They also created an en suite shower room in the guest bedroom.
Profile
The owners Architect James Lockwood and his partner, Matt Tucker, a GP, live here with their dogs, puggles Buddy and Lily
The property A four-bed Edwardian house in Grimsby
Project cost £226,000
Then, in September 2018, following nine months of saving, they had sufficient funds to begin work on the back of the house, where they were creating a modern kitchen with a master bedroom above. 'After living in it for a while we knew what we wanted to achieve at the back and how it would look when it was done,' says James. 'We only built a small extension but made much better use of the space by taking out a lot of small rooms and opening it all up on the ground floor. We added lots of glass, including sliding doors onto the patio and large windows looking out to the garden.'
A cluttered series of small rooms, cupboards, doors and corridors on the floor above were also reconfigured to create a free-flowing master en suite bedroom, with a flat-roof balcony overlooking the garden. The work required planning permission from North East Lincolnshire Council as the house is in a Conservation Area, but there were no objections and their plans were passed without a hitch.
'We wanted to change the entire emphasis of the house so that it worked seamlessly with the garden,' says James. 'When we bought the property, one of the kitchen windows was facing towards the neighbours' wall and there was no clear link between the inside and outside. It made sense to reconfigure the back of the house so that the views into the garden were a major feature of the living space.'
While the changes were being made, James and Matt also asked the builders to futureproof the house by adding extra pipework from the main bathroom into the loft, so that if they decide to extend into the second floor they can include two more bedrooms and another bathroom. A further staircase could be neatly slotted into one of the existing bedrooms to create access to the loft conversion.
With the building work complete, James and Matt turned their attention to the interior. As with the front part of the house, they were keen to combine original features with modern decorative ideas and artwork, and to mix period furniture with new pieces. But one of the most important aspects of the interior for James was creating enough space for his extraordinary Lego collection. As well as having a room dedicated to Lego models, James' creations are dotted around the house and he wanted plenty of shelving on which to display them.
Open shelves also feature in the kitchen, where crockery, books and plants are easily accessible and create a homely, lived-in look. 'We chose black units and it could have looked quite cold and stark, but the open shelves, along with the warm paint colours and wooden-style tiled floor, completely transform the space,' says James. 'We love it here. There are still things to be done – particularly in the garden, where we're planning to convert a rather unsightly bomb shelter into a feature – but the house has lived up to all our expectations. It's taken a lot of hard work and time to modernise it without losing its beautiful character, but it was well worth it. It was a gem of a find.'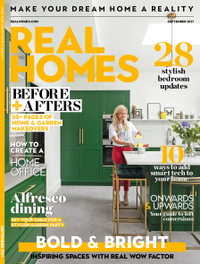 Subscribe to Real Homes magazine
Want even more great ideas for your home from the expert team at Real Homes magazine? Subscribe to Real Homes magazine and get great content delivered straight to your door. From inspiring completed projects to the latest decorating trends and expert advice, you'll find everything you need to create your dream home inside each issue.