Filled with artwork and quirky touches, Luq Adejumo's unique home is unrecognisable from the damp and dingy Victorian terraced house he bought in 2018. Smothered in pebbledash, the property had little to recommend it, with ugly windows and a shabby lean-to conservatory. 'I'd renovated my previous house in Hackney, but realised by cycling 20 minutes to Forest Gate that house prices were far more affordable there,' says Luq, who was keen to reduce his mortgage. 'I derive so much pleasure from art and wanted a home where I could still hang my large pictures, so wall space was a top priority.'
If you are planning a house extension, like Luq has done, we have lots of ideas and advice to help you.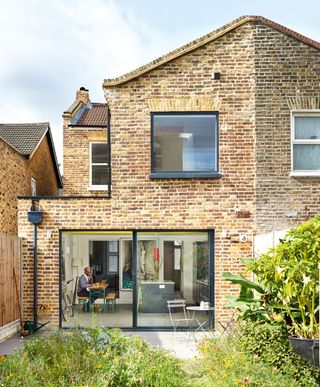 Profile
The owner Luq Adejumo is the operations director for advertising agency Saatchi and Saatchi, and is currently studying for his master's degree in psychotherapy
The property A three-bed Victorian terrace in Forest Gate, east London
Project cost £240,000
This was the very first house Luq had viewed. 'There was space and potential to create light, but also numerous challenges,' he says. He brought his builder to take a look, and consulted Christian Clemares of CCASA Architects even before making an offer. 'With a strict budget, I needed to know if my ideas for a renovation and kitchen extension were feasible, and Christian came to visit my previous home to better understand my style. I can be quite cautious, but he suggested some exciting new ideas.'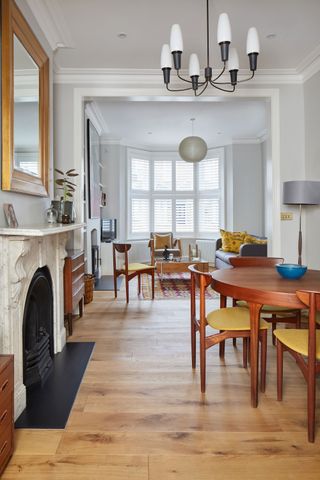 The typical Victorian ground floor layout of front sitting room, dining room, WC, and rear kitchen resulted in closed-off living spaces. A large garage in the garden took up valuable outdoor space, and the tumbledown conservatory leaked. A specialist company removed the pebbledash and cleaned the brickwork beneath, which was carefully repointed with lime mortar. 'Scaffolding went up the same week the sale completed,' says Luq. 'Taking off the pebbledash was a noisy, dirty process which took months of drilling. I was amazed at the lovely colour of the old walls, and we matched in reclaimed bricks for the extension so it appears seamless.' Luq lived in the house during the early stages of work. When the builder ripped out the bathroom, though, he moved out until the project was completed.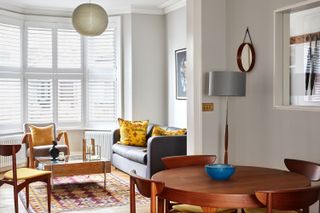 Knocking out the internal wall between the two reception rooms created a more open layout, with a new internal window into the hallway allowing light to reach the heart of the ground floor. The enlarged kitchen benefits from sliding glass doors onto the garden and a rooflight over the table, with white walls and pale grey floor tiles reflecting the shafts of natural light.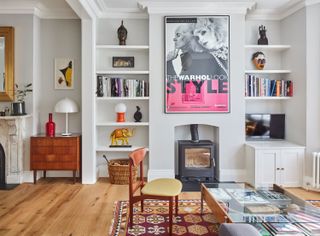 'My builder, Robert Kastner, helped to guide me while I took on the role of project manager,' says Luq, who admits he spent more than the original budget. 'I had the chimney breast removed in the third bedroom, which meant getting party wall agreements with neighbours, and we needed planning permission for the extension – there was plenty of paperwork!'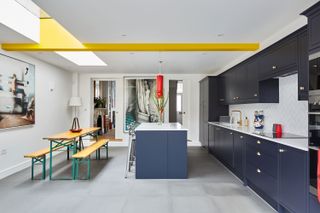 Timber sash windows were installed, with contemporary aluminium frames for the kitchen extension and rear bedroom. Luq also had underfloor heating laid in the kitchen and bathroom, supplemented by radiators. 'The kitchen's quite a big, glazed space, and it's where I spend most of my time – it's great to be able to quickly boost the heating when it turns cold' he says. Blue and brass was the chosen colour scheme for this room, with the layout designed around artwork that he planned to hang.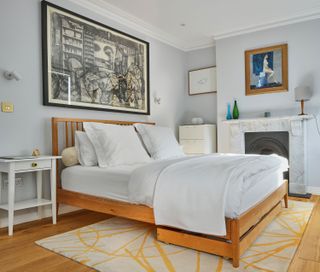 'While the house was still a building site, I bought the distinctive red metal kitchen lights,' Luq reveals. 'Then my architect suggested accenting the structural steelwork, which was painted vivid yellow for a shot of colour. Teamed with the blue cabinets, the bright kitchen colours started to resemble an abstract Mondrian painting, which makes me smile. Art is so uplifting, and seeing such a dark, damp house transformed into a calm, bright home has been a wonderful experience.'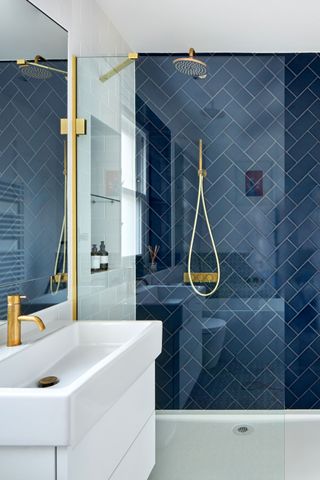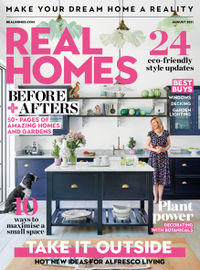 Subscribe to Real Homes magazine
Want even more great ideas for your home from the expert team at Real Homes magazine? Subscribe to Real Homes magazine and get great content delivered straight to your door. From inspiring completed projects to the latest decorating trends and expert advice, you'll find everything you need to create your dream home inside each issue.