Among the steadily growing list of dorm room must-haves a college student must have packed and ready to go, a comfortable twin mattress topper is at the very top of our list. Considering the stiff or creaky old dorm-issue mattress, do we really need to elaborate?
And it isn't just college-goers who might want to upgrade their sleep surface. The best mattress topper is a must-have for anyone living in a rented, furnished space where the bed has almost certainly seen better days. You can make your room cozy and tailor that dorm-issued bed just to your needs.
Even better, you don't need to spend a fortune to find comfort. We rounded up ten mattress toppers under $150, from sleep brands we have tested and trust, that will suit a range of sleep habits.
After that, be sure to pick up one of the best mattress protectors, especially since that dorm-issued bed might just be older than you, and to protect yourself from bed bugs, potential irritants, and more.
Cheap Twin Mattress Toppers Under $150
1. A thick mattress topper for extra cushion
Why you can trust Real Homes Our expert reviewers spend hours testing and comparing products and services so you can choose the best for you. Find out more about how we test.
Allswell 4" Memory Foam Twin Mattress Topper Infused with Copper Gel (opens in new tab) | $99 at AllSwell
Yes, you can turn your bed into a luxe cocoon without paying top dollar. The Allswell 4" Memory Foam Mattress Topper Infused with Copper Gel uses open-cell memory foam to promote airflow and wick away moisture, while antimicrobial copper gel keeps your sleep surface cool and fresh. It's also incredibly plush, and equal parts cushion and support. The only drawback? It's not available in Twin XL.
2. A firm mattress topper for extra support
subrtex 2 Inch Gel-Infused Memory Foam Bed Twin Mattress Topper (opens in new tab)| $89.99 at Amazon
If you sleep on your stomach or back, you'll definitely require a topper that sleeps firmer. Seek out phrases such as high-density foam which offers the most support for a healthier sleep. This subrtex seems to have hit the trifecta: a cooling high-density gel foam with excellent pressure relief, a breathable (and washable) bamboo cover, and straps to keep it all in place. And it comes with a 10-year warranty, so it's bound to last you all throughout college, and then some.
3. A gel foam topper to keep you cool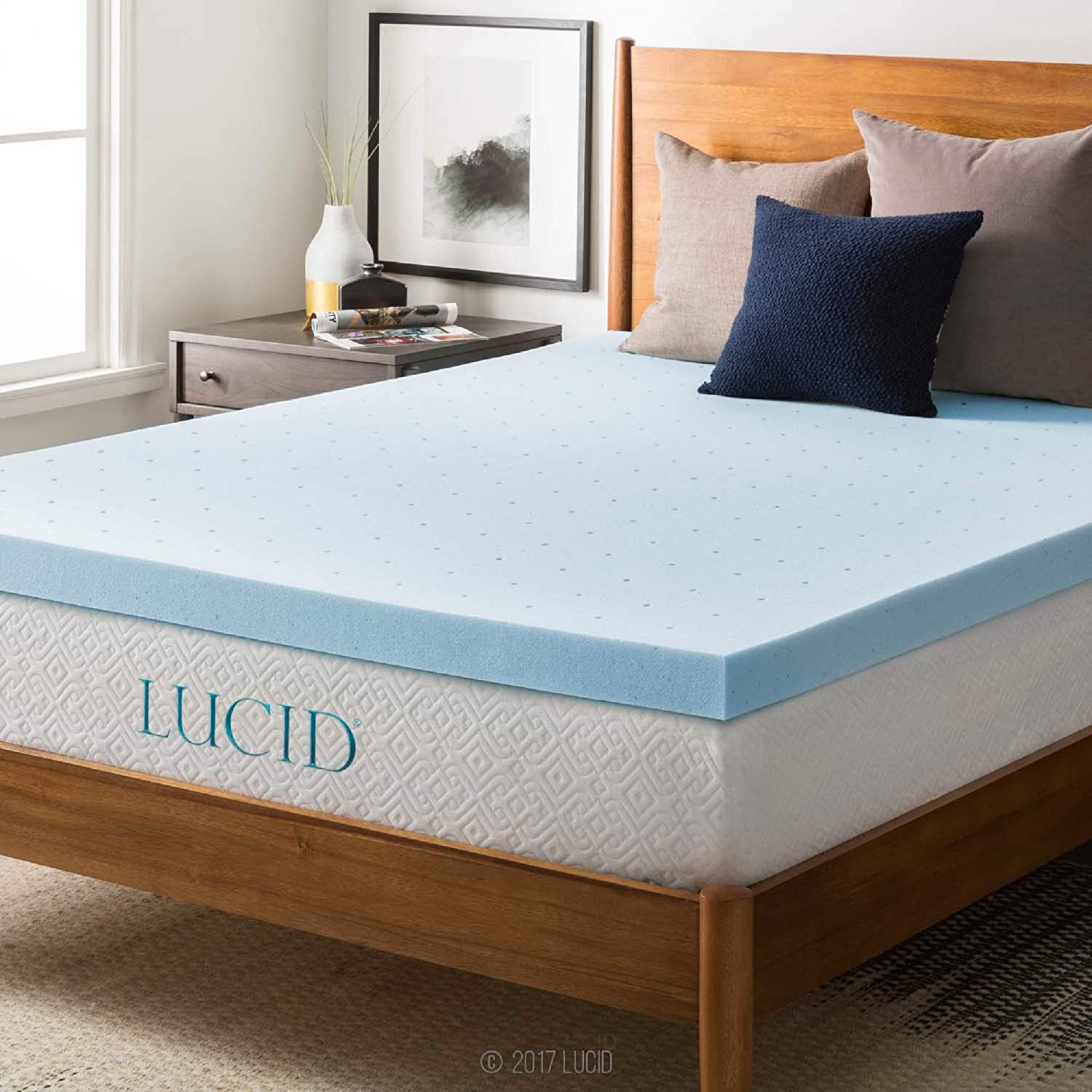 Lucid 3" Ventilated Gel Memory Foam Twin Mattress Topper (opens in new tab) | $69.99 at Amazon
There are so many reasons for choosing this mattress topper: it's super comfortable and supportive, hypoallergenic, and made of gel-infused memory foam for temperature regulation. Choose from two or three-inch thicknesses, but we're partial to the three inches.
The gel-infused and ventilated nature helps you keep cool throughout the night, but cushy memory foam is also supportive to help reduce any pain, and joint pressure, and basically cradle your body.
4. Casper, that's all
Casper Comfy Mattress Topper (opens in new tab) | $149 at Casper
Imagine our surprise when we realized that Casper offers a twin-sized mattress topper that stays under $150, barely, but it counts! The 3-inch Casper Comfy Mattress Topper has the same characteristics as its mattresses, combining a responsive top layer with cradling memory foam incorporated with AirScape to promote breathability. The soft quilted cover is removable and washable.
5. An organic mattress topper
Sleep On Latex Pure Green 100% Natural 2" Latex Mattress Topper (opens in new tab) | $145 at Amazon
On a mission to live sustainably without sacrificing your budget, Sleep on Latex definitely gives you most bang for your buck. It's made of 100 percent natural latex, or what Sleep on Latex calls Earthfoam latex foam — a specialized version that is meant to combine the best elements of Dunlop and Talalay latex foams, for a springy feel without too much bounce to it. You can choose from one, two, or three-inch depths, (though the three-inch exceeds our $150 threshold). Users consistently rate it as sleeping firm.
6. An alternative to memory foam
ViscoSoft Bamboo Mattress Pad Twin with Fitted Skirt - Extra Plush (opens in new tab)| $59.95 at Amazon
Not into memory foam? No problem! Opt for this breathable bamboo mattress topper stuffed to feel like a cloud with 750 GSM of fiberfill, while still providing all-important pressure relief. It also has a fitted skirt design to stay in place, and fits mattresses up to 18-inches thick.
7. A mattress topper that neutralizes odors and keeps you cool
Lucid Bamboo Charcoal and Aloe 2" Memory Foam Mattress Topper (opens in new tab)| $54.99 at Wayfair
Ooh here's a good one! This foam mattress topper is infused with bamboo charcoal and aloe that helps neutralize odors, stop moisture and regulate temperature to keep your bed cool and fresh. No more smelly dorm room... or at least you can't blame the mattress as the culprit.
8. A mattress topper with anti-microbial properties
9. A mattress topper to help you feel calm and relaxed
LUCID 2 Inch 5 Zone Lavender Memory Foam Mattress Topper (opens in new tab)| $44.99 at Amazon
College can be stressful. A lavender-infused foam topper subtly smells of lavender to promote relaxation and help you drift to sleep faster. The five textured zones reduce pressure at different points of body contact.
10. Stick to your budget with this reversible design
Made by Design 1.5" Reversible Wave Memory Foam Mattress Topper (opens in new tab)| $30 at Target
Yes, you can spruce up your bed on the cheap, and even have some options. While on the thinner side at 1.5", the reversible design enables you to choose between contoured and firm sleeping surfaces. The open-cell foam ensures you won't overheat. Also, since Made By Design is a Target-owned brand, you'll have up to a year to decide if it works for you.
How did we choose these toppers?
When you are on a budget, it is easy to be swayed by a low price tag. However, buy cheap, buy twice. That is why we have picked a reasonable price bracket for mattress toppers, meaning eveything on this list is affordable, but great quality. We know this because if we haven't slept on them ourselves, we have made sure they have at least four stars out of five on the retailer sites.
We were looking for a good range of toppers too, to suit different sleep needs. And of course, as we do when we test the best mattresses, we were looking for comfort and support.
Read more about how we review products.