Whether you can't help but snack in bed or if the "no dog on the duvet" rule did not last as long as you'd intended, every bed is deserving of a good waterproof mattress protector. As the place where we rest, restore, and scroll through TikTok on the reg, of course, a good protector will shield your mattress from spills, crumbs, and all the rest that comes with spending so much time in this space.
From the obvious things you want to protect your mattress from to the less obvious like mould, mildew, muck, dust mites, and more (gross we know), mattress protectors are pretty hardcore. Although they can get a bad rep for being too noisy, as some are made from plastic, thankfully there are now more sustainable finds out there that won't interrupt your sleep. As big eco and sleep advocates at Real Homes, we've tested five top-rated picks on the market to see whether they truly pass the waterproof test all while supporting your sleep and eco cred.
The best waterproof mattress protectors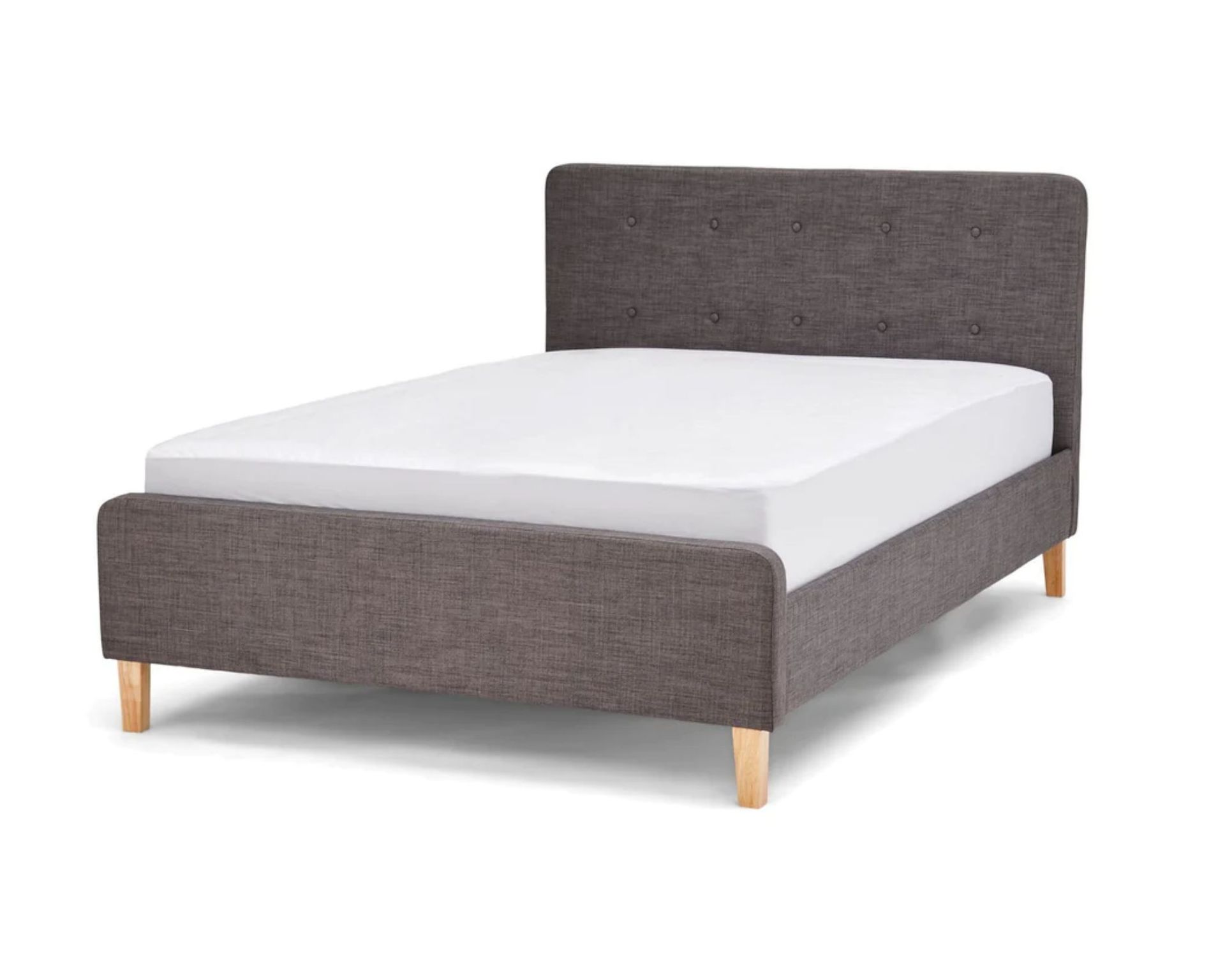 Our rated best overall mattress protector stands out on top for quality, practicality, and price. It can be washed up to 90°C for an extreme anti-bacterial clean, but it shouldn't be tumble dried to avoid it flattening.
Features
The Nectar mattress protector is 100 percent waterproof, ultra-breathable, and eco-friendly. It won't cost you, or the earth. Made from sustainable Tencel jersey (here's the science: it's extracted from natural wood cellulose and manufactured into a very soft and ultra-breathable fabric), it's much more absorbent than cotton and cooler than linen. You can tell that Nectar put a lot of effort into making this product really comfortable to sleep on.
Did it pass the test?
All of this wouldn't mean much if we hadn't experienced an awesome night's sleep. Thankfully, we slept soundly without any noise, which is surprising from a waterproof option. To test the waterproof claim, we simply poured a cup of water on the protector and saw it slip right off without any seeping through the fabric. We wouldn't expect anything less from these mattress specialists.
For maximum mattress protection, whether your mattress is new or old, this Emma option has glowing reviews. It's breathable, comfortable, and water-resistant, plus, it can be washed and left out to dry.
Features
It's made from 100 percent polyester (which we aren't that keen on). However, this does mean that it's fairly cushioned and Emma says that it's antibacterial. Thanks to special fibres, it's great for those with allergies as it prevents dampness in your mattress. In fact, it shows 89.3 percent fewer dust mite allergens compared to other conventional covers.
Did it pass the test?
Our Head Ecommerce Editor Annie has had this on her bed for more than a year and it's safe to say she hates sleeping without it. Not just because she's clumsy, but it actually adds a thin cushioned layer to your mattress and it stays on even when your fitted sheet has given up during a night of tossing and turning. It makes it easy to keep your mattress in tip-top condition and thanks to its waterproof features, as a clumsy person who enjoys breakfast in bed with her coffee, Annie can vouch for the fact it will protect your base through all kinds of accidents.
Favouring practicality over comfort, Panda's mattress protector is the most water-resistant on this list, whilst of course, holding high eco-credentials. Oh, and you can wash it at a higher temperature than most. Even better.
Features
It has Nano TPU™ top material that's completely waterproof without feeling plasticky or stiff when slept on. Despite the techy name, it's a fabric that's soft and natural without absorbing any warmth or moisture from perspiration during the night. It's crafted from bamboo and cotton which are great eco-friendly alternatives to polyester and other synthetic options.
Did it pass the test?
Simply going off what other reviews say, you can't get much quieter waterproof mattress protectors than this one. And having tried it myself, I definitely agree. I (like most) need a comfy and squeek-fee sleeping surface and honestly, I almost forgot this protector was made from a plastic-based fabric as it was so quiet. I did notice however that it wasn't as cosy feeling as cotton. But for the price, it's still a pretty good pick.
For the hot summer days or the sleepers that suffer from night sweats, this best cooling mattress protector (and best pillow too), from the Rem-fit Snow collection, really lives up to its name. Plus, it's entirely machine washable so you can wash, dry, and have it back on before bedtime.
Features
Featuring Nordic chill fibers that work to dissipate body heat up to 10 times faster than breathable cotton, Rem-fit's protector creates a cool sleep environment so you can drift off quicker and stay in slumber for longer. Though not just best at getting you a good night's sleep in summer, it also regulates body temperature to keep cold sleepers cosy. It also has a membrane barrier so you can be allergy-free as well as sweat-free.
Did it pass the test?
We've compared this against other protectors with cold-to-the-touch properties but this Rem-fit option kept Real Homes' reviewer Millie Hurst the coolest. Tested through heat waves and high temperatures, Hurst felt the difference after putting this on the bed. You may be able to buy a cooling mattress pad at a cheaper price, but it won't rank as best at its job of protecting you and your mattress from summertime side effects.
Those on a tight budget will be glad to find this super cheap option from Silentnight. You can pick it up with your next Amazon order, when you're out doing your supermarket shop, or simply on Argos.
Features
For the price, this waterproof mattress protector does what it says on the tin. It's fully hypo-allergenic to keep irritating allergic reactions at bay. A great no-frills option. Like our other simple picks, this waterproof mattress protector is easy to care for; simply pop it into the washing machine at 40°C.
What the reviews say
We've not tested this one out, but we don't believe that's entirely necessary. Silentnight is a well-trusted brand for all your sleep necessities, and they never fail to offer everything you need for a good night's kip, without having to spend so much. Compared to some higher-end options, users did report it rustled a little when moving about but found this tended to disappear after a wash.
---
Real Homes reviews process
At Real Homes, we like to review the best products for you, so we can try, before you buy. This means sleeping on, in or trying out the bedding buy for ourselves, looking at what other customers have to say and testing them against claims. We aim to test everything in person, which is true for all of the mattress protectors on this list.
For the ones we have and are currently reviewing, they've been put on our mattresses at home, washed after a few uses, and used again. We'll see how they feel, look, cost and wash. During the process, we are considering everything from longevity, materials used, sustainability, whether or not it is waterproof, and of course, the price.
Meet our mattress protector testers below:
---
3 things to look for in a waterproof mattress protector
Waterproof: Okay, so it may sound simple, but make sure it's waterproof!! Many can claim to be waterproof but may in fact be water resistant or simply a sheet that sits on top of your mattress — which is no good if you're wanting to protect against any potential spills.
Material: Waterproof mattress protectors are usually available in a range of materials, like cotton, bamboo, Tencel, and polyester combined with a waterproof layer. The most advanced designs use polyurethane, a super-thin, flexible waterproof membrane that is undetectable and silent while you sleep. It's also super breathable. The downside is that this isn't eco-friendly.
Finish: This plays into what your waterproof mattress protector is made from. Some may be plastic or have a hard finish, which can cause a squeaky noise when you sleep and be generally quite uncomfortable. Vinyl, for example,l is excellent at repelling liquids and is easy to clean, but it runs hot and makes noise.
Why do you need a waterproof mattress protector?
A waterproof mattress protector will protect not just your mattress from liquid accidents but all kinds of nasties, which aren't worth losing sleep over. Yes, knowing how to clean a mattress is important, but protecting it in the first place is the best way to look after your bed.
One of these covers will have you sorted with an extra layer of padding and protection from potentially damaging liquids which have leaked or spilt. They'll also protect you from germs and allergies caused by dust mites. And lengthen your mattress's life, while protecting its warranty.
They can be used alongside a mattress topper or some mattress pads, if you're needing extra cushion. A topper might be able to add some sort of protection against dust mites and other allergens but it will lack the waterproof aspect.