Finding the best paint for kitchen cabinets is the first step towards totally transforming your kitchen.
If you've inherited a perfectly acceptable kitchen but hate the colour, or are longing for a kitchen renovation but don't have the budget, then giving your kitchen cupboards a simple lick of paint can offer a quick, easy and affordable solution.
But which is the best paint for kitchen cabinets? The options for colour and finish can seem endless, which is why we're here to help with the best paint for kitchen cupboards round-up!
Whether you're after gloss, satin or chalk paint; a neutral white, statement black or contemporary colour, this is where you'll find the best kitchen paint for you.
Want to upcycle that dining table and chairs at the same time? Check out our guide to the best paint for furniture, otherwise read on to get one step closer to that dream kitchen...
The best paint for kitchen cabinets
Why you can trust Real Homes Our expert reviewers spend hours testing and comparing products and services so you can choose the best for you. Find out more about how we test.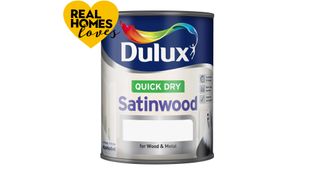 For anyone who wants to steer clear of a gloss finish, this Dulux Quick Dry Satinwood Paint available in 20 colours, will prove a nice change. Its advanced water-based formula, a far cry from earlier experimentations, goes on in thin, but high-coverage coats, and reviewers loved its smooth, even, slightly lustrous finish with a tough coating that can stand up to the rigours of life in a busy kitchen. On that front, this Dulux cupboards paint's properly quick-dry formula is a blessing too, meaning you can get on with life as quickly as possible after painting your kitchen cupboards.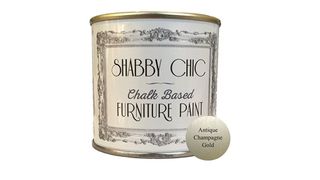 Want the best kitchen cupboard paint for a rustic, chalky finish? The unique look of chalk-based paint is more popular than ever, and while it may come as a surprise that our top pick comes from small supplier easichalk, Shabby Chic Chalk Based Furniture Paint has got the rave reviews to take on the big brands. Its vintage-look, almost velvety ultra-matte finish left reviewers impressed, and they found that despite initial reservations about the size of the tin, a little went a very long way. Plus, for anyone looking to hop on the black-on-black kitchen trend, reviewers recommend the shade Liquorice as the perfect black for the best paint for kitchen cupboards.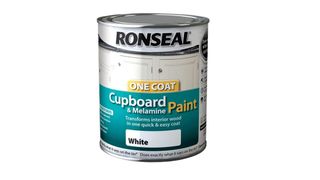 If white gloss appeals for an instant facelift and a clean and tidy look, this Ronseal One Coat Cupboard gloss looks to be the best kitchen cupboard paint around. As the name suggests, it's specifically engineered for use on melamine and MDF cupboards, as well as drawers, furniture and doors, making it a handy one to keep in the garage, but the best bit is its practicality. Not needing a primer, this cupboard paint gives a full-coverage, smooth and glossy finish in just one coat, and once on, it's said not to scuff or scratch. In our opinion, this is the best kitchen cupboard paint if you're after something white gloss, quick to apply which has a smooth finish.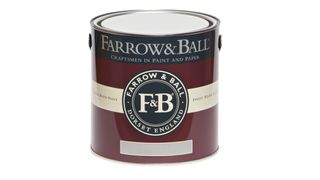 Farrow & Ball's Estate Eggshell is suitably stately, with a tough but beautiful finish that would look at home in most any kitchen. The water-based formula is eco-friendly with a low VOC content, meaning no nasties, less odour to contend with and peace of mind for those with children and pets. Once on, it's washable and wipeable, a surprisingly practical touch to match its elegant silk finish. Best of all, you can choose from a whopping 132 colours to suit any scheme.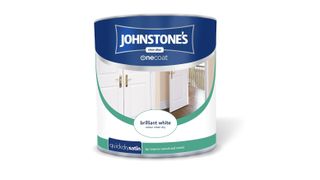 Somewhere between the shabby chic finish of upcycler's favourite chalk paint, and the traditional finish of white gloss, there's this not-quite-matt Johnstone's One Coat Quick Dry Satin Paint. Reviewers were impressed with its performance, saying that it covers evenly in just one coat, is touch-dry in two hours, and feels like silk. As luck would have it, it looks a little like silk too, with what DIYers said was a beautiful sheen and a great finish. Longer term users commended the wash-clean, non-smudging finish, too. If you're after a satin finish, this is the best kitchen cabinet paint that you can buy.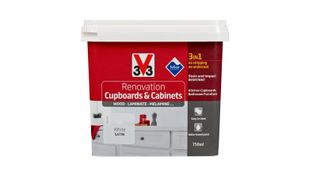 Satin seems to be the finish du jour for paintwork right now, and this V33 Renovation Smooth Satin paint is proving especially popular among the contenders. Specially designed for use on kitchen cupboards and cabinets, reviewers found it applied beautifully with a foam roller, and provided opaque coverage that made cabinets look just like new after application. They also found a little went a long way, and that post-painting, any splashes or splatters could be easily wiped off without any detriment to the finish, proving this paint's staying power – it's one of the best washable paints in our guide.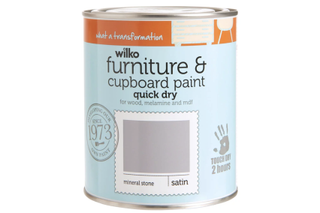 Transform your kitchen cupboards with help from Wilko's furniture and cupboard paint. For use on interior wood, melamine, MDF cupboards and furniture, a little goes a long way, and because of its thick consistency you'll only need one coat for good coverage. Reviewers rave about the quality and the smooth satin finish, as well as the fact it's hard wearing. Use a gloss roller to get the best results, and be sure to open all windows as it does have a strong smell to it.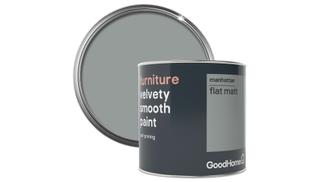 Looking for the best paint for kitchen cabinets on a budget? GoodHome Flat Matt Furniture Paint will give your kitchen cupboards a velvety smooth, chalky finish. It's washable and and resistant to water and household cleaners so you can wash away any marks or stains, making it really easy to maintain. There are also load of shades to choose from, including metallics and glitter paints.
For best results, at least two coats are recommended, applied using a brush or roller. To finish use a lacquer or wax to protect heavily used surfaces, and allow 10 days for paint to fully cure.
Shop GoodHome Flat Matt Furniture Paint here
How to choose the best paint for kitchen cabinets
Colour
Undoubtedly, the most exciting bit to decide on is the colour you're going to paint your cupboards – is barely-there Scandi-inspired soft grey more your speed, or do you dare to go for one of the season's deep inky shades? If you're not sure where to start, take a look at our kitchen paint ideas.
Formula
However, arguably the most important bit of the best paint for kitchen cabinets is the formula. Finish can have almost as big an effect on your overall kitchen aesthetic as colour, and eggshell and gloss have long been prized in tricky spaces like kitchens for their smooth sheen and wipe-clean finish, however even some of our satin picks are tougher than they look. Our top tip? A mid to soft sheen will look more contemporary than anything glossy, and will give your kitchen an instant update.
How to use the best paint for kitchen cabinets
You've chosen your paint colour and finish, so what's next? Check out our guide to how to paint kitchen cabinets for all the other essentials you'll need before you begin, and watch our how-to video for top tips on how to get the best results: