In the years where it seems like they're growing three inches every night, it's important that they have a mattress to support their changing bones. We've put together a guide to the best mattresses for toddlers, taking into consideration both support and comfort so you can provide your child with just the right balance.
Experts seem to think that firm mattresses are best for toddlers, as they offer a superior level of support which is great for growing bones. In addition to offering a firm comfort level, the Silentnight Healthy Growth Miracoil Mattress features a spring system specifically designed to align with a child's spine, which puts it firmly at the top of our list. If you are swaying towards springs, it's worth noting the amount of springs the mattress has, as the more there are, the higher level of support the mattress will offer.
If you prefer the idea of supportive foam, a mattress like the Hevea Disney Winnie The Pooh Toddler Bed Mattress, while being a dream for any Winnie The Pooh fan, should provide the perfect level of comfort and support for a restful night's sleep. If you're considering foam, make sure you note the density of the mattress – the thicker the foam, the firmer it'll be.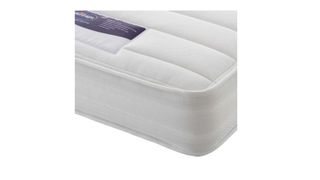 1. Silentnight Healthy Growth Miracoil Mattress
Supportive, breathable and temperature regulating, this is the perfect mattress for toddlers
Reasons to buy
+ Hypoallergenic and dust-free
Featuring a Miracoil spring system, this mattress offers comfort and support. Their growing spine is also supported, thanks to the specially oriented spring design. To counteract its firmness, the mattress features a knitted quilt top, which is 100% natural, reduces mould and moisture, keeps dust mites at bay and reduces allergens, which is great if they suffer with asthma. Breathable and temperature regulating, this toddler's mattress from SilentNight is the perfect all-rounder.
2. John Lewis Spring Cotbed Mattress
With its waterproofing properties, this mattress is perfect for efficiently dealing with accidents
Reasons to buy
+ Two covers, one to remove if they have an accident
Combining the supportive powers of both springs and foam, this cotbed mattress has been designed firmly with little ones in mind. While the springs provide the support, the foam provides the comfort level, but it's the innovative hygiene systems that have been put in place that make this mattress worthy of our second position. Featuring two covers, you can quickly and easily remove and wash the external cover in the case of a bed wetting incident, while the internal cover is waterproof so you know that the mattress is protected when you both go back to sleep. Promoting air circulation and breathability, and with a non-sweat, water-repellent fabric, this is the perfect mattress for toddlers.
3. Mothercare Coolplus Spring Cot Bed Mattress
The most inexpensive mattress on our list, but certainly not lacking in desirable qualities
Reasons to buy
+ Coolplus fabric helps to regulate heat
Open coil springs offer a level of firmness ideal for supporting small bones, while the breathable polyester layer ensures the mattress is comfortable and soft for a good night's sleep. While the Coolplus fabric cover regulates their temperature so they remain cool throughout the night, the PVC top protects the mattress from any potential accidents. Washable at 60 degrees, you can ensure the mattress remains free from dust mites, making it allergenic, too.
4. Silentnight Safe Nights Memory Wool Toddler Mattress
With mini pocket springs for comfort and memory wool filling for support, we can safely put this mattress in our top five
Reasons to buy
+ Airstream memory wool naturally regulates temperature
This toddler's mattress from Silentnight uses an innovative alternative to memory foam to provide superior levels of comfort and breathability. The combination of pocket springs and memory wool ensures a balance of support and comfort, while the washable cover enables you to keep the mattress clean and hypoallergenic. Having been awarded the Best Safety Product by Loved by Parents and the Mother and Baby Gold Award for the best nursery product, this is a recognised mattress for toddlers.
5. House Additions Little Champ Pocket Sprung Mattress
The perfect mattress for slightly older toddlers, and for bunk beds
Reasons to buy
+ Combines comfort with orthopaedic support
With a medium comfort level, rather than firm, this Little Champ is perfect for older toddlers. Despite it being slightly softer, it has been designed to deliver orthopaedic support, with the individual pocket sprung system providing all over support, which is perfect if they've started to sleep on their side. House Additions have mentioned that the mattress is suitable for bunk beds, which is ideal if your little ones have to share a room. For additional comfort and softness, the mattress features a quilted top.
6. Essentials Pocket Sprung Waterproof Cotbed Mattress with Cover
Responding to changes in both weight and shape, this is mattress supports the healthy growth of your child
Reasons to buy
+ Features a waterproof panel to for efficient clean up after an accident
Containing individual pocket springs that react to change in weight and shape, this mattress is suitable for use from birth right through to when they move into their big bed. The pocket spring system allows for good internal airflow, so your toddler should benefit from cool sleeping conditions. The waterproof panel protects the mattress from potential accidents and you can remove the cover to wash it, keeping it fresh and allergenic.
7. The Little Green Sheep Natural Twist Cot Mattress
A clever little two sided mattress to support different stages of development
Reasons to buy
+ Hypoallergenic fleece wool ensures a clean, dry and dust-mite free environment
Designed to support children from birth to five years old, this mattress certainly ensures that you receive your money's worth. The side designed for toddlers features a breathable and durable latex layer, which delivers the right combination of support and comfort. The mattress is made from 100% natural materials, including wool, latex, cotton and coconut fibres, and the brand have ensured that it remains free from harmful chemicals, providing your child with a healthy, hygienic mattress. Having won a range of awards, this mattress is certainly worthy a place in our list of the best mattresses for toddlers.
Read more: