Looking for the best toddler mattress? Shopping for a kid's mattress is challenging at the best of times because where it seems like they're growing three inches every night, they'll need a comfortable mattress which gives them a good level of support.
We've put together a guide to the best toddler mattresses, taking into consideration support and comfort so you can provide your child with just the right balance.
If you're in need of a new mattress yourself, or have bigger kids in the home, check out our round-up of the best mattresses which caters for the entire family.
The best mattress for toddlers
Why you can trust Real Homes Our expert reviewers spend hours testing and comparing products and services so you can choose the best for you. Find out more about how we test.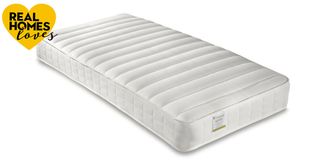 Offering exceptional quality at a realistic price, we've voted the Noah mattress our best overall mattress for toddlers
Who will the Noah mattress suit?
Anyone seeking a mattress that will grow with their children, into teen'dom and beyond, this is our top pick of the very best mattress for toddlers.
What is the Noah mattress like to sleep on?
We found this bed surprisingly comfortable, as fully-grown adults, if a little on the small side. The springs are open-coil, not pocketed, but that is not reflected in the comfort levels, support or noise (no twanging springs that give open coil a bad rep). It's rated medium but a lightweight child would find it pretty firm. Spinal support is excellent.
Special features?
All the materials used in this mattress are suitable for sensitive skin and asthma sufferers. Made in the UK – yay!
Fillings?
Those open coil springs are topped with a 2.5cm layer of memory foam for comfort and 2.5cm layer of reflex foam for support. In a mattress that's 15cm deep in total, that's a pretty hearty foam ratio that almost certainly accounts for the quality feel of this mattress.
What do you get for your money?
Free delivery (to the majority of the UK), and a free five-year guarantee. Plus a 30-night sleep trial.
Read our Noah toddler mattress review – it gets 4.5/5 stars
Looking for more mattress deals? Check out our cheap mattress deals page which is regularly updated with the best offers from our top sleeping mattresses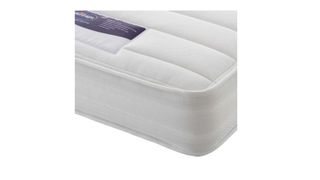 The Silentnight Healthy Grow Miracoil mattress is supportive, breathable and temperature regulating.
Who will the Healthy Grow Miracoil suit?
This mattress is designed specifically for infants, juniors and teens but, actually, it is constructed like any adult mattress you have ever met.
What is the Healthy Grow Miracoil like to sleep on?
Featuring Silentnight's lauded Miracoil spring system, your child's growing spine will be well supported, and the quilted top layers will soon have him, or her, sleeping like a baby. Rated an impressive 9.2 (out of 10) by 38 reviewers on Silentnight's website, many parents initially thought it too firm but soon changed their minds when their children slept soundly! Firm is clearly the way forward.
Special features?
Lilac and blue gingham options, to match your child's bedroom décor (because let's face it, they'll never make the bed). Double sided so it will last longer.
Fillings?
EcoComfort Fibre fillings, and a mesh border material, helps keep kids cool overnight – an important feature as children naturally sleep far hotter than adults. The core is made with Miracoil spring system, whereby each spring is linked vertically (not horizontally like most open coil), which enables zoned support for perfect spine alignment.
What do you get for your money?
Free delivery to a room of your choice, unusually within 14 days. A 60-night comfort trial.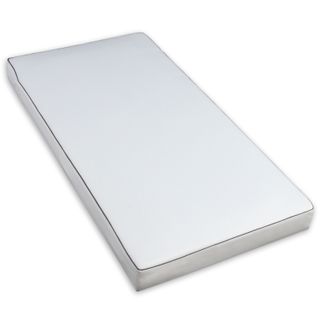 This cotbed mattress is perfect if your little one still suffers from night time accidents: with its extra waterproof cover, this mattress is perfect for potty training tots.
Who will the Pocket Spring Cotbed mattress suit?
In our opinion, this is the best mattress for toddlers who have exasperated potty-training parents wedded to their washing machines.
What is the Pocket Spring Cotbed mattress like to sleep on?
Combining the supportive powers of springs and foam, this cotbed mattress doesn't scrimp on quality just because it is pint-sized. While the springs provide the support, the foam provides the comfort level, but it's the innovative hygiene systems that have been put in place that make this mattress worth a closer look. Featuring two covers, you can quickly and easily remove and wash the external cover in the case of a bed wetting incident, while the internal cover is also waterproof so you know that the mattress is still protected when you both go back to sleep.
Special features?
Made from materials that promote air circulation and breathability throughout, the cover is a non-sweat, water-repellent fabric.
Fillings?
Pocket springs and a responsive foam layer that's treated with Purotex 'good bacteria' for warding off allergens. An outer cover is removable and washable at 60 degrees, while the inner cover is also waterproof so works as a good temporary surface while your washing machine is doing its thing.
What do you get for your money?
A three-year guarantee, which should be adequate for the short-lived cotbed stage. Free standard delivery. Usual John Lewis quality reassurance that all parents have come to know and love.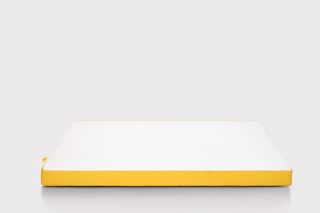 The Eve Baby mattress might be amongst the most expensive toddler mattresses on our list, but it's certainly not lacking in desirable qualities, and we rate it highly.
Who will the Eve Baby mattress suit?
Babies and toddlers (up to six years old) who regularly wake in a sweat-soaked state.
What is the Eve Baby mattress like to sleep on?
Children sleep hotter than adults, which is why they need lighter weight bedding and the room temperature should be kept at around 16-20⁰C. If overheating is still a concern, this mattress could help put your mind at rest. Featuring a Cairfull 3D fabric cover, the Eve cot bed mattress is highly breathable and encourages air circulation. According to Eve, Cairful 3D is 400 times more breathable than standard mattress fabrics. The online reviews, found on parenting sites like Bump, Baby & You, are very promising, with plenty of talk of reduced waking (hurrah!). The cover has a natural antibacterial treatment called Argentum to prevent bugs or allergens.
Special features?
The cover is removable and washable at 40⁰C, plus the mattress has an extra waterproof panel to protect the innards. Eve works with the BPA (Baby Products Association) to ensure their cot and cot bed mattresses are super safe.
Fillings?
This is a hybrid mattress with pocket springs in the base, which helps provide a cooling airflow, and nursery-grade memory foam on top.
What do you get for your money?
Free delivery, 30-night free trial, no-hassle returns, five-year guarantee.
Read our eve mattress review (for adults) to get a feel for it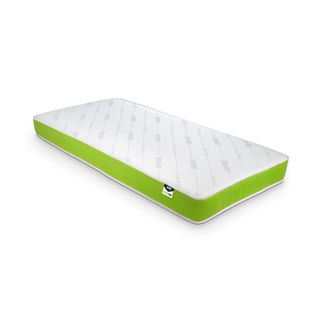 The Jay-Be Anti-Allergy 325 mattress keep sniffles and sneezes at bay.
Who will the anti-allergy 325 suit?
This is our pick of the best mattress for toddlers allergic to dust-mites and anyone with an eco-conscience.
What is the anti-allergy 325 like to sleep on?
The soft-medium firmness levels are delivered via a combination of open coil springs and soft comfort layers that help keep said coils under control. The majority of Wayfair's reviewers give this mattress the top 5* rating, and agree that it is solidly made and comfortable. One customer also mentions that they work particularly well on bunk beds.
Special features?
The cover is infused with Purotex to naturally combat dust mites and bed bugs. Smart fibre comfort layer designed to regulate temperature and moisture.
Fillings?
Open coil springs (325 of them) topped with a high-density (HD) layer (foam free) for support and a cushion of smart fibre comfort layers on top. The latter are made from chemical-free, fully recyclable materials.
What do you get for your money?
Free delivery within the UK.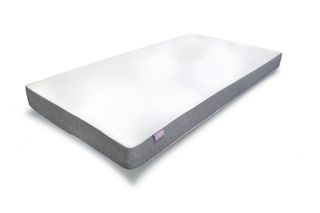 For longevity, this clever little two-sided Mamas & Papas Premium Twin Spring mattress has it: it can support different stages of development.
Who will the Premium Twin Spring suit?
Babies through to toddlers; this is the best mattress for toddlers in terms of longevity.
What is the Premium Twin Spring like to sleep on?
The funny thing about babies is that they double in size, almost before your eyes. The clever thing about this mattress is that it has a dual core, whereby one side has the perfect levels of support for a newborn, while the other can peacefully accommodate a child that's taking its first steps. So the firmness varies, depending on which side is facing upwards but, either way, the support is provided via pocket springs, which is never a bad thing.
Special features?
The core of this mattress is sealed to protect it from nighttime accidents, but there's also a removable cover (washable at 60 degrees) for emergency situations.
Fillings?
Two layers of pocket springs, one firm and one medium, allow this mattress to be flipped to suit a range of ages, from birth to toddlerhood. The outer cover is anti-allergy, as well as waterproof. All the materials are made with temperature regulation in mind, to help prevent your child from overheating in the night.
What do you get for your money?
Free standard delivery within four weeks, or collect from your nearest Mamas & Papas store.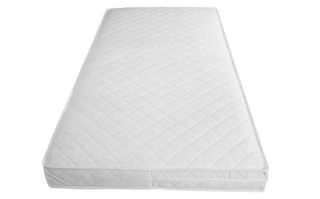 This is the most inexpensive kids mattress on our list, but it's certainly not lacking in top-rate features.
Who will the Classic Spring Cot Mattress suit?
The Classic Spring Cot Mattress is a good buy for anyone looking to reduce the overall cost of a cotbed purchase – it's under £40 and has next day delivery with Amazon Prime..
What is the Classic Spring Cotbed like to sleep on?
This surprisingly sturdy mattress is made in the UK and meets all the latest British Safety Standards. An impressive 70 per cent of Amazon's 597 reviewers put this mattress in the top five star spot.
Special features?
The softly quilted cover is removable for machine-washing at 60ºC. The bound edges are designed to provide extra strength and durability to the mattress perimeter. The hypo-allergenic luxury bound cover is quilted, water-resistant and removable for washing at 60'C. It offers protection against allergens that can cause asthma and eczema.
Fillings?
High tensile quality steel springs form the core, all encased in dent resistant nursery grade (i.e. chemical-free) foam. An inner waterproof liner provides extra protection from leaky nappies.
What do you get for your money?
Free next day delivery if you are a Prime member – free standard if you're not. Pay an extra £6.25 for a spare cover so there's always a fresh clean one at the ready.
Read our guide to cots and cot beds to find the best one for your child.
How to buy the best toddler mattress
Quick links to buy the best toddler mattresses
When looking for the best toddler mattress for your child there are a few factors to consider to ensure you make the best decision;
Firmness

Experts believe firm mattresses are best for toddlers, as they offer a superior level of support, which is great for growing bones. In addition to offering a firm comfort level, the Silentnight Healthy Growth Miracoil mattress features a spring system specifically designed to align with a child's spine, which puts it firmly at the top of our list.
Springs, foam or hybrid?

If you are swaying towards springs, then more is definitely merrier as high spring counts equal superior support. If you prefer the responsiveness of foam, and think your little one will too, Eve offers a pint-sized version of their popular memory foam/spring hybrid mattress, which should provide the perfect levels of comfort and support for a restful night's sleep.
What is the best toddler mattress?
Need to recap? We're big fans of the Happy Beds Noah toddler mattress, which our testers (both child and adult) found really comfortable. The springs are open-coil, not pocketed, but that is not reflected in the comfort levels, support or noise, and although it's rated medium, it will feel firm for a child – ideal for spinal support when you're growing.
Need a new bed, too?