In the market for one of the best new indoor doormats? Sensible idea! Especially since a hallway is the first place guests see when they step foot into your home.
With this in mind, it'd be a smart idea to spend money on something that matches your home decor, to ensure it won't stand out like a sore thumb – a doormat that will complement your flooring, paint colours, wall art and more. This one small purchase can make such a difference. Wave goodbye to plain indoor doormats and hello to these fun finds, to help you create a truly tidy welcome – and a stylish one.
But what to look for in an indoor doormat? Ideally, it should be waterproof and abrasive, to soak up excess moisture from your shoes and remove any mud or grit that you may otherwise bring into the home, or tread onto your best sofa. This means, material-wise, you should be looking at an indoor doormat made from coir, a rough synthetic mix, or jute, a plant used to make rope and cloth. Rubber is also a popular choice for indoor doormats.
Our 10 favourite finds are just below – but if you are redecorating your hallway entirely, then head to our hallway ideas page afterwards, for some inspiration.
The best indoor doormats for your home
Why you can trust Real Homes Our expert reviewers spend hours testing and comparing products and services so you can choose the best for you. Find out more about how we test.
1. A simple doormat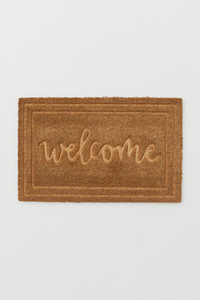 Coconut fibre doormat
This simple yet effective doormat is made of coconut fibres to be eco-friendly – and tough on your muddy shoes. It has the word 'Welcome' carved into it as well as a double border to make it look a tad fancier. We say place this right by your front door to welcome guests!
2. A jute doormat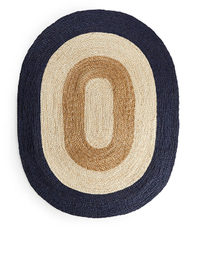 Arket Jute Door Mat
This three-colour doormat is made of jute so is incredibly durable. And because it's a wider oval shape, it's ideal for wider hallways, and it comes in a range of colours so that you can match it to the rest of your decor. Definitely one for neutral homes.
3. A spotty doormat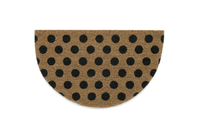 My Mat Coir Polka Dot Half Moon Doormat
This half moon doormat is ideal for smaller hallways, and with a stylish polka dot print, it ought to make a statement on your floor. It has an eco-friendly backing and it's made of 100 per cent natural coconut husk fibres, all while being rot-proof, moth-proof and fungi-resistant.
4. A floral doormat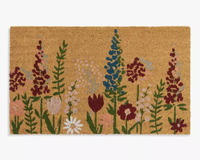 John Lewis & Partners Sissing Floral Coir Door Mat
One for the floral homes out there, this spring-themed doormat brings the outdoors in – and we're not talking about the mud from the bottom of your shoes. Bursting with flowers, this coir indoor doormat looks the part and plays the part. And, it's a bargain! Win win. Check our John Lewis discount codes to get the best deal.
5. A retro doormat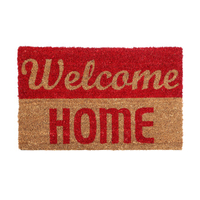 So'Home Welcome Home Coir Doormat
This fun doormat looks like it has come straight from an American diner. It reads 'Welcome Home' and is red in colour – to match your colourful interior? It has a PVC back and it's super durable. Something a little different... we love it!
6. A doormat with a slogan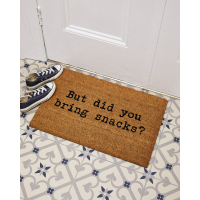 Happy Larry Bjarke Slogan Snacks Doormat
How could we write a list of indoor doormats without including one with a slogan? This one reads 'But did you bring snacks' in a typewriter print. Other than that, it's pretty plain, so you could pop it anywhere from your front to your back door, or even in an entrance to a summer house.
7. A personalised doormat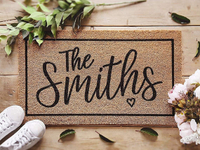 Customat Personalised Door Mat
This indoor doormat can be personalised with your family name, to add a personal touch to your hallway. Stacey Solomon has one in Pickle Cottage and she loves it! It also comes in two sizes to fit normal and larger doors, and it's 15mm thick.
8. A striped door mat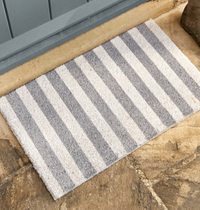 Cox & Cox Grey & White Stripe Doormat
This continental chic doormat reminds us of being on holiday – we're totally getting beach towel vibes. It would be perfect for a grey or coastal homes, and it's made of 100 per cent natural coconut fibres.
9. A botanical doormat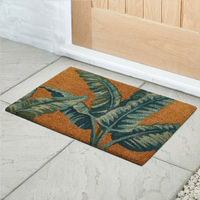 Banana Leaf Doormat
You can always rely on Dunelm for a stylish bargain, and this indoor doormat is no exception. It features a botanical print to add some greenery to your entryway, and is made of 100 per cent natural coir.
10. A rainbow doormat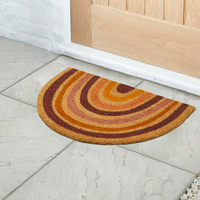 Rainbow Doormat
One for the kids (or the kidults), this rainbow doormat is fun, colourful, and it's ideal for smaller hallways thanks to its half moon shape. It'll be sure to brighten up your front door, and it's easy to vacuum and keep clean. We also think it would look great in a boho home.
Where to buy an indoor doormat?
If you're yet to find an indoor doormat to blend in with your interiors, then see below for where else you can shop for a fun indoor doormat online.