As we move through the seasons and all of the unpredictable weather they bring (depending on where you live, of course), one of the problems that arise most often is dampness and moisture from the air, which causes its fair share of issues for the home. But with the best dehumidifier in your arsenal, you can wave goodbye to the headache of condensation, mould, and resulting bacteria.
Dehumidifiers work by directly removing the moisture from the air and converting it into water that you can easily dispose of. Most have sensors that can determine the moisture levels in your home and power on and off accordingly, saving energy. The best dehumidifiers even help out in unexpected areas of life, like making laundry-drying time much faster, or purifying the air in a space.
There are two types of dehumidifier that you will need to choose between - desiccant and refrigerant. Desiccant dehumidifiers use a material that absorbs moisture and condenses it, while refrigerant dehumidifiers have a cool metal plate that converts the air into liquid as it works. While the former is capable of working in colder temperatures, it also uses more energy.
We've taken a look at the best dehumidifiers that you can buy right now, ranking them based on capacity, design, and any additional features that might make parting with your cash more worthwhile. And, if you're interested in improving the air quality in your home even more, then take a look at our guide to the best air purifiers.
Keep reading to see which dehumidifiers we rate highest, as well as more buying advice to help you make the best choice.
The best dehumidifiers in 2023
Why you can trust Real Homes Our expert reviewers spend hours testing and comparing products and services so you can choose the best for you. Find out more about how we test.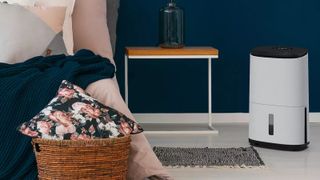 Meaco's Arete One dehumidifier is an efficient and sleek-looking unit that made quick work of the humidity in our home while testing.
The device is designed to tackle damp and condensation issues in homes with up to five bedrooms, with the large 4.8L water tank going a long way before you need to empty it. When the time comes, however, the pull-out drawer design makes it incredibly easy to get it to the sink (and incredibly difficult to spill on the way!).
Meaco has improved on its previous model - the Meaco 25L Low Energy Dehumidifier - in a variety of ways, not least of which is the lower energy consumption. It's also easy to set up, and pretty quiet by dehumidifier standards.
The cherry on top is the carry handle that pops out from the top, as well as the fact that you can also use the unit as an air purifier. Our choice for the best dehumidifier you can buy right now.
Real Homes rating: 4.5 out of 5 stars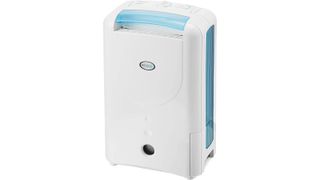 Want peace of mind and a damp-free home? Then, the EcoAir DD122FW is the best desiccant dehumidifier for you.
The dehumidifier has an extraction rate of 7L and a tank capacity of 2L, and there's an indicator to tell you when the water tank is full. The auto shut-off feature will avoid overflowing, and the silver filter kills bacteria on contact. On top of all that, when on low fan mode, it runs super quietly at around 34dB.
With a power consumption of 390-640W, this dehumidifier is the best pick for those who are eco-conscious. In addition, there's the option of continuous drainage with the 1m house (supplied), plus a built-in heater.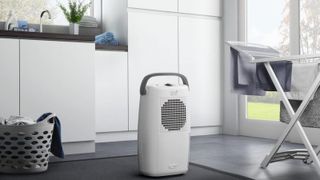 With a decent extraction rate, laundry mode and easy movement, the 10L De'Longhi Tasciugo AriaDry dehumidifier is ideal for spaces like the bedroom, where you might not want the appliance to stay full-time.
The De'Longhi offering has a handle on top to make it easier to move from room to room (or from room to storage), and, despite its size, it's surprisingly lightweight at just 1.5kg. This makes it easy to put it wherever you want, at any time of year. It's also relatively quiet, operating at 37dB. This certainly isn't 'whisper-quiet', but it is on the lower end of the scale for dehumidifiers.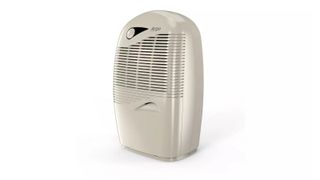 With all of us becoming more conscious of the air quality around us every day, a dehumidifier that promises to remove allergens and other particles while it works is a bonus. The Argo 2650E Smart dehumidifier does just that, with a built-in Air Purification Mode designed for the British climate.
It's noisier than some and has a slightly higher price tag, but for the extra cash, you'll get an above-average extraction rate and a 3.5L water tank, which means you won't have to think about emptying quite so often. The Argo machine also has a convenient built-in sensor that allows it to turn on and off depending on the humidity levels in the room. The best dehumidifier with an air purifier built-in.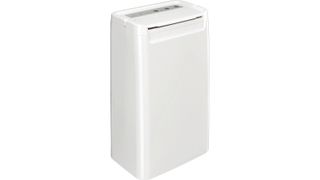 The efficient Essentials C10DH19 Dehumidifier is excellent for those who want a quick, cheap fix to the damp problem in their home. While it doesn't have the added functions of laundry mode or an air purifier, at this low price, you can't complain. We think it's a great budget dehumidifier and one of the best dehumidifiers you can buy.
Despite being a budget buy, it has a decent extraction rate. It's also easy to move from room to room, thanks to its carry handle.
It's also worth noting that it has auto shut-off, so the machine will stop to avoid it overflowing when the tank's full. In addition, the filter can be removed and washed for easy maintenance.
How to choose the best dehumidifier for your home
Why do I need a dehumidifier?
Poor ventilation is the main reason for purchasing a dehumidifier – and if you're wondering how to stop condensation, a dehumidifier is one of the best ways. The majority of households regularly shower or bath, wash and dry clothes, all of which use a lot of hot water that creates steam. If there's no way for the moisture to escape through windows or vents, then condensation and dampness begin to build. This is where a dehumidifier comes in, to help prevent this from happening, and to remove excess moisture from the air to help dry your clothes.
How does a dehumidifier work?
The way that dehumidifiers remove unwanted moisture from the air varies. For compressor models, the air is taken in through a filter and coils inside. The cold temperature of these coils converts the moist air into water, which is then deposited into the tank. Desiccant dehumidifiers, meanwhile, take in the moisture via an absorbent, which the machine then heats to convert into water.
Do dehumidifiers cool rooms?
Dehumidifiers do not work the same as air conditioners, or the best portable air conditioners – though these can often also operate as a dehumidifier. Confused?
As stated above, compressor dehumidifiers use their interior components' temperature to operate, so it's actually beneficial for them to be put to work in warmer spaces. This means that there is more contrast between the temperature of the air and the colder temperature of the coils that the dehumidifier uses to convert moisture into water.
What type of dehumidifier should I get?
Not to be confused with a humidifier, which does the opposite of a dehumidifier and adds moisture to the air in your home, you can buy two different types of dehumidifier – first, a compressor (sometimes known as a refrigerant) or second, a desiccant. Compressors can remove a more significant amount of moisture per day and are cheaper to run, while desiccant dehumidifiers work better in colder temperatures and are often quieter. They're also usually smaller and lighter than compressor models.
What extraction rate and tank size should I go for?
The extraction rate you're looking for really depends on where you live and what you're using the dehumidifier for, but in the UK, you can aim for one that extracts between 1-2.5L a day.
The tank size of the products on our list range from 1.8-4L, and the size you need will depend on a) whether your dehumidifier will be turned on all day, b) whether you're at home and can empty it periodically, c) what level of humidity you're dealing with, and d) how much space you have.
Do I need a laundry mode?
If you often hang your clothes to dry around your home, opt for a dehumidifier with a dedicated laundry mode. It'll work with the additional humidity caused by your wet clothes, as well as reduce the time it takes for your clothes to dry. Win-win?
You've reached the end of the page. Jump to the top^