Everyone has a foodie in their lives. Whether it's your mum who sees herself as a bit of a Nigella, the friend who you always turn to for stellar restaurant recommendations, or that guy from work who shows up every so often with insanely delicious baked delights.
And since not all food lovers were made equal, we have rounded up the best Christmas gifts for all epicureans, from the wannabe gourmet chefs and budding bakers to the booze lovers and cheese enthusiasts.
1. Get them started with a cooking set
The Bone Daddies Cookbook is a go to for the best ramen recipes outside Japan and with this cooking set you'll find all the ingredients to get started. With over three litres of soy sauce, rice vinegar, mirin, sake, and sesame oil, this set is for those passionate about Japanese food, and who plan to give the recipes a proper try.
2. Be more original than chocolates
We think this sweet treat is a far superior alternative to chocolates. Just imagine Fiasconaro pistachio cream spread over a slice of fluffy panettone, or as a filling for macaroons – or better yet just hand us a spoon so we can eat it straight from the jar.
3. Choose a quirky addition to the breakfast table
For lovers of all things slightly weird and wonderful, these delightful egg cups from Hannah Turner would make the perfect gift! Our personal favourite? This rather charming toucan...
4. Beer and spicy snacks? What's not to love...
Beer? Good. Meat? Good. Spice? Good. Packed full of beers, unique snacks and hot sauces we are sure that the foodie in your life will be well impressed when they open Craved London's Beer-Meat-Hot box.
5. Choose the holy grail of kitchen appliances
If your favourite foodie has been mixing by hand for too long now, treat them to an upgrade. The KitchenAid Mini Stand Mixer is 25 per cent lighter and has a 20 per cent smaller footprint than the regular KitchenAid Classic Stand Mixer, so it'll take up less counter space and is easy to move (marvellous in a small kitchen). Plus it's still compatible with all KitchenAid attachments. Total winner.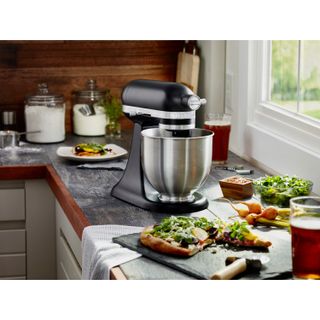 6. Teach them how to make cheese
A cheesemaking kit that contains everything you need to make mozzarella, ricotta, burrata, soft goat's cheese and soft cow's cheese? Sounds gouda to us (sorry).
7. Or just let them eat it...
And for those who would prefer to just have their cheese and eat it, The Delectable Hamper from Fortnum and Mason has been made for anyone with a savoury tooth, and pairs exceptional cheeses with their most delicious condiments.
8. Keep them organised with a recipe journal
There is something endearingly old school about asking a friend for a recipe and them handing over a tomato-stained scrap of illegible paper. However, it's rather less endearing when you inevitably lose said scrap of paper. So prevent further arguments by buying your foodie friend a Moleskine recipe journal, so they can keep all their recipes organised (and, for your sake, duplicated).
9. Give them the gift of 60 second pizza
Gorgeously sleek and conveniently compact, this ingenious little wood-fired pizza from Uuni oven reaches 500°C just 10 minutes after lighting and can churn out pizzas in sixty seconds. Fast food at its best.
10. Buying for a caffeine addict?
We all know a coffee aficionado, so why not show them that you actually are listening when they start telling you about the water filtration or how the espresso is pulling by treating them to fresh coffee delivered to their door. The people at Pact can send out a bag of their delicious, ethically sourced, small batch coffee as often as every seven days.
Or if you are looking for a great stocking filler for the coffee lover in your life, Pact's Christmas blend, with notes of shortbread, mince pies and brandy sounds like heaven.
11. Be on trend with a Kombucha kit
This is so hipster it hurts. But if you are buying for a foodie who loves a trend this Kilner Kombucha set is failsafe choice.
12. Go for a classic
Because, you can't go wrong a with signature Le Creuset casserole dish. Especially when said casserole dish comes in an array of delightful colours.
13. Add some luxury to marmalade on toast
Can you think of anything better for Christmas morning than Fortum and Mason's marmalade made with Champagne and sprinkled with edible glitter? Go on, we will wait…
14. Treat them to the cheeseboard of dreams
This agate cheeseboard from Anthropologie is perfect for when you want to artfully display a wheel of Bleu d'Auvergne or if you just want to make a cheddar a bit more stylish.
15. And don't forget the glamorous cheese knives
Of course, the finest cheese board needs the finest cheese knives. We love these marble cheese knives from Oliver Bonas, they would look perfect both alongside the Anthropologie number or could just add a touch of glam to your average wooden board.
16. Get them a gift that keeps on giving
Have your foodie friends learn from the best with The Cookery Book Club. Just tell the guys at The Willoughby Book Club a bit about what your recipient loves to cook and they will send them a selection of the best selling cookbooks straight to their door.
The Cookery Book Club is available in three, six and 12-month packages.
17. Add a retro vibe to their kitchen
We love British screen printer Thornback and Peel's retro designs, and their Sardine oven gloves would make a great gift for a foodie. Not going to lie, we kind of just want a pair of these for ourselves...
18. Buying for a meat lover?
Nothing says 'I know you like food' quite like having a chunk of meat delivered to their door every month. Seriously though, Farmisons is one of the best butchers in the country for premium meats and any meat lover is going to thank you for this slightly unusual subscription box. Each month, the recipient will get a mix of lamb, chicken and pork, plus two fillet steaks (one for them and one for you, right?).
19. Make pasta making easy
Making pasta needn't require a whole new machine, special attachments, a rolling pin or an Italian grandmother. Nope, this simple pasta making starter kit from Souschef contains everything needed for even the most novice of cooks to start making impressive pasta dishes.
20. Deck the halls with... bowls of noodles?
Forget about Santa, reindeers, stars and snowmen, this year's all about decorating with bowls of ramen, avocados, gherkins, and (at least we think that's) a red cabbage...
21. Help with the washing up... kind of
Okay, this isn't the most glamorous of gifts but after the cooking has to come the clean up, so make it slightly more bearable with this super cute stocking filler sponge from Hay.
22. Trust in (the best) chocolates
Because if you are going to fall back on chocolates as a gift, let them be the best. And does it really get any better than Charbonnel et Walker's Milk Sea Salt Billionaire's Shortbread Truffles? Seriously just think about – Chocolate. Sea salt. Caramel. Biscuit. Truffles.
Looking for more gift inspiration? Check out our gift guides