The quietest washing machine is a must-have for house shares, open-plan living, home-working, and any other living situation that involves being close to your laundry area. There's nothing worse than hearing a washing machine whirling around whilst you're on a call or chatting with friends.
So to help you out, we've done some research and considered all the important factors on the below machines, such as focusing on the programs, capacity, energy rating, and so on.
We've also prioritized the noise level of each. All these appliances will display their noise level for both washing and spinning in decibels (dB). The lower it is, the quieter it will be, which makes deciphering all the lingo a little easier. For complete transparency, we have not tested the machines featured due to supply chain issues, and tricky logistics. However, we have chosen carefully and have only selected the best washing machines from brands that we know and trust.
Quietest washing machine: Quick list
The quietest washing machines of 2023
Why you can trust Real Homes Our expert reviewers spend hours testing and comparing products and services so you can choose the best for you. Find out more about how we test.
Best quiet washing machine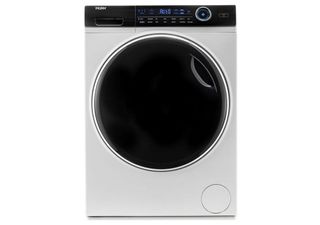 This Haier machine takes the top spot in our main washing machine guide, too. You, our Real Homes readers, also voted it the Best Washing Machine in the Real Homes Awards, so we're all agreed that it's one of the best models out there.
No matter what garment you are washing, there are up to 14 programmes to choose from. From baby care to outdoor, all sorts of messy activities are covered. There's even a refresh programme, which uses water-vapour technology to remove odors, dust, and allergens, so your clothes smell fresher and feel softer to the touch. Any one of these programmes can be made shorter or longer, which will save you time and/or money.
Amongst the programmes is a quiet wash and quiet spin cycles, so you could (if you wanted to) set the timer to wash at night to ensure your laundry is ready to hang up to dry first thing in the morning. The drum lights — so you can see inside clearly (genius!) — and wide door opening are both super useful. Rated A+++ for energy consumption (on our old guide), this machine goes one step further to offer load detection. This measures the load you've added and makes sure it uses just the right amount of water — so none gets wasted.
Samsung quiet washing machine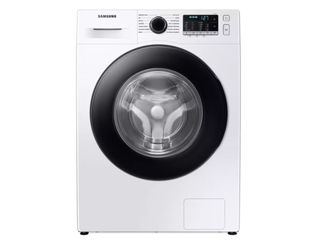 If you're on a tight budget or don't want to spend more than you have to, the Samsung Series 5 WW80TA046AE washing machine could be just the ticket. The 15-minute quick wash cycle is mega useful if you need clean clothes in a hurry. It'll manage just 2 kg of laundry — so be careful not to fill the drum.

This Samsung washing machine is from the brand's ecobubble range, which mixes air, water, and bubbles in order to wash your clothes at cooler temperatures. There's even the option to bubble soak for those particularly stubborn stains.
It has been awarded the Quiet Mark, too, since its washing cycle is just 53 db and spin cycle is 72 db. This is down to the digital inverter motor, which cuts down noise levels and energy usage. The DrumClean+ and Stay Clean Drawer features will help to keep the washing machine clean.
Quietest washer and dryer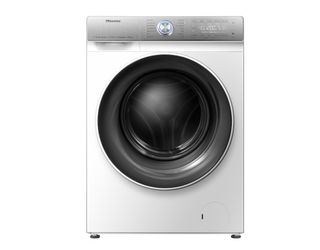 The Hisense WDQR1014EVAJMT is one of the most affordable, most generously sized and quietest washer-dryers we could find. It's our number three pick because having a dryer option may not be for everyone. We feel that it is a fantastic choice for tight spaces, and it's available in black, white, or titanium so it'll blend in nicely with many open-plan kitchens or utility spaces.

The 10 kg drum is perfect for bunging in the weekly laundry. Within the 14 wash programmes is a 15-minute programme that's so handy for a (super) quick rinse. You can only really do this with 1 kg of laundry, which is a couple of T-shirts and some items of underwear. A feature we love is that whilst a wash cycle is running you can hit the Push & Add function to pop in extra clothes that may have fallen out of the basket on your way to your washing machine. This feature is only available on the wash cycles, however. To dry clothes, you have a maximum load size of 6 kg. Although it's not huge, it is enough to dry at least an outfit to wear later that day.
This washer-dryer combo is packed with washing tech. It's part of the PureJet series that is designed to deliver a powerful clean by dissolving detergent quickly and removing dirt thoroughly. Hisense self-developed this and also has a snowflake pattern embossed in the drum of its machines, which is unique to the brand and is meant to remove tough stains. Reviewers also found the Hisense WDQR1014EVAJM was impressively quiet. The upgraded motor in the appliances produces less heat, so it runs quieter, works more efficiently, and will stand the test of time.
Aside from the 15-minute quick wash cycle, we've read that the other programmes are long. If you're to wash and dry laundry with the appliance, you could be looking at spending seven hours on one load (a long time). It does give fab results, though, and is a good solution for (also) drying clothes after a wash if space comes at a premium.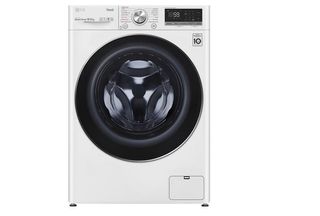 If you've got a lot of washing to do in a short amount of time and need to keep noise levels to a minimum, this LG washing machine is perfect. It is one of the more affordable washing machines by the brand, so it's hardly surprising that we often see it sell out across retailers.
With a quick 59-minute program, laundry can be washed when you've forgotten to put a load on the night before and have a busy day scheduled or you just need clean clothes in a hurry. Materials are well cared for in the appliance thanks to AI DD, which detects the weight and fabric softness and then chooses the washing patterns (motions of the drum) to accommodate. We think that this will help to keep clothes in a good-as-new condition, saving money on energy usage and shopping trips.
The 10.5-kg drum fits into the same dimensions as a standard washing machine, so no additional space for it is required in your kitchen. A capacity of this size will fit approximately 52 shirts inside or three bath sheets and a double duvet cover. On the outside, we like that the display is super clear and that the knob is easy to turn.

The LG F4V710WTSE is considered a smart appliance. It can connect to Wi-Fi and be controlled over an app. We love that you'll be able to turn the washing machine on, without having to get up from the sofa. You can control it either via the ThinQ app or over Google Assistant and Amazon Alexa. From the app, you can also download additional programs and check your usage to help keep tabs on your daily energy consumption.
Best Beko washing machine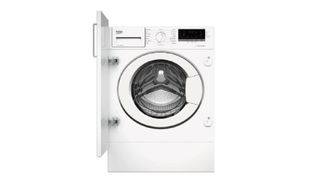 It took some digging to find, but this Beko integrated washing machine is one of the quietest, most affordable built-in machines you can get. Integrated appliances tend to come at a premium, but with this one just shy of £400, we think that it is a fab choice for the home — especially considering all of its features.
Out of the 15 programmes, there's a Fast+ function that customers absolutely love. Even on this quick wash cycle, the laundry gets superbly clean thanks to the increase in drum movements and the programme's ability to set the ideal temperature. There's also a programme for sportswear and gym kits that'll ensure those garments get a thorough, hygienic clean. The porthole door is also generously sized at 34 cm, meaning that you can squeeze in even the bulkiest garments (towels, duvet covers, etc.) for a wash.
Beko's ProSmart inverter motor works by using frictionless magnets rather than noisy brushes, so it's more energy efficient and doesn't burn out. With a wash cycle of just 47 dB, it is the second quietest washer in this guide, so we're going to be kept happy whilst working from home.
If you need to adjust the height of the washing machine, you can do this without pulling the appliance out of its home by simply using the screws at the front to raise or lower it. This is a built-in appliance so make sure you measure up the space you have and allow at least 3 cm at the back for pipework.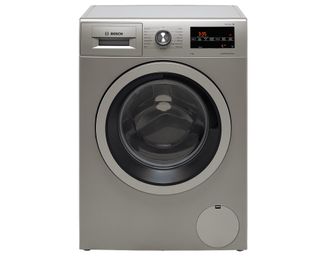 The Bosch Serie 8 WAW325H0GB has made it into our round-up of the best quiet washing machines thanks to its EcoSilence Drive and because it was given the Quiet Mark award. It truly is one of the best Bosch washing machines out there.
The Allergy Plus setting will wash away 99.9% of allergens by using higher temperatures, more water, and a longer rinse. It'll be particularly useful when washing hardwearing fabrics too, such as denim. The EcoSilence Drive function will be a game changer for laundry days. The motor uses frictionless magnets instead of brushes, which is reportedly quieter, more energy efficient, and longer lasting than normal motors.
This machine uses tech called Active Water, which will weigh your laundry when you fill the drum to ultimately save on your utility bills. The Start Reload button is also useful if you've forgotten a sock and need to add it to the drum.
Quietest integrated washing machine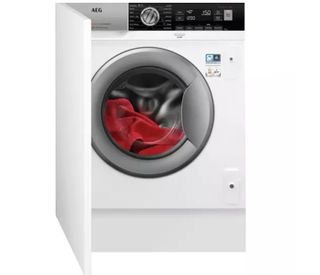 We like the AEG L7FC8432BI 8 Kg Integrated Washing Machine. It's one of the best integrated washing machines around, but it is pretty pricey. This is the quietest clothes washer in our guide. The washing spin is just 46 dB, and the spin is 68 dB. The motor inside uses frictionless magnets instead of brushes to power it which makes it not only less noisy but also energy efficient.
This machine has quite a few capabilities. AEG's ProSteam Technology can reduce creases in your laundry by up to 30% by adding steam at the end of a cycle. It also has a separate programme that quickly freshens up an outfit with steam. ProSense Technology will find the best cycle for your 8-kg load, and even tailor the length of a cycle. In total, there are 14 programmes, including a cotton wash, economy wash, pre-wash, quick wash, silk wash, sports programme, and wool programme. This particular machine is Wool Mark approved which means that it'll treat your garments with the utmost care.
Just so you know, because it is a built-in washing machine, you'll just need to carefully measure the space for it. You'll need to allow 3 cm onto the depth of your space to allow for the pipes. From the reviews we've read, some programmes also take longer than expected to run. And a few of the programs only spin at 1200 rpm.
Quietest Miele washing machine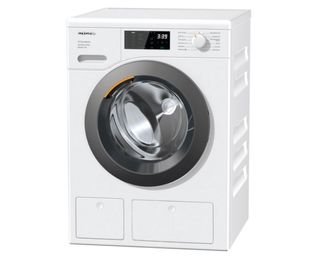 We couldn't not feature our pick of the best Miele washing machine in this guide, but it comes at a price — hence its positioning. It has all the specs for an exceptional appliance but is on the more expensive end of the washing machines featured in this guide.
As with the Haier I-Pro Series 7 HW80-B14979, this machine also has an 8-kg drum, which is plenty big enough for some bedding or a couple of weeks' worth of shirts. It has an automatic load adjustment ability that cleverly adjusts your selected cycle run time. There's also the option to clean your laundry in under 30 minutes. And the timer delay function is handy if you're watching your water supply prices, or you want to hang the washing out to dry first thing in the morning. All of this can be controlled on the Miele@mobile app from your smart device, so you don't even need to be home to set the machine to wash — a big plus in our books.

The Miele WED665 is an example of TwinDos. This Auto Dose Technology claims to reduce detergent consumption by up to 30%. It works by dispensing the perfect dose of detergent quiet afor each wash, using two separate cartridges that can be bought from Amazon, for example. This is regardless of whether you're washing a color or white load. This machine is a Quiet Mark awarded product, so it has been recognized for keeping noise levels down.
How we chose the quietest washing machines
When we are selecting washing machines to feature in our quietest washing machine guide one of the most obvious features we look at is, of course, the noise ratings. The noisiest element of a washing cycle is the spin. A wash cycle on a quiet washing machine should be 60 dB or less, and the spin cycle 75 dB or less.
Although we have not reviewed all of the washing machines you see featured, we have considered customer reviews, the machine specs, and if the machine has been awarded with the Quiet Mark to help you decide what is the best quiet washing machine for you. Other features we sought out included anti-vibration capabilities, inverter motors, and silencing technologies — all of which significantly help in noise reduction.
What is the best quietest washing machine?
To recap, when it came to choosing the quietest washing machine, we recommended buying the Haier I-Pro Series 7 HW80-B14979. Not only is it super quiet, but it also has a 20-minute detergent-free refresh cycle, drum lights, an 8-kg capacity, a wide door opening, and an A+++ energy rating. All for less than £500? Yep. These are just some of the reasons why it was voted the best washing machine by you, our Real Homes readers.
What noise level is considered quiet for a washing machine?
A washing machine that has a spin cycle noise level of fewer than 75 decibels is considered quiet. Keep a look out for washing machines that are Quiet Mark certified. These products are independently reviewed by expert acoustics teams who give this award credentials to products that are between 10% and 20% of the quietest in their category. This helps guarantee you're choosing the quietest washing machine for your home.
How loud should a new washing machine be?
Quiet washing machines will display their noise level for both washing and spinning in decibels (dB), so the lower it is, the quieter it will be. As a guide, a decibel level in the 40s for a wash and 70s for a spin is low. Look out for features that help make the appliance quieter too, like anti-vibration technology.
What energy rating is best?
The A to G energy rating was introduced in March 2021 for all new appliances launched. Formerly an A+++ to D energy rating system, you're now going to be looking at appliances with an energy rating of B or C, and reasonable water consumption levels if you want to get the most energy-efficient quiet washing machine.
Things to consider when buying a new washing machine
1. Special wash cycles
While finding a quiet washing machine might be your priority, you'll want to ensure the washing machine you choose fulfills all the other basic functions, too. Think carefully about the type of laundry you do on a regular basis, as some washing machines come complete with programs designed to get rid of pet hair, tough stains on sportswear, soiled work gear, and grimy school uniforms.
3. Does it have any smart features?
Some washing machines, quiet or otherwise, have smart features as part of the package, including the ability to be controlled by you from your smartphone. They're typically a little more expensive than non-smart washing machines, but over time, we suspect this will change. Time for you to go smart? Check out our guide to smart washing machines.
---
Now that you've discovered how to wash clothes discreetly, you might find our guide on the best tumble dryers helpful in finding the right appliance to dry your garments.