The best Black Friday sofa bed deals
Black Friday is the perfect time to invest in a new sofa bed (or any new furniture infact) because you can get this big ticket item at a heavily discounted price.
Wondering how to find the best Black Friday deals? Well, we've got plenty of budget sofa beds in our 2018 buyer's guides, but you want to be sure you've got the best-priced sofa deal, right? Buying it here on Black Friday (and in the run-up to the big weekend) is your best option, as we'll be updating this page on the regular, giving you updates on the very best bargains.
Find all the latest bargains on our deals page and search for more sofa beds.
The best Black Friday sofa bed deals
Lots of retailers currently have lots of attractive Black Friday deals live, but be quick to grab them – they won't be around for long!
SINGLE SOFA BED DEALS
Rafael Single Fabric sofa bed | Was £249 now £189 | Save £60
Much like Made's Haru sofa bed, but bigger, this stylish sofa bed currently has £50 off, and comes in three different colours. Also, Very have just opened their Black Friday sale, so click for a peek. View Deal
TWO SEATER SOFA BED DEALS
Innovation Colpus Sofa Bed with Pocket Sprung Mattress, Light Leg, Light Grey Twist Granite | Was £1,104, now £920| Save £184
The charming Colpus sofa bed features a Colpus metal frame, designed in Denmark and with a lifetime guarantee on the hinges and slats; complete with a unique triple function mechanism.View Deal
Rio Standard Back Fabric sofa bed |Was £1,099 now £589 | Save £510
Available in both grey and oatmeal, this comfortable sofa bed is hard wearing and ideal for busy homes. View Deal
High Street Oxford Street two seater fabric sofa bed | Was £1,139 now £849 | Save £290
With their Black Friday sale now open, Furniture Village are giving you a whopping £290 off this comfortable looking sofa bed which opens out to a small double.View Deal
THREE SEATER SOFA BED DEALS
Innovation Recast Sofa Bed with Pocket Sprung Mattress, Dark Leg, Blue Nist | Was £863 now £719| Save £144
The Recast sofa bed, 140-200cm crafted in Denmark with dark elm wood legs. A stylish Mid-century designed pocket sprung sofa bed designed for ease of use with a simple pull out base and drop down back.View Deal
Wantaugh three seater sofa bed | Was £558.99 now £332.99 | Save £226
Available in four different colours, this practical yet still comfy sofa bed currently has 40 per cent off, and it features an easy-to-use click-clack mechanism to turn it in to a bed. A bargain from our point of view.View Deal
William three seater fold out sofa bed | Was £814.99 now £659.99 | Save £155
With 19 per cent off right now, this three seater sofa bed comes in 10 different colours, and folds out to a double bed. View Deal
CORNER SOFA BED DEALS
Shirley Corner Sofa Bed | Was £867.99 now £484.99 | Save £383
With an amazing 44 per cent off this Black Friday, why not treat yourself to a brand new corner sofa which converts into a large sofa bed in seconds. You can also remove both arms to create several seating combinations...View Deal
Ava Fabric Chaise sofa bed with storage | Was £999 now £899 | Save £100
A practical yet still comfortable AND stylish sofa bed, not only can two guests sleep this, but you can also store your things away underneath the seats. Oh, and you can get it delivered in time for Christmas, too.View Deal
Quick links to the best sofa bed deals
How to buy the best sofa bed at the best price
If none of the above sofa bed deals ticked your boxes, then don't fear, we've got bags of guidance in our buyer's guides below. We know that buying a sofa bed online can be nerve-wracking, BUT it's totally possible.
Buying guides:
WHEN IS BLACK FRIDAY 2018?
This year will see Black Friday fall on Friday 23 November, but sales will last for about a week or so, and some retailers (Amazon) often cut their prices well beforehand – in fact, Amazon's Black Friday deals are already up and running. If you're serious about getting a good deal, we suggest you keep an eye out for cracking deals starting from now.
Can you get great Black Friday sofa bed deals?
Absolutely. Lots of sofa bed deals will last from Black Friday through to Cyber Monday and beyond. Looking to replace a TV, sofa, mattress, kitchen appliance or smart home tech on Black Friday? Find out why it's worth waiting to buy these products on Black Friday?
Where should I shop for a sofa bed on Black Friday?
SUBSCRIBE TO THE BEST HOMES MAGAZINES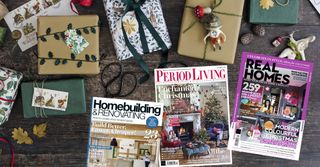 With homeware brands ever more attuned to the Black Friday buzz, you can expect big savings from some of the best sofa retailers out there this month, and many more.
You can already find a sofa bed deal via Amazon, Made, Wayfair and John Lewis among others, but we can't foresee exactly who will be slashing prices on what just yet. Let's take a look back in time at Black Friday 2017 and 2016 showstoppers.
Marks & Spencer knocked a whopping 60 per cent off their products across all departments last year, and homeware haven Habitat treated customers to up to 50 per cent off, while Debenhams offered furniture savings of 60 per cent off. John Lewis had the deal of the century on their Sacha sofa bed, dropping the price by over £400, and Very slashed their prices by 20 per cent on their furniture. Black Friday 2016 also saw Very treat their customers kindly by giving them a whopping 50 per cent off.
Are Black Friday sofa bed savings real?
Of course, but... since many products' prices change frequently, checking the price history of what you're planning to buy on CamelCamelCamel.com or PriceSpy is a good idea. They'll both tell you whether the savings are real or not, and whether a price is likely to re-occur.
It's also likely that the sofa bed you're lusting over will be discounted again soon (think Boxing Day sales). So, always check, rather than be distracted by the recommended retail price, especially if you're thinking of buying a big ticket home buy.
How we'll help you find the best Black Friday sofa bed deals
Finding an excellent deal is the trickiest part of Black Friday weekend, as so many retailers jump on the bandwagon to offer huge savings making it difficult to know where to start looking.
The good news is that we'll be providing you with a guide to the best Black Friday sofa bed deals (and, since you ask, on everything for your home, including smart home tech devices, mattresses, furniture, gifts and more). That way, we'll do the browsing and you can snap up the bargains.
It's worth preparing yourself for the biggest shopping event of the year early, so that when the 23rd November rolls around, you know what to expect. Teach yourself a thing or two from how Black Friday really works to the dos and don'ts, or have a read of the 10 tips for getting the best deals this year.
Is my new sofa bed the right for me?
We know you're going to be pretty desperate to score that sofa bed deal of the century, but don't buy in a rush without making sure you're absolutely certain you've got the size right. Whether you want a small sofa bed to medium, large or even a corner version; consider how each will fit in your living room layout by using masking tape or newspapers to create cutouts on the floor.
Always remember to allow for the footprint of the sofa bed when measuring, and note the measurements from the back of the sofa to the end of the sleeping area, not just the bed's dimensions. Also, always check that the sofa bed can fit through your front/back door, as there's nothing worse than ordering the sofa of your dreams, to find it won't actually fit into your house.
Another good idea would be to check the size of the mattress, too, rather than judging sleep space by whether the sofa's a two or three-seater. A big sofa doesn't always equate to a large bed, and a double mattress might be the perfect fit for a single sleeper, but if you've got a couple staying, they may not get a good night's sleep.
You'll also need to decide between a fold-out or pull-out sofa bed. Fold-out sofas tend to have a larger sleeping area, but won't have a headboard, if you're thinking of getting one of these, you might also want to add a mattress protector beneath the bedding to soften the seating/mattress and to protect it from spills. Pull-out sofa beds are a more affordable option, and may be all you need for occasional guests. They usually have two or three-fold mattresses: those that fold into three being thinner and less supportive than ones that fold into two, which will most likely be deeper and more comfortable.
Sofa beds come in both contemporary and traditional styles, so you won't have to compromise on it fitting with your decor. Long, low lines will create a modern vibe, while high-backed designs look more classic.
Forget style – what about the sofa bed's construction?
Sofa beds are made with the same fillings as sofas. Choose foam for a firmer seat; fibre for softness with support; or opt for plump feathers for the softest sofa. Fillings may also be combined for a balance of features. It's also worth noting that a sofa bed will feel firmer than a standard sofa, so be sure to try in store or shop with an online company that allows returns to ensure you're happy to take a seat as well as put up visitors.
When it comes to the frame, just as with a sofa, look out for a hardwood frame that's screwed as well as glued for long life.
It's also a good idea to check the sofa bed's mattress for comfort. Some may be open or pocket sprung, or made from memory foam. Memory foam moulds to the body to create good support, but some people find it too warm. Pocket springs are more luxurious than open springs – and more costly – but they can help stop sleepers rolling together.
More Black Friday and Cyber Monday deals
More on Black Friday: