Feel like splashing out on Christmas presents, without breaking the bank? Our pick of the best Christmas gifts under £100 offers a range of luxurious pressies that are affordable but fabulous – and includes everything from technology to a cosy blanket (so, something to please – nearly – everyone. Happy Christmas shopping!
Take the legwork out of your Christmas shopping by checking out the Real Homes team's top 50 Christmas gifts for 2018: we want them (and so will you and your friends and family).
1. Give the gift of sustainable swimwear
For anyone who's keen on swimming, a rotation of quality swimsuits is a must. An easy gift then, since all you need to know is size (and, men, note to you, their preferred cut – don't make that face, just look in the cupboard).
We love the colourful and comfortable Banana Leaf Swimsuit by Batoko. It's sustainably made from recycled PET (that's plastic in the Queen's English) and will appeal to the eco-conscious as well as the style- and health-conscious. It costs £40.
More swimsuits:
2. Pick a cosy wool blanket
A quality wool blanket is a great Christmas gift for virtually everyone, because who doesn't love to cosy up on the sofa with a cuppa and a great read (see our book lover's gifts to get that one sorted)?
The Sunshine Throw from Bronte By Moon is 100 per cent lambswool and is super soft.
3. Choose a pair of funky retro headphones
Music lovers, teens, retro fans... they're all covered with a pair of quality headphones.
These Wireless Bluetooth Headphones from Panasonic are pricey, but they are totally worth it. Offering comfortable wear and pristine sound, they also look lovely, coming in four fun colours. We especially like the retro yellow.
4. Pick a versatile tote bag
Forget handbags – give them a sturdy (but pretty) tote bag instead. Practical and guaranteed to be put to good use – and a stylish alternative to plastic, obvs.
The African Print Tote from Lola & Mawu is £30, but the quality is excellent, and the prints are gorgeous (in other words, it'll fly at the opera and the high street).
More cotton tote bags:
5. Help them be more organised with a storage pocket
Is your friend/significant other/teen always losing the remote/their phone/headphones/keys/latest read? Banish the morning panic/down-the-back-of-the-sofa-search for good with this natty find.
The Felt Bedside Pocket by Kikkerland fits neatly over the bed frame or sofa arm and keeps all those bits and bobs neat and within easy reach. If that doesn't work, they're beyond help.
More bedside pockets:
6. Choose a sturdy but nice-looking rucksack
Know someone with a bad back? Maybe someone who cycles to work? Perhaps your other half's bag is always overloaded? Solution? A rucksack. Not any old model, but the must-have buy for teens: the very cool Kanken Rucksack from the cult Swedish brand Fjallraven. It's a luxurious option, and guaranteed to please (plus, we've tried and tested them and they really last).
Pssst! Look no further for more gifts for teens.
7. Celebrate their hobby with a personalised gift
Do you have a cyclist in your life? Then you'll know that it's more than just a healthy, stress-free way to get to work. So why not celebrate their healthy hobby with a thoughtful, cycling-related gift?
The Scratch Off Alpine Cycling Print by Maps International marks cycling achievements in a way that's fun and looks good on a wall. Now you just need to save up to send them to the Alps.
8. Nothing beats a cosy pair of slippers
A gift that transcends genders and ages – a quality pair of sheepskin slippers is a failsafe gift option when you're stuck for ideas. Just be sure to pick really nice ones for anyone who knows anything about fashion or design (unless your grandad's Terence Conran, he'll probably be happy with something snuggly from Clarks).
Ugg make women's slippers, men's slippers, and slippers for kids. Take your pick.
9. Buy a copy of Real Homes magazine
At only £3.90 for an issue of Real Homes magazine, it would be Christmas-crazy to miss out on the chance to pick up the latest copy. Or you could buy the latest issue and a back copy and still have change left over from a tenner.
Get your back issues of Real Homes magazine now.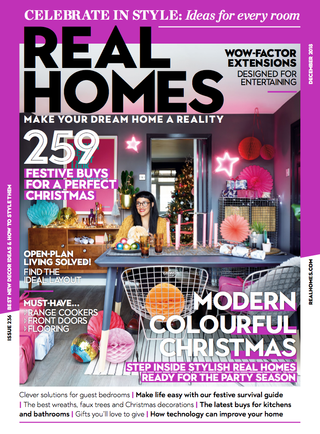 10. Banish too many cables with a wireless charger
Phone chargers are probably the most unexciting tech items money can buy. Unless they are shiny and wireless, and designed by Ted Baker, that is. If you know someone whose house is drowning in a tangle of unattractive cables (or perhaps you are that someone), give them the gift of effortless and stylish charging with Proporta/Ted Baker charging stands and cases.
11. A customisable vase to fit any interior
Fans of minimalist interiors will love this understated stackable Vase Trio by LSA International. It can be made as tall or short as they want, and they can add or subtract colour and clear elements as they please. A versatile and gorgeous decorative piece that does away with the need for lots of different vases. From £55.
More stackable glass vases:
12. Interconnecting floor cushions for yoga – and more
Know someone who is trying out yoga, but likes that extra bit of comfort while they're doing it? The Serenity Connecting Floor Cushion from Bean Bag Bazaar zip together to create a comfy base for yoga sessions; they are also water-resistant and can be used outdoors, making them perfect for outdoor living in the summer.
More floor cushions:
13. A mini food processor for making the perfect quac
Do you know someone who loves homemade guacamole , but hates the mess of mashing up avocados? Or perhaps they'd like a homemade mayo without the hassle of slow oil dripping? The Mini Prep Pro from Cuisinart can do both, as well as grinding up nuts, pureeing soups and making breadcrumbs. It's small, too, so no need to worry about it overwhelming their kitchen.
14. A watch that looks well over £100, but costs less
A fancy watch is a perfect gift for women and men, but the prices can be truly astronomical. Fear not, though – we have just the watch that looks like a million bucks, but costs only £89. The La Garconne from Cluse is stainless steel, but looks a very convincing rose gold. They also have plenty of unisex designs that'll make a perfect gift for him.
15. A gorgeous hanging mirror instead of an art print
Art prints can be tricky to gift (you may find that abstract motif lovely, but to them it may well be an eyesore). Mirrors are far easier, and can look just as chic up on a wall. We love the Padang Metal Wall Mirror from Maisons du Monde.
16. A travel holdall to last them a lifetime
Travel holdalls are useful no matter who your gift recipient is; whether they are a frequent traveller, or they'll only use it for the odd weekend away, they're guaranteed to use them in one way or another. So, an easy gift. The not-so-good-news is that high-quality travel holdalls range between expensive and very expensive price-wise, but we think we've found a happy compromise. The Herschel Holdall is under £100 and comes with a lifetime guarantee, no less.
Read more: