If you like pizza then you are going to want the best pizza oven. They're a great buy if you enjoy dining in the garden (weather allowing), or want to master what makes the perfect pizza. Either way, they offer bucket-loads of fun. How do we know this? We've been lucky enough to test some of the top indoor and outdoor pizza ovens (sampling the delicious pizza as we go, of course) to bring you our complete guide.
Recognisable brands such as Ooni, DeliVita and Sage have all been tried out. And, perhaps, some lesser-known brands such as Gozney have made the cut too because, well, it was simply a really good pizza oven. We found that the majority of those pizza ovens we've tried are wood-burning, although some of the best pizza ovens in our guide have the option of cooking with gas, which offers the same adjustable temperature settings as the best BBQs but without the need to stoke your fire with more fuel to keep the fire going. Then, there are some options for indoor use, such as the Sage Smart Oven. This can be plugged in and will heat up to immense temperatures in minutes, making delicious fresh pizza without forcing you out into the garden. That's an all-weather pizza oven, if ever we saw one.
No matter your budget, space or culinary requirements you're working with, keep reading for a slice of our top nine pizza ovens (so far!) for 2022.
The best pizza ovens 2023
Why you can trust Real Homes Our expert reviewers spend hours testing and comparing products and services so you can choose the best for you. Find out more about how we test.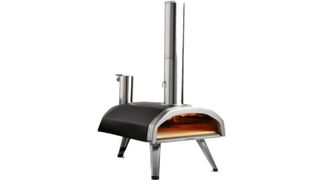 When we reviewed the Ooni Fyra 12 it impressed us with its straightforward assembly, which simply required screwing in the chimney and the fuel chute, as well as the speedy cooking times. Our pizza was cooked in just 60 seconds, as promised, although there is a bit of guesswork when it comes to heating the oven, because there is no thermometer built-in.
It doesn't take up much space at all, and the legs fold down for storage purposes. It is also only 11kg, so moving it around the garden will not be an issue.
This pizza oven has been reviewed by one of our editor's. It's scored (at least) four out of five stars so you know you're onto a winner.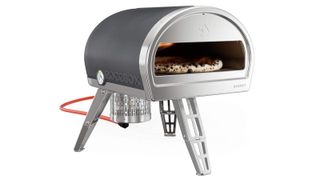 We really like the Gozney Roccbox and we hope you will, too. It's a very close runner-up to our #1 Ooni Fyra 12 but it was just pipped to the post because of the slightly higher price tag, although it's not the most expensive. The kit is well packaged and efficiently engineered. You've got the opportunity to convert it to a gas pizza oven, should you want to try something different to the wood fire. But, do read the instructions when firing up for the first time (at least) as this can advise how to get a consistent burn. Gozney advise that you need a still, calm area to achieve the optimum 300˚C – a temperature which you can watch rise or fall on the gauge.
The pizza? Delicious. Helped by a high temperature and thin reactive dough.
Real Homes rated 4.5 out of 5 stars - read our full Gozney Roccbox pizza oven review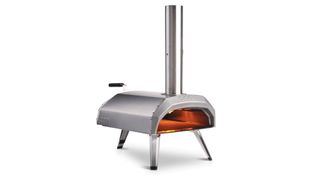 The Ooni Karu is immensely versatile, and produces great pizza. You can cook with charcoal, wood, or even gas using the Karu, and it's also highly portable thanks to its foldable legs. It weighs only 12kg, so be prepared to take it with you to garden parties or camping trips. This pizza oven delivers perfectly cooked pizza in only 60 seconds, and heats up to 500°C in just 15 minutes. The Ooni Karu is a great pizza oven for alfresco dining. It fits pizzas of up to 13 inches, but be aware that it will do one at a time. While multi-fuel cooking is a great option, note that you'll need to buy a gas burner separately to convert it.
This pizza oven has been reviewed by one of our editor's. It's scored (at least) four out of five stars so you know you're onto a winner.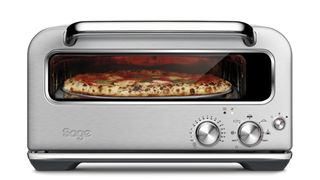 We seriously love the Sage Smart Oven Pizzaiolo. It's the smartest pizza oven we've ever used, with a panel up front displaying the different types of pizzas you can make. Simply select the right one and the temperature and timer will automatically adjust. You can also place a magnet over the display to convert this into a more manual pizza oven.
The Sage Smart Oven Pizzaiolo can heat up to 400 degrees, which is seriously impressive for a countertop pizza oven. Despite how hot it gets, the oven always stays hot to touch. The in-built pizza stone heats your pizza from above and below, replicating a wood-fired oven but without the smoke or uneven heat. When testing our pizza came out even and perfectly cooked when we followed the instructions exactly. The only downside is the price, but if you lack an outdoor space and still want fresh pizza, this indoor pizza oven is the one for you.
This pizza oven has been reviewed by one of our editor's. It's scored (at least) four out of five stars so you know you're onto a winner.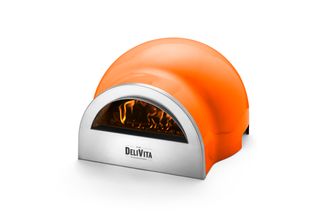 If you really, really love pizza (or the person you're buying this for), the DeliVita is a costly option that's worth the dough. It has a traditional look and wood-fired interior that's complemented by a clay lining and 12-inch mouth to easily accommodate your pizza.
The durable outer shell means it can be left outside without worry, and the heatproof handle means you'll be able to take out your freshly cooked pizza without worry. At 30kg it's not the most portable, but this is a pizza oven that's built to last.
When we put the DeliVita Outdoor Pizza Oven to the test we loved how versatile it was, cooking meat and fish and even loaves of bread. We didn't think it was great for those who wouldn't want it on display because it's heavy (and also a real looker) but this is still a top pick for pure quality.
This pizza oven has been reviewed by one of our editor's. It's scored (at least) four out of five stars so you know you're onto a winner.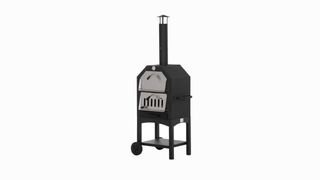 If you're craving the authentic experience the Outsunny Charcoal Pizza Oven is here to help. For a very reasonable price point, you get a well built oven that comes on wheels so you can scoot it out of the way after use. It also has an ash drawer for easy cleaning and a built-in thermometer to keep everything in check. The pizza size is 12 inches, but our clever reviewer found she could make a bigger pizza to serve more if she went square.
It does take a lot longer to cook a pizza in this oven. You are looking at a long as 15 minutes as opposed to the minute or so of some of the headliners above, but what it also has is plenty of other uses so you really get more bang for your buck. Our reviewer used it for barbecue food and remarked that it stays hot for a couple of hours after so you can use it for toasting marshmallows or just sitting round it to keep warm, once the pizza party is over.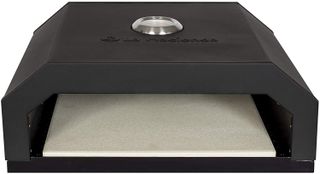 Small but mighty, the La Hacienda BBQ Pizza Oven works by borrowing heat from your barbecues and can be used with gas, charcoal, or masonry BBQs. Simply slide it in or place it on top of barbecue to cook delicious pizza.
For speed, we recommend pairing with one of the best gas BBQs which will be quick to bring it to temperature. Don't be fooled by the small price: this pizza oven features a dual wall cavity that distributes heat evenly, delivering perfect pizzas in seconds, or seared meat or fish. No assembly is required, which is always a bonus.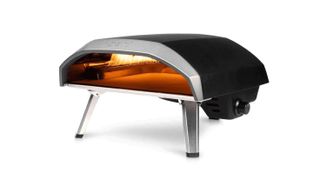 The Ooni Koda comes in two sizes, so depending on which you buy you'll be able to cook pizzas of either 12 inches or 16 inches. This pizza oven is gas-powered, meaning it doesn't have the distinctive chimney of other Ooni models. This makes it more portable and also easier to use on a tabletop. While it's not wood-fired, so you lose some of that authentic charm, the gas does offer some advantages. For one, it's easier to ignite and you can adjust the temperature using a dial. There's also no smoke, which means those with tight spaces or nearby neighbours won't have to worry.
What is the best outdoor pizza oven in 2023?
The best pizza ovens go in and out of stock all the time, but our top pick is the Ooni Karu. It's versatile and classic, and will cook your pizza in just two minutes seconds. This outdoor pizza oven is also portable, meaning you can enjoy a fresh slice anywhere you go.
If you want a pizza oven you can buy right now, the Woody Wood Fired Pizza Oven is pretty darn close to the Ooni, and it comes with a paddle and carry case included.
How to buy the best pizza oven
Where to buy a pizza oven
Wondering what you should be looking for in a pizza oven? These are the main things to consider:
Fuel: domestic pizza ovens use either gas or wood for fuel, but flavour-wise, a wood-fired oven is your best bet. All of our top picks use either logs or wood pellets (but some can be gas-powered as well, if that's your preference).
Construction type is the second biggest consideration when buying a pizza oven. Traditional clay ovens look amazing, but they are very heavy, and might not offer the supreme insulation of other construction types. The Ooni Fyra, offers supreme insulation, keeping nice and cool to the touch while getting hot enough inside to singe a pizza in under a minute.
Size: for those who are tight on space, the smallest on our list is the compact Oooni pizza oven.
What is the best pizza oven to buy?
To recap, we can highly recommend you buy the Ooni Fyra 12. It was straight forward to set up and cook on, and delivered a wood-fired pizza in under 60 seconds (as promised).
Got a little extra to spend? We love, LOVE the Gozney Roccbox. It gives you the option to cook on wood or gas, feels really sturdy, looks great and makes a decent pizza once it has got up to temperature.
Want to run through our list again? Jump back up to the top ^