Looking for the best inflatable hot tubs? The perfect way to relax and unwind in the garden, an inflatable hot tub is an affordable way to create a luxurious outdoor spa in your very own backyard.
Plus they're quick and easy to inflate, and easy to store once hot tub season is over. And the best news? You can pick up some of the cheapest hot tubs on the market for around £300.
Just like the best garden furniture, hot tubs tend to sell out fast as summer approaches. So we've collated the best-in-class hot tubs to keep your eyes peeled for, and also the hot tubs that are in stock and ready to buy now.
From the hot tub with the highest number of massaging air jets, to the inflatable spa that is smart-tech operated or has LED mood lighting, read on to find the best inflatable hot tubs for you.
The best inflatable hot tubs
Why you can trust Real Homes Our expert reviewers spend hours testing and comparing products and services so you can choose the best for you. Find out more about how we test.
In our opinion, the best inflatable hot tub on the market right now is the Helsinki hot tub from Lay-Z-Spa.
This design has far thinner walls than most other inflatable hot tubs, meaning there is much more space inside the spa. In fact, Lay-Z-Spa says there's room for up to seven adults. We think keeping it to five people at once ensures everyone has plenty of legroom, but this still remains one of the most spacious inflatables on the market.
Equipped with Lay-Z-Spa's 'FreezeShield' technology to prevent the water from freezing, even in a British winter, this hot tub is designed for year-round use in the UK. The Helsinki can also heat, massage and filter all at the same time, and with a powerful integrated 180 air jet system, it offers plenty of bubbles!
In order to achieve the thin yet sturdy outer walls, the Helsinki utilises ultra‑rigid materials that offer long‑lasting strength. Although it remains easy to inflate, this gives the hot tub additional durability compared to other models, and - inspired by traditional Scandinavian wood hot tubs - the wood-effect print on the rigid exterior gives it a bit more style than your average blow-up spa.
It might look a little like a kid's paddling pool, but at three times less money than the best hot tub on our list, the Lay-Z-Spa Cancun is one of the cheapest hot tubs on the market and has some pretty impressive features to boot.
The main thing to note is that you won't fit as many people in this hot tub as the Lay-Z-Spa Helsinki. Although the outer diameter is the same for both hot tubs, the Cancun has far thicker 'traditional' inflatable walls which dramatically reduces the space inside. Lay-Z-Spa says four adults will fit, but we think that's a bit of a squeeze.
However, the smaller internal measurement does mean less water usage - the Cancun holds 669 litres compared to the Helsinki's 1123 litre capacity - which should also mean less energy used to heat the water and maintain temperature. And although the Cancun has 120 air jets compared to the Helsinki's 180 jet offering, this affordable option still has enough bubbles to make you feel you're not missing out.
So, if you're only likely to be sharing your hot tub with one or two others, and want one of the best value inflatable hot tubs around, we think this option is well worth considering.
This hot tub is all about the night-time illuminations.
Other than its outer wall colour, the Lay-Z-Spa Bali hot tub is almost identical to the Lay-Z-Spa Cancun in terms of specifications - offering a 120 air jet spa experience, easy inflation, and just enough room for four adults. But as evening falls, the reason for upgrading to this hot tub becomes clear.
Seven different colours of LED lighting set into the hot tubs inner walls allow you to fine-tune the evening's ambience - switching up the colour to match the mood via the wireless remote, or using the auto-colour mode to cycle through the shades.
If you want to add wow-factor to your garden parties - especially considering the extra investment needed to gain the LED feature isn't that much of an increase on the cheapest hot tub price - this party hot tub could well be worth the extra spend.
In our opinion the most stylish inflatable hot tub on our list, this marble-effect hot tub from Wave offers contemporary design as well as a relaxing outdoor spa experience.
Similar to the Lay-Z-Spa Helsinki, this inflatable Wave model is designed with thinner outer walls that offer a more spacious interior and allow up to six adults to use the hot tub at once. However, the overall diameter is a little smaller at 145cm, rather than the Helsinki's more generous 180cm diameter.
The number of air jets is also slightly less than the Lay-Z-Spa model, with 120 on the Wave hot tub and 180 on the best-in-class Helsinki.
For us, the main reason to consider this option is the design - we love the on-trend marble effect that we think adds a more modern touch than the comparative designs. Plus the generously sized internal capacity, which although smaller than the Helsinki, is still a good size at a slightly less expensive price point.
If you're looking for one of the best inflatable hot tubs with LED lights, offering a larger capacity than the four-person Lay-Z-Spa Bali, then this MSpa model is our top recommendation.
It offers six LED colour choices, and like the Bali you can pick your favourite colour to set the mood or select the LED colour-changing cycle. Plus, there are 138 air jets for a relaxing massage, and the Aurora hot tub offers three different levels of pressure, so you can adjust the bubbles from soothing to invigorating as you prefer.
Best of all this is the only hot tub to come with its own chemical pack included to set you up for stress-free maintenance - plus two filter cartridges. You can buy all these components separately, but having them on hand from the get-go makes enjoying your hot tub all the easier – and after all, relaxation is what this purchase should be all about!
The six-person Lay-Z-Spa Milan offers spacious soaking and comfortable relaxation, but its main point of difference is its wealth of smart-tech features.
Download the app to your Android or Apple device and you can make sure your hot tub is ready to use as soon as you get home by turning it on, setting the temperature, or even controlling the bubbles remotely.
And for stress-free, hands-free enjoyment once you're in the water, you can control everything from the jet massage system to the temperature guage using voice-activated commands via Amazon Alexa and Google Assistant.
All that, plus 140 air jets to relax you into a blissful state of unwind. So if the convenience of smart-tech is important to you, this could well be one of the best inflatable hot tubs for you.
---
Where to buy hot tubs in-stock now
This year the best inflatable hot tubs are selling out fast!
If our top picks aren't in stock right now and you don't want to wait, then you can use our handy in-stock shopping tool below to find an option that's ready to deliver.
Just click on the product to be taken straight through to the retailer to shop.
---
What to consider when choosing the best inflatable hot tub
External size: It may seem obvious but the first thing worth considering is size. Make sure you check the diameter of your hot tub and measure the area where you want it to go, to make sure it fits.
Power source: Your hot tub will need to be plugged into a mains adaptor for power, and extension leads aren't recommended, so consider where your access points are and make sure you have enough space to set up your inflatable spa nearby.
Internal size: The more people you want to fit in your hot tub, the larger it will need to be – and the more expensive things get! So although it might be nice to have space for up to seven people to use the hot tub at once, if the majority of the time there will only be two of you, then you'll make a big saving by opting for a smaller model.
This applies to both the initial outlay, and the cost of filling the hot tub and heating the water, as larger capacities will take longer to heat and use more energy to maintain your ideal temperature.
It's also worth bearing in mind that hot tub retailers tend to be on the optimistic side when stating the number of people that will fit into a hot tub! A hot tub marketed as being for up to four adults will fit four people in, but space is likely to be tight. For a more relaxing spa experience for all involved, it's generally wise to assume you'll need to plan for one or two people less than the stated maximum capacity.
Air jets: Generally the higher number of air jets a hot tub has, the greater number of jacuzzi bubbles. So more jets generally means an increase in price.
It's also worth looking out for adjustable jets so that you can vary the pressure to tailor the spa experience to your preferences – although again, that's likely to mean a more expensive model.
LED lights and extras: If you want the deluxe hot tub experience then make sure you check to see what extras each hot tub offers. Some have multi-coloured LED lights for night-time fun, or others offer built-in smart technology that allows you to heat up your hot tub before you get home.
Protection from the elements: As lovely as bathing in the sunshine may sound, the reality can easily mean overheating and sunburn, so it's wise to consider some kind of shelter if you want to use your hot tub during the daytime on a hot day. Check out our guide to the best garden parasols and look for a cantilever option that has an offset base and a canopy that can be adjusted to hang over the spa.
A cover: As well as protection for you, you'll also want to consider protection for your tub itself. Some hot tubs come with covers included, but not all do, so it's worth checking the small print. Not only will a cover make your hot tub safer for children if you're not there to supervise, but it will prevent debris and bugs from falling in overnight. It'll also help to save on energy by helping the hot tub to maintain its temperature when it's not in use.
---
What hot tub chemicals do I need?
You've chosen your hot tub, and all you need to do now is inflate and fill it with water right? Well, not quite. In order to ensure your hot tub stays running smoothly, and your water stays safe to use, there are a few things recommended to add to the mix.
A hot tub chemical starter kit is a good place to begin – usually offering chlorine, a PH adjuster, testing strips, and a foam remover with instructions on how to use.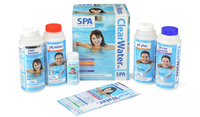 Clearwater Chemical Spa Starter Kit
This hot tub chemical starter kit is a good option, offering chlorine, a PH adjuster, testing strips, and a foam remover, plus instructions.
Or check out the supplies on offer at Argos, B&Q or Robert Dyas.
---
Where to find the best hot tub deals
If you're looking for a bargain, then we're here to help. Generally, the best time to buy... well... anything... is out of season, which for hot tubs generally means the end of August when retailers are looking to clear their summer stock ahead of the Christmas countdown. However, there are still ways to bag a bargain the rest of the year too.
Now that you know the specifications you want your hot tub to have, head over to our hot tub deals page to find the most affordable outdoor jacuzzi on offer right now, including the biggest sales and best discounts happening online and in-store.