We've rounded up the best dog beds because we think that all pooches deserve a bed that's as comfy as their owners. After all our beloved pups spend half of their lives snoozing around the house so why not invest in best model you can? We are sure they will thank you for it in unwanted licks to face.
You'll know your dog's tastes best and you'll know if they like a sleepy spot by the radiator or a cosy den under furniture. You'll also know if you've got a pup who likes to chew which will mean the bed will need to be hardy. Other considerations include if the new bed needs to be water-resistant, machine washable or if it simply needs to look stylish if in a prominent position. You can see more tips on choosing the best dog bed below.
Our buyer's guide features the best dog beds on the market, including small dog beds, large dog beds, orthopedic dogs beds and more!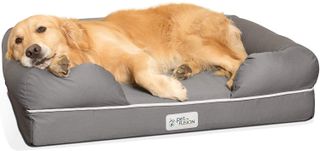 Best for... older and mature dogs
Smart design
Providing optimal support and comfort, the design includes a memory foam base with a waterproof inner liner and generously filled outer bolsters that encourage nestling.
Easy to clean and water-resistant
The double zip removable cover is machine washable and simple to spot clean or remove hair. It's also water-resistant to significantly slow down absorption before reaching the waterproof liner.
Any age, size or breed compatible
Dogs of all ages will find this bed super comfortable and it is especially helpful for mature and older dogs with joint pain and arthritis.
With a wide variety of different sizes to choose from, there's a PetFusion bed for every breed from Chihuahua to Great Dane.
Shop PetFusion Large Dog w/Solid 10 cm Memory Foam Bed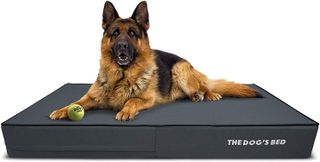 Best for... dogs who need a little extra support
Heat sensitive mattress
Supporting your dog's skeletal system, the heat sensitive mattress helps your dog sleep in the correct alignment and protects their delicate joints.
Quality materials matter
Using premium, long-lasting materials, The Dog's Bed rigorously tests all dog sizes and dogs with conditions such as hip- and elbow dysplasia to ensure their design and materials enhance your canine companion's life.
Washable and waterproof
Perfect for dogs who shed, drool or recovering from surgery, the easy clean cover is wipe clean and vacuum-able.
Available in easy clean, plush and linen removable washable covers, they are quick drying and come with a waterproof mattress protector to catch any accidents.
Not just for older dogs
As a preventative measure, The Dog's Bed is said to keep joints youthful for longer and is a wise investment for breeds with predisposed conditions such as arthritis.
The bed is designed to provide relief and comfort to tripawds (amputee dogs), dogs with hip and elbow dysplasia and dogs who are suffering from patellar luxation, osteochondritis or are recovering from surgery. It can even help relieve pressure sores caused by immobility during illness or post-surgery.
Shop The Dog's Bed Orthopaedic Dog Bed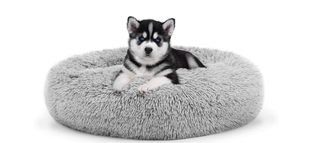 Best for...
Appeals to the nesting instinct
Dogs who paw at their bed or curl up when they sleep will love the soft bolstered sides as they will give them a sense of security.
Luxurious and stylish design
The deep, luxurious comforter for your cherished best friend also makes for a chic room accessory and is available in muted shades to choose from.
Encourages sleep
Sleep is essential for a happy, healthy dog and The Dog's Bed have researched and developed the Sound Sleep bed to make sure your pooch gets a good night's kip.
Sleep deprivation in dogs can manifest in a number of ways: whining and crying at night, aggression and behavioural issues and a compromised immune system.
Sound Sleep bed is said to improve a dog's slumber with its soft texture, self warming materials and body support.
Puppy friendly
Replicating the warmth of their mother's fur and of being in a puppy pile, the Sound Sleep bed is great for welcoming a new puppy into your home.
Shop the The Dog's Bed Sound Sleep Donut Dog Bed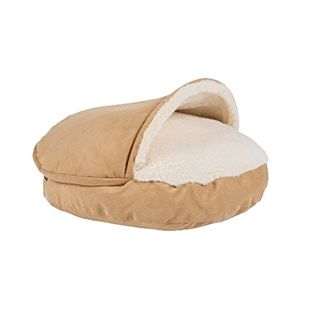 Best for... small dog breeds who need to feel extra secure
Machine washable
Simply remove the plastic rod in the hood and you're all set to pop the cosy cave bed in the machine.
The materials
The bed's materials include a zip up polyester Sherpa fleece lining for the warmth and cool in summer, a removable, washable microsuede cover in a wide array of colours and heavy-duty rust proof brass zip.
Choice of comfy filling
The base can be filled with either a cedar/poly mix for overstuffed comfort or with an orthopaedic foam insert for extra support.
Clever hood
A concealed, thin plastic rod keep the hood of their bed raised for easy entry and exit and can be removed when washing.
Shop the Luxury Orthopedic Cozy Cave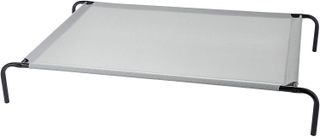 Best for... cooling your dog on hot summer days
Easy to Clean
The mesh material can be washed as needed (using tap water only).
Breathable, Cooling Comfort
Allowing air to flow freely from all directions, the cot-style, off-the-ground design's durable mesh fabric offers added breathability – a welcome relief on a summer's day.
Home or Away
When not in use, you can easily store the elevated cooling pet bed in the bedroom or living room or in the shed. Thanks to its lightweight, portable design, the AmazonBasics pet bed also makes a handy take-along option when travelling, camping, or boating with your furry friend.
Shop the AmazonBasics Elevated cooling pet bed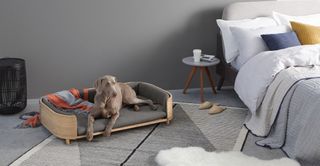 Best for... style. Now before you go think an expensive, stylish dog bed is pointless if is not practical, this bed has 5 stars! All happy dog owners pointing out how much their dog loves the bed and how great it looks in their home.
Machine washable
Obviously the walnut outer of the bed will need to be wiped down, but the inner fabric bed can be bunged in the washing machine at 40 degrees and come out clean and smelling delicious.
Great quality
This is not a dog bed you are going to only keep for a year and then chuck away because it's just got too grotty, this in an investment dog bed that could last just as long as your furry friend.
Different sizes available
You can pick between, S/M and L/XL and there are two colour choices too.
Shop the Made.com Kyali Dog Sofa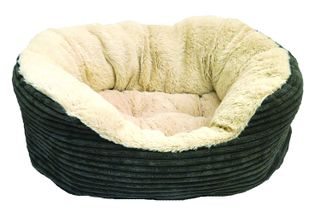 Best for... young, small dogs
Machine washable
The whole bed is machine washable at 30 degrees Celsius.
Soft fabrics
Made from easy care polyester, the bed's soft fleecy lining will keep your beloved warm and snug.
Shop the Rosewood Jumbo Cord/ Plush Dog Bed Large
Top tips for choosing the best dog bed
Why you can trust Real Homes Our expert reviewers spend hours testing and comparing products and services so you can choose the best for you. Find out more about how we test.
The dog bed options are endless so we're here to make the process as pain-free as possible with these five top tips:
1. How big should a dog bed be?

Whether you have a gigantic great big dog or a tiny little pooch, size matters. Just as we humans appreciate a little more space, so do our dogs. Select a bed that will give them enough space to curl up or stretch out as the mood takes them.
A bed that's too small for your dog forces them to curl up small, whether they want to or not, and may not do your dog's joints any good in the long run.
So, before you shop, measure your dog when standing from the tip of their nose to base of tail, and from top of skull to the floor. The sleeping area of their bed should be at least the size of your dog's measurements but ideally around 25 per cent bigger to allow for space to move around comfortably, especially if the bed has firm or solid sides.
You could try to do the same for your cat, if they'll stand still to be measured. Good luck with that.
2. What shape should a dog's bed be?

Observe how your dog likes to sleep and choose a bed shaped to suit their preferred sleeping style. Dogs that love to sprawl often prefer simple flat, mattress style beds. Dogs that curl up into tiny little balls usually love round or oval beds – bear in mind also that some dogs curl up because they are cold, or as a way of shutting out the noise and buzz in a busy household. If you have a dog that likes to stretch and curl depending on how they're feeling then a rectangular bed with sides usually does the job, or a larger round bed with enough space to stretch.
3. Orthopedic dog beds: worth the hype?

Some dogs may need a specialist bed to suit particular needs or a particular environment. Older dogs with stiff joints may require the support of an orthopedic mattress such as a memory foam mattress – make sure you choose a solid memory foam, not a 'memory foam crumb' made up of left over bits of foam.
4. Are elevated dog beds better?
Raised dog beds can help to keep your dog out of cold draughts (even warm rooms can be draughty) and prevent damp mattresses, as well as being a good solution for older dogs who are finding it difficult to get in and out of beds at floor level.
5. What is a good quality dog bed?
Spend wisely. When it comes to purchasing a bed for your dog, always buy the best you can afford otherwise you might fall quickly into the 'pay half price, spend twice' trap. Most dog owners have experienced buying a cheap dog bed that has gone lumpy and bumpy after its first wash and thrown it out after just a few months' use so buying cheap is often a false economy.
Also beware that a luxury' label and price tag to match, sadly, are not guarantees of quality – some brands simply put smart looking fabrics onto a dog bed made in the same way as a cheap, poor quality dog bed. Always read up on a dog bed and make sure that any claims about comfort and quality are substantiated in terms of the way that the bed is designed and constructed, the fillings used, and the quality of the fabrics used to finish the beds.
More advice for pet owners: