The best cordless hedge trimmer will give your hedge a professional finish, with minimum effort. To make it onto our 'best of' list, a hedge trimmer needs to be easy to use, reasonably lightweight, and work on even thicker branches if required.
Our list brings together the best cordless hedge trimmers out there, both battery operated and petrol options for those who prefer them. Each product has a detailed description and specs such as battery life (so you know how long you have for each chop) and weight (so you can limit the chance of arm ache in the process).
After you've chosen the perfect cordless hedge trimmer, check out the best lawn mowers to get your garden even neater.
What is the best cordless hedge trimmer?
Why you can trust Real Homes Our expert reviewers spend hours testing and comparing products and services so you can choose the best for you. Find out more about how we test.
We think the best cordless hedge trimmer you can buy is the Bosch AHS hedge cutter. It's powerful, has a long blade and it charges quickly. Scroll down for more on our top pick.
The best cordless hedge trimmers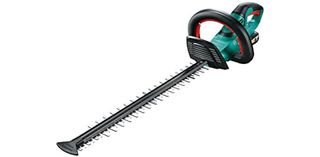 This Bosch hedge cutter takes our top spot for its ability to provide the oomph you'd look for in a petrol model, with the lighter weight and less fiddly powering of an electric cutter. Its clever anti-blocking system means your adventures in landscaping won't be cut short by any particularly robust branches, and its blade tip protector allows you to cut closely along walls and paths without risk of damage. Reviewers raved about the long blade – suitable even for hedges over two metres – the quick-charging battery, and the sheer power, making this our best all round hedge cutter.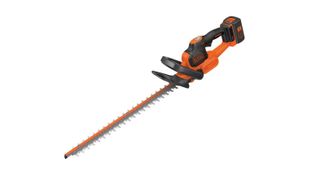 Some reviewers were a little suspicious at how quiet this trimmer was when turned on, wary that that might mean a lack of power, but not so. Lightweight, but not flimsy, with a running time of around an hour (compared to our first choice's already impressive 50 minutes), this is a great trimmer for domestic use, with its big feature being its anti-jam system. However, reviewers found this didn't often come into play, as the 55cm blade was so adept at cutting through whatever they threw at it.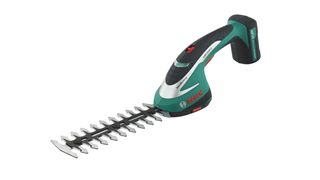 Weighing in at under a kilogram, this compact hedge trimmer is the best cordless hedge trimmer if you want a lightweight option, making it a good bet for gardeners with mobility problems or arthritis, or those who tire easily. Unlike our first two picks, it's not big hedges that let this handheld trimmer shine – rather, it comes in extremely handy for shorter hedges and more detailed work, such as keeping shaped boxes looking sharp. With its ability to be use single-handed, and its petite quick-charging battery, it's a handy option to keep around for smaller jobs.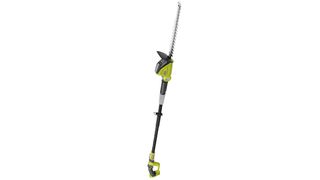 This Ryobi model is our best trimmer for tall hedges for a couple of reasons. Namely, the telescopic extending attachment, which makes getting to those just-out-of-reach spots a cinch, and the 135° articulating cutting head, with four positions for versatile trimming.
The only downside is that some found it a little heavy, so that's worth bearing in mind if you have trouble lifting. However, the heft of this hedge trimmer actually comes in useful when cutting larger hedges.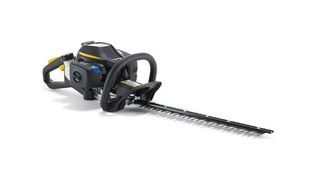 Unlike many petrol hedge cutters, this McCulloch model is designed for easy start-up, thanks to a soft-start system and primer. It also sees to another common complaint about petrol mowers, the weight, coming in at a comparatively lightweight 5 kilograms (our previous electric pick, by contrast, is 6.4 kilograms).
Despite its lack of back-breaking heft, it still slices through thicker branches with ease.
How to buy the best cordless hedge trimmer
Where to buy the best cordless hedge trimmers
Unlike their tethered cousins, electric cordless hedge trimmers don't suffer from the main downside that occasionally makes landscapers turn to petrol: that is to say, you can roam all over the place with them without having to drape multiple extension cords across the lawn. Nor do you run the risk of accidentally cutting the cord – trust us, it happens!
Blade length
The main choices you have when it comes to buying a cordless hedge trimmer are between different blade lengths and between electric or petrol trimmers. While blade lengths might be fairly self-explanatory (tall hedges? Go for a long reach trimmer. Just a bit of box out in the front garden? A blade up to 45cm should be ample) there are some differences that need teasing out between the two types of power before you buy.
Weight vs power
Cordless hedge trimmers are also lighter and tend to be cheaper than petrol hedge trimmers, and with the advent of the 36V battery, they're getting to be comparatively powerful too. That said, many reviewers of cordless hedge trimmers have found that the batteries can be unreliable and some don't hold charge well, and when the cost of replacing batteries over the trimmer's lifetime comes into play, the initial outlay for a petrol trimmer might not seem so bad. Plus, when it comes to getting through tougher branches, petrol really comes into its own, so for bigger garden jobs you might want the extra power.
Having said that, the best cordless trimmer models should reliably give you between 40 minutes and one hour of battery charge, and let's face it: trimming a hedge for over an hour will probably tire you out (and drive your neighbours mad). So, a cordless hedge trimmer should be perfectly fine for all but the very largest gardens.
Not sure cordless is for you? Check out our pick of the best hedge trimmers that covers corded models too!
Hedge trimmer maintenance tips
Do hedge trimmers need sharpening?
Your hedge trimmer will definitely do a better job and last longer if you sharpen it regularly. You will need a whetstone and a flat file (for getting between the blades). You should clean and then moisten the blades before taking the whetstone to them.
Do hedge trimmers need oiling?
Again, while not essential, oiling your hedge trimmers will prolong their lifespan. WD-40 applied with a cloth or brush will the trick.
When is the best time to trim hedges?
The best time to get your hedge trimmer out is actually winter, after you hedge has gone dormant at the end of autumn, and before it breaks into fresh bud. You don't want to ever trim off tender new growth as this can do a lot of damage to your hedge. Likewise, if during a mild spell in autumn your hedge is still green, wait before trimming.
More product recommendations:
Back to top ^^