Contemporary sofa beds are a practical piece of furniture for your living room, spare bedroom or home office. And while sofa beds of the past have tended to have a reputation for being bulky, uncomfortable and not very pleasing to the eye, modern sofa beds are a whole different story.
With new technology, memory foam mattresses and well-known furniture brands jumping on the bandwagon, contemporary sofa beds are a welcome place for guests to lay their heads. Our pick of the best contemporary sofa beds are not only stylish, but guarantee a great night's sleep, too.
Want more practical advice on choosing a sofa bed? Head over to our comprehensive guide for all the information you need.
1. The contemporary sofa bed in a box
Quick links to contemporary sofa beds
Perfect for lovers of a clean, contemporary living room, this clever sofa bed design folds out from a compact box into a comfortable double bed. Use it an extra sofa or ottoman when folded up, adding cushions and throws for extra comfort.
The Kix double sofa bed with foam mattress, H41cm x W120cm x D60cm, £245, is available at John Lewis & Partners in charcoal, teal or grey. Shop more gorgeous sofa beds at John Lewis & Partners.
Need more small space sofa beds? Check out our guide.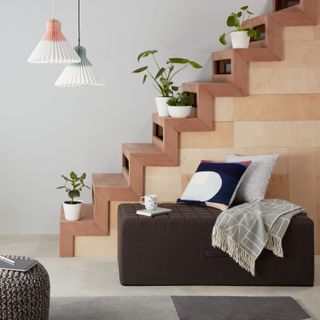 2. The budget contemporary sofa bed
Tackling a living room redesign on a budget? This sofa bed is a steal. With the same construction as a pocket sprung mattress, this simple, yet stylish, contemporary sofa bed is as comfortable for sleeping as it is for sitting.
Available in a timeless light grey shade and complete with pale blond wood legs, consider styling with bright cushions and throws.
Find the Ypperlig three-seater sofa bed, H85cm x W200cm x D80cm, £550, at Ikea.
Like the idea of a bargain? Browse more our best sofa beds under £500. We've got all the best deals covered in our pick of the best cheap sofa bed deals, too.
3. The best contemporary sofa bed for comfort
Designed with comfort in mind (thanks to an easy-to-use fold out mechanism that securely locks into place) this stylish sofa bed is supported by six points which will ensure a restorative sleep. It also comes with luxurious back pillows for added relaxation as a sofa.
Find the Esme Sofa Bed in sandstone beige, H99cm x W126cm x D97cm for a two-seater; three sizes available, £990, Living It Up.
4. The contemporary storage sofa bed
As well as being stylish and providing plenty of space to sit, this l-shaped sofa bed comes with a handy storage compartment in the chaise, which is perfect for storing the bedding, cushions and throws for your sofa bed. Hand-made to order, it's available in a variety of size and fabric combinations, with more than one mattress choice available, too.
Find the Ashwell Chaise Storage Sofa Bed in Kingfisher, H91cm x W240-260cm x D91cmm, available from £2,065 at Willow & Hall.
Love bedroom storage? Find the best beds with built-in storage in our guide.
5. The contemporary, bold double sofa bed
If you're looking for a statement addition to your living room, it's worth considering a sofa bed in a bold colour, which will act as a striking focal point.
This contemporary sofa bed, designed by Steuart Padwick, is a new take on his shapely sofas and is designed with an angled back for extra comfort and finished with a wool-like fabric.
Find the Rubens Sofa Bed in light moss, H91cm x W184cm x D94cm, £849, at Made. Shop more lovely sofa beds at Made.com.
6. The super modern sofa bed
The innovative, modular design of this contemporary sofa bed is customisable to suit your preference with an option for three differently padded and stitched panels, all of which are available at different heights.
The mattress, which also doubles as a seat, can go at either end, or in the middle and there's a wide choice of fabrics available, depending on your preference.
Find the Bonaldo Alvar Sofa Bed, H73-96cm x W280cm x D90cm, from £1,790 at Go Modern.
7. The super sleek contemporary sofa bed
Part of the French Connection range, this square edged, stitched back stylish sofa bed ticks all the boxes for a modern living room. Complete with a memory foam top layer on the medium support mattress, it is available in six colours with a choice of three feet; beech, lime wash or distressed walnut.
Find the Zircon Three Seater Sofa Bed,H88cm x W180cm x D107-230cm, £1,299, at DFS.
Tempted by the idea of a grey sofa? Browse our pick of the best grey sofas.
8. The contemporary velvet sofa bed
Although the style of this sofa would suit a more traditional living room, the use of olive green velvet upholstery gives it a more contemporary look. Team with colourful accessories in a similar hue for a stylish, yet homely, finish.
Find the Bluebell Three Seater Sofa Bed, £2,570, at sofa.com. Then browse more of their contemporary sofa beds.
Tempted by a more traditional style? Browse our pick of the best traditional sofa beds. And don't miss our best velvet sofa beds if this is a look that appeals.
9. The contemporary leather sofa bed
Generous square arms and deep seating make this stylish leather sofa bed perfect for slouching in. Available in a wide selection of top grain leathers, this leather sofa bed is designed with a two-fold metal action frame fitted, wooden slats and a fully sprung five inch mattress; memory foam can be ordered at an extra cost.
Find the Sloane Three Seater Sofa, H91cm x W198cm x D101cm, £2,861.50, at Darlings of Chelsea.
You might also want to take a look at our pick of the best leather sofas: recliners, corner sofas, Chesterfields and more.
10. The contemporary take on a retro sofa bed
With low seating and smart styling, this sofa bed has a distinctly retro feel to its design, while tapered wooden legs and gently curved sides and arms give it a stand-out look for a contemporary space; a combination which make it the perfect fit for a Mid-century-inspired living room.
Find the Arlo Chaise End Sofa Bed, H60 x W242 x D146cm, at John Lewis & Partners.
Then, shop more sofa beds at John Lewis
11. The contemporary slimline sofa bed
Available in a stylish velvet finish, this velvet sofa bed is an option worth considering if you only intend on using your sofa bed every once in a while. Thanks to its elegant design and traditional buttoned backrest, your guests will never even know it's a sofa bed (that is, until, they sleep on it, of course).
It has an easy click-clack mechanism to open, and you can match it to suit your interior scheme as it comes in blush pink, vintage gold or pine green. Find the Margot Click Clack Sofa Bed , H80cm x W191cm x D85cm, £499, at Made.
Love the colour? Find more yellow sofas in our buyer's guide.
12. The on-trend yellow velvet sofa bed
Another on-trend velvet option, this plush two-seater sofa bed is upholstered with big plump cushions which make it as perfect for relaxing as it is as a functional sofa bed for guests.
Available in a stylish Turmeric shade, as well as in a Mallard and Indigo Velvet finish, this versatile option is easily transformed from sofa to bed with the help of a handy metal mechanism. Find the Sofia Sofa Bed, H82cm x W170cm x D96cm, at Made. Don't miss our round up of the best yellow sofas, too.
13. The all-white contemporary sofa bed
If you love an all-white colour scheme in your living room, and aren't susceptible to spilling the odd glass of vino, this Cloud sofa bed from Loaf could be the one.
As well as looking great, this white sofa bed is also insanely comfortable – as the name might suggest – and come in two sizes. Check out our white living room design ideas if you love this look.
14. The trendy blue contemporary sofa bed
Blue interiors are having a moment, and incorporating the trend into your space with the help of a stylish blue sofa bed is an idea that we can definitely get onboard with.
This standout Elvis Royal Blue three-seater sofa bed blends seamlessly into an all-blue scheme, though it would be equally striking in a space with a white scheme. Shop more blue sofa beds at Maison Du Monde
Looking for more ways to work blue into your scheme? Our blue living room design ideas was written with you in mind...
Browse more of our favourite sofa beds...