When it comes to flooring, ceramic and porcelain floor tiles are a popular option for kitchens, bathrooms and hallways. With the help of the right tile floor cleaner, as well as a good mop or steam cleaner, tiles are easy to clean and maintain. Have a read of our guide to make sure you're using the right products.
1. Dr Beckmann stone & tile floor cleaner
Prevent stains from ruining your tiles with this multi-surface formula
Specifications
Best for: Stain prevention
Size: 1ltr
Tiles: All types
Dilute: Yes
Reasons to buy
+ Leaves a natural shine + Adds a protective layer
Reasons to avoid
- More of a prevention than a cure
If you want to keep your tiles in good condition, this floor tile cleaner from Dr Beckmann may be a worthwhile investment. Designed for all types of tiles including ceramic, glass, porcelain and stone, it adds a protective layer to your tiles to stop them from staining or being subject to wear and tear.
Users report that it is simple to use (simply dilute with water and scrub on), and leaves a natural shine. This cleaner is meant for regular maintenance and to help prevent stains, it is not necessarily the most effective formula to remove existing stains, but you can expect to notice the difference to your floors when you begin regularly using Dr Beckmann's stone and tile floor cleaner.
2. Floor Shine Tile & Stone Hard Floor Cleaner
Leave floors glistening with this floor shine formula
Specifications
Best for: Lasting shine
Size: 1ltr
Tiles: Slate, granite, marble and ceramic
Dilute: Yes
Reasons to buy
+ Non-slip + Nice fragrance
Reasons to avoid
- The shine is a little underwhelming
Tiles can easily start to look dull in a busy household, especially with pets wandering about. This Floor Shine formula is designed to keep your tiles the whitest of white and add a long-lasting shine to them.
While some users found the shine to be underwhelming, really it all depends on what type of tiles you have as to the results you can achieve. What customers do love is how effective this floor tile cleaner is at getting rid of dirt. So if you're after a reliable cleaner for different types of tiles, you can expect great results from this one.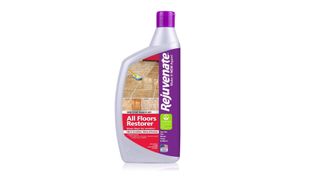 3. Rejuvenate Floor Restorer
Bring life back into your tiles with this rescue formula
Specifications
Best for: Polishing
Size: 500ml
Tiles: All hard flooring
Dilute: Yes
Reasons to buy
+ Disguises scratches + Leaves a polished finish
Reasons to avoid
- Small bottle
Small scratches and scuffs can be a nightmare when you have floor tiles or any other kind of hardwood flooring, but this floor tile cleaner is designed to disguise and eliminate those scratches so that your floor looks smooth and polished.
Those who tried it say it's very effective, but it doesn't go very far as it's only a small bottle. If you have a small area you wish to treat then this Floor Restorer formula can help inject some life into even the longest-standing floor tiles.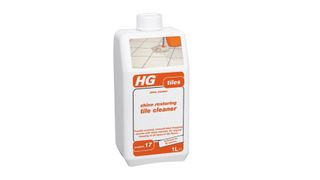 4. HG Shine Restoring Tile Cleaner
Look after your stone tiles with this high shine liquid
Specifications
Best for: Stone tiles
Size: 1ltr
Tiles: Stone
Dilute: Yes
Reasons to buy
+ Fresh scent + Lasts up to 20 washes
Reasons to avoid
- Requires frequent use to remain shiny
Stone tiles are usually some of the most difficult to clean, but users love how easy this floor tile cleaner makes it for them. They have said it does require a few applications to achieve and maintain a high shine look, but that it is totally worth the extra effort. It is said to leave a polished result unlike some that leave tide marks, and it leaves a fresh scent which will make your home feeling incredibly clean and new.
5. Cif Floor Cleaner 1 Litre
Tackle larger spaces with this heavy duty cleaner
Specifications
Best for: Large areas
Size: 1ltr
Tiles: All types
Dilute: Yes
Reasons to buy
+ Doesn't leave residue + Goes a long way
Reasons to avoid
- Not the best shine
If you're looking for something a little more heavy duty that will cover your kitchen floor and your bathroom tiles, then this floor tile cleaner from Cif could do just the trick.
A little is said to go a long way with this one as you simple dilute in water and apply to the affected area. What users like particularly about this formula is that is doesn't leave a residue on the floor after cleaning, like some tend to do. You can expect smear free tiles when you use this Cif Floor Cleaner.
Read more