Originally introduced as a cost-effective alternative to real wood flooring and real floor tiles, laminate flooring is no longer seen as the cheap-as-chips flooring option. Now, the most up-to-date designs are virtually indistinguishable from real materials, but at a budget-friendly price. Best of all, they can be easily laid by a competent DIYer. Follow our guide to laminate flooring to buy the best.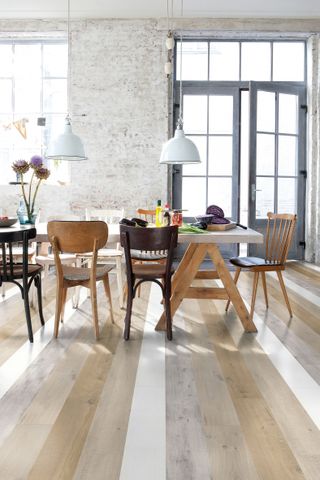 How much does laminate flooring cost?
Laminate flooring can cost as little as £6m², for the most basic 6mm thick planks from an online flooring dealer, or a high-street DIY warehouse. If you're going for a better quality option, usually 8mm to 12mm, look at paying around £20m².
With laminate, you get what you pay for. Laminates at the budget end of the market are often too smooth, too shiny and unrealistic-looking. Cheaper options also have a tendency to peel, warp and stain because of the sub-standard materials used to make them.
More expensive options feature realistic grain finishes, embossing and bevelled edges and can achieve a more authentic look. Good-quality laminates are durable, stain-, scratch-, moisture-resistant, and are still more cost-effective than solid wood counterparts.
Another factor that impacts on the cost of laminate flooring is the warranty. Usually, the more you pay, the more confidence the manufacturer has in the product and the longer the warranty will be.
Can laminate flooring be laid over underfloor heating?
Most laminates are appropriate for use with underfloor heating, but make sure this is specified by the manufacturer to avoid damage or inefficiency before you buy, and ensure you have the right underlay.
Where can you lay laminate flooring?
There is a laminate flooring on the market for every room, whether it's a high traffic area such as the kitchen, or somewhere that needs waterproofing, for example the bathroom. If you are decorating a bathroom, ensure that your laminate has a waterproof core and is correctly laid and sealed to prevent rot and mould. Thicker laminates can be deployed in high traffic areas such as hallways and landings.
If you are planning on putting heavy furniture on top of your laminate floor, consult a contractor and invest in the right underlay to prevent damage.
How durable is laminate flooring?
An AC rating is an important factor to consider when you're choosing which laminate to use in a room. It is used to tell how durable a product is. AC1 is the lowest rating, specifically for use in low traffic areas, where as AC5 is heavy duty, and usually recommended for commercial use.
How to lay laminate flooring
It is possible to DIY-fit laminate flooring yourself. Manufacturers have developed simple, stress-free interlocking systems so that laminate flooring is quick and convenient to lay. However, if you're looking for a quality finish, you might want to employ a professional fitter, especially if you are installing in a bathroom, where the work may be more technical.
The National Institute of Carpet and Floorlayers is a good place to start. It also pays to ask the dealer that you bought your floor from, they often keep the details of recommended fitters in the area. Fitters will often offer their own warranty, on top of the manufacturers warranty.
How to clean a laminate floor
Your laminate floor's manufacturer should give you aftercare instructions and may recommend a particular cleaning product. If not, there are lots available in supermarkets and DIY stores.
Small particles can easily cause scratches, so sweep regularly with a soft broom. Wipe up any spills immediately with nothing a damp cloth, and dry off any residue. Never use a mop that's soaking wet as moisture can go through into the floor and ruin it. Do not use abrasive scourers, and avoid dragging furniture across the floor.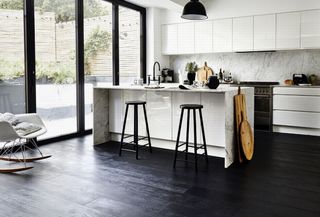 More on floors: