Have you seen the twisted candles tutorial on TikTok? Well, fear not if you haven't because we have... many a time now and have got a step by step for you to recreate this viral craft at home.
Trends are funny things aren't they - there's a sudden rush to do the 'in' thing and then it all disappears as quickly as it came. However, we think this twisted candle trend has longevity even if you don't make your own. The end result is beautifully twisted candlesticks that become decorative pieces in your home.
Read below and see if you fancy having a go at this craft idea to try at home, or if it seems too much effort then treat yourself to some Paddywax twist taper candles from Urban Outfitters.
Twisted candles – Step-by-step
1. Watch the how to video
Check out the TikTok video and then read our guide below on how to achieve this awesome trend yourself.
2. Pick the right candles
Invest in a pack of paraffin dinner or taper candles from Amazon, it seems that these are the best type of candles to use - we tried with others and failed miserably.
3. Soften your candle
Fill a heat-proof container with warm water, if you use boiling water it will simply melt the wax. Leave your candle to soften for between 15-20 minutes.
4. Twist your candle
Carefully remove your candle and at this stage, it should be soft enough to manipulate. You can use a rolling pin (or jam jar) to flatten it, but remember to leave at least 2 inches at the bottom unflattened so you can pop your candle in a candle holder once finished.
Once you've flattened it, slowly twist the candle. You need to move quite quickly because the candle will start to harden again, if it does before you've finished, then place it back in the water for a few minutes.
5: allow the candle to set
Once you've achieved your 'twist' lie your candle down flat on some kitchen roll to harden - then make as many as you like and show them off to your friends on TikTok and Instagram.
Not so great at crafts? Buy the best twisted candles...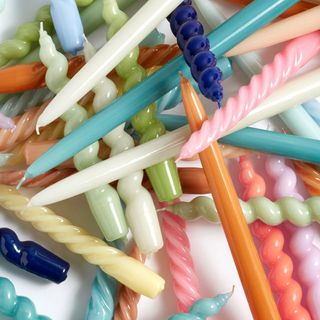 Danish design company Hay creates contemporary pieces that are iconic, functional, and stunning. They have produced these gorgeous spiral candles in a beautiful range of colors, from ice blue, lilac, and apricot, to green, arctic blue, teal, mint, and midnight. Which combo will you choose? You can buy them from Monologue London.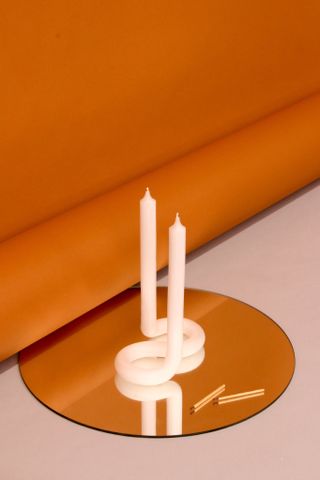 Another version of the 'twist' trend is Dutch designer Lex Pott's 'twist candle' available at Nordstrom. He hand-crafts them in his Rotterdam studio using the flexibility of wax to change the form from the trad straight dinner style candle to this curvy number.
Lex has created a new candle style that doesn't need a candle holder and the result is a beautiful design that is both sculptural and stylish.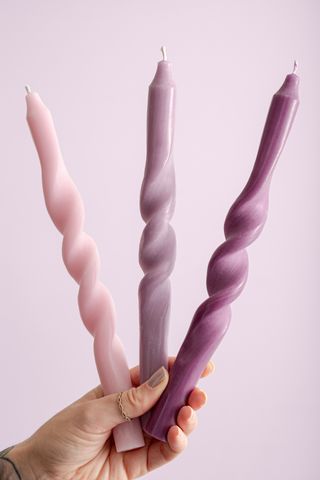 Le Bon Candles was started earlier this year by a husband and wife team who found they finally had the time, thanks to lockdown, to turn what had been a hobby into a business.
Their candles are handmade and a lot of love and care goes into each one. They've been overwhelmed by the positive response so far to all of their candles, but particularly the twisted designs on Etsy. There's a choice of seven gorgeous colors - which will you choose?
Check out more of the best candles in our buying guide too.
Why are twisted candles so popular?
Twisted candles are a fresh, fun, and shapely take on the traditional dinner candle. Their playful silhouettes give interiors a contemporary boost, especially when mix and matched in a palette of cheerful shades.