If you need to find out how to stain a deck, we've some good news for you: it's easy. Deck staining is one of those jobs just about anyone can tackle over a weekend, as long as the weather's dry. You don't need any specialist skills – just a bit of patience and the right tools for the job.
The best decking stains will protect your deck from excess moisture and UV rays, but they won't cover up the beautiful grain of your wood the way decking paints do. A stain is a great option for newly laid decks that you want to protect without changing too much. Here's how to prepare a deck for staining and how to actually do the job, according to home and backyard maintenance professionals.
How to stain a deck
You will need:
An outdoor brush
A pressure washer
A decking cleaner
Wood brightener
A deck staining pad, outdoor paint brush, or paint roller
1. Sweep the deck
This should always be your first step, no matter what else you're planning on doing to your deck. You want a surface that's completely free of debris and dust. You can use any outdoor brush or broom for this purpose.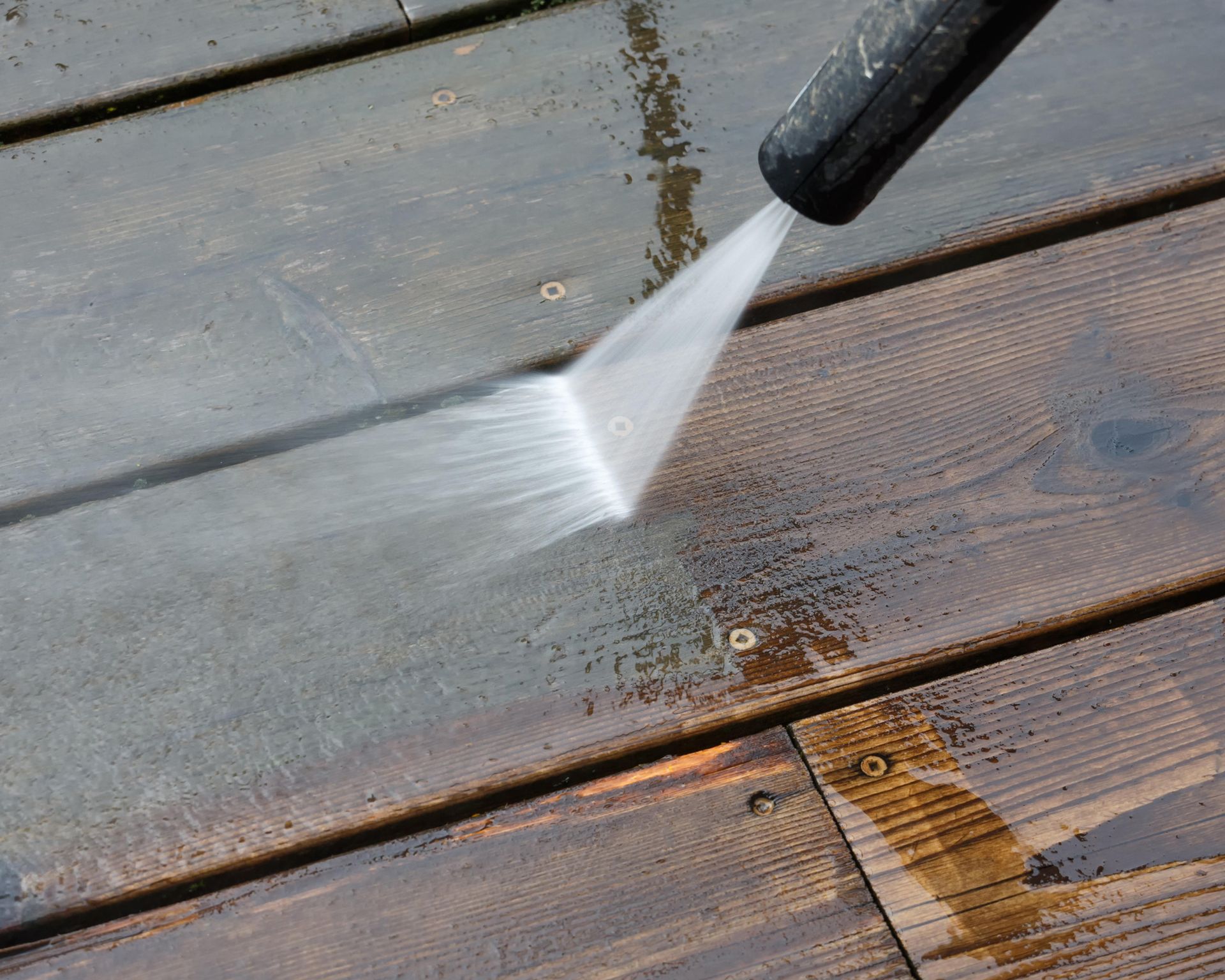 2. Clean the deck
Now, the equally essential cleaning step. As Vandana Iyengar, the owner of Handyman Connection of Alpharetta, points out, 'the deck must be completely dry and clean before you start - the stain won't hold as well if it's applied when damp or dirty.'
If you are re-staining your deck, 'make sure to remove any old stain prior to applying the new stain. Wood cleaner will help in stripping off old stain and getting rid of dirt. If the layers of old stain are too thick, you may need to sand down the problem area so that you have a fresh start for the new stain.'
For the cleaning bit, get out your pressure washer to do the job properly. Volodymyr Barabakh, the Co-Founder and Project Director of building contractors Structural Beam, recommends using a specialist decking cleaner and then spraying down your deck 'using your hose's highest pressure, making sure there is no residue once you are finished as this will act as a barrier that stops your stain sticking.'
3. Apply wood brightener
This isn't an eseential step, but well worth the extra effort if you want an impeccable finish. Iyengar recommends using wood brightener because it 'can open up the surface to improve stain penetration, help neutralize any stain strippers, and restore the appearance of the wood. All of these things will go a long way in improving the quality of the stain, as well as the final result.
'Brightener can be sprayed on, left to dry for a while, and then rinsed off.' Once you're done applying the brightener, 'be sure to let the wood dry thoroughly before applying your stain.'
We like the Star Brite Teak Cleaner and Brightener from Amazon.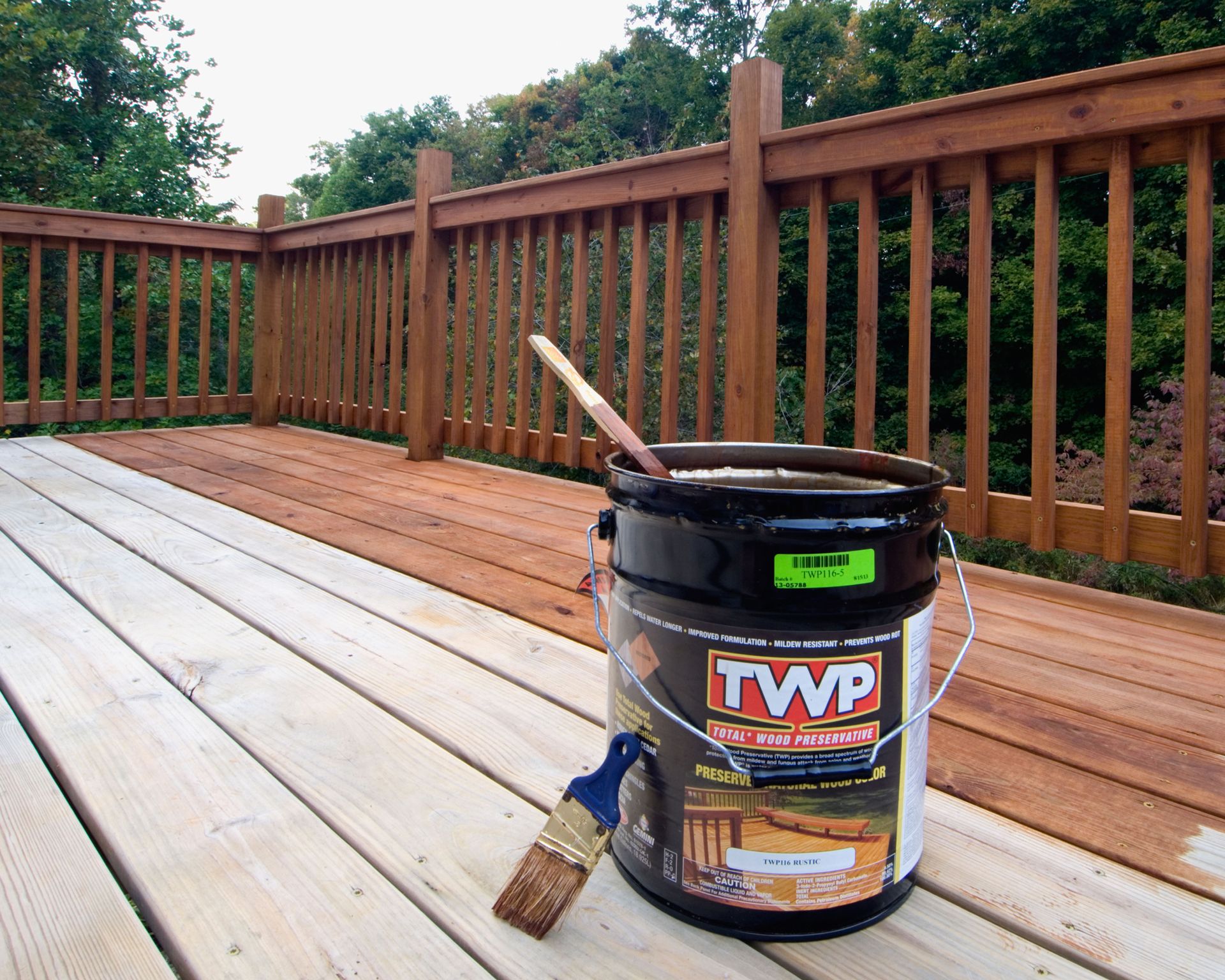 4. Apply the deck stain
Once everything has dried off, it's time to begin staining. Allocate a good few hours for this. As Iyengar says, 'stain application is a labor-intensive process.'
There is no one perfect tool for staining: it can be 'sprayed, brushed or rolled on, or sometimes all three processes can be used.'
Whatever you use, don't choose an overly hot day, as the stain will dry very fast, making the application 'more challenging.' A mild spring day is best.
Most modern staining products only require you to apply a single coat, but if you want a darker look to your deck, you can apply two coats.
5. Allow the deck to dry completely
This step is very important 'Make sure everything is completely dried before putting
furniture or other items back on the deck. Keep pets and family off of it
for a couple of days to ensure the stain is all set.'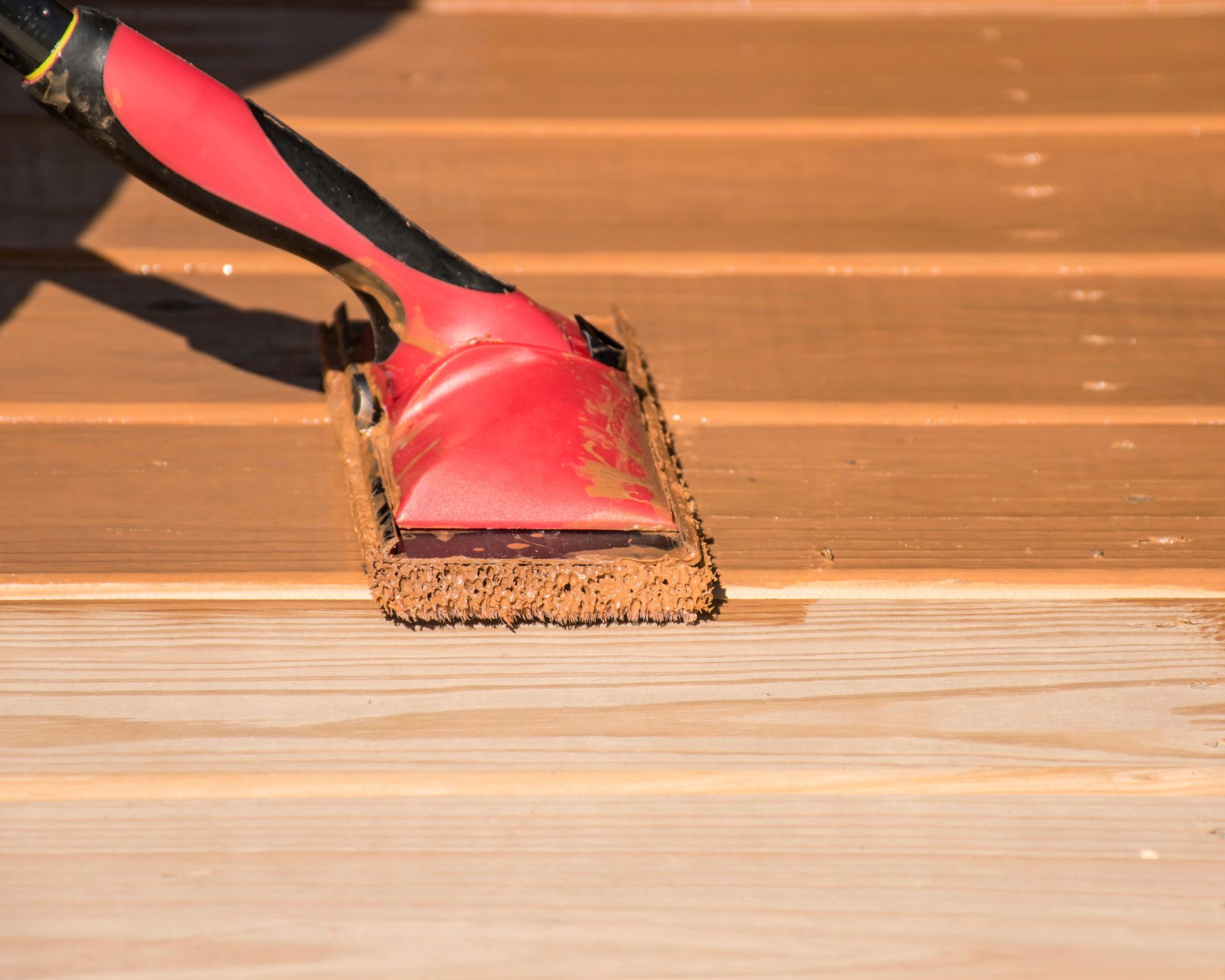 Is it better to brush or roll on the stain?
Barabakh says that brushing on stain is much better 'because the added friction helps push the stain into the wood to be better absorbed. You may still use a roller if you find this easier; however, you should go over it with a brush afterward for best results.'
If brushing isn't your thing, or you find squatting for long periods of time challenging, you can use a deck staining pad (available on Amazon). These come with an extension pole so that you can use them standing up. They will give you a more thorough application than rollers.
When is the best time to stain a deck?
According to Barabakh, you should 'stain your deck on a warm dry day. Ensure it is out of direct sunlight as this will cause the stain to peel. Staining your deck in cold temperatures will hinder the curing process. Wait for a rain-free day with temperatures between 50 and 90 degrees Fahrenheit for best results.'
Spring is the best time for any kind of deck maintenance; leave it too late into the summer, and your deck may get damaged or bleached by strong sun, or begin to develop algae or mold if you live in a wet climate.
Ready, set, stain!