If you're thinking of selling this or next year and want to maximise your house price, you might be surprised to find out that adding value to your home is not all about adding extensions and extra bedrooms. Of course, if you are able to make these major home improvements, go for it, but if they're not currently within your budget, then you can add a whopping £10,000 to your house price by revamping your outdoor space. 
We've all heard that homes with gardens have become highly sought after following the start of the Covid-19 pandemic, but what exact features are buyers looking for? The National Association of Estate Agents have done some research and have identified key areas where improvements will pay dividends. 
1. Installing a fancy shed
Sheds are in high demand among prospective house buyers, but we're not talking about small sheds used for tool storage. Think large, substantial sheds with windows and insulation; you've guessed it – your buyer is planning on using theirs as a home office. Sheds typically don't require planning permission, so you can just buy one (check out our best garden shed buyer's guide to help you choose). How much value will a decent shed add to your home? As much as £1,000.
2. Revamping the patio
A large, brand-new patio is drawing buyers like a magnet: it's space for lounging, entertaining, or creating a container garden. Size and quality really matter here; while a small patio with run-down patio slabs won't add much value to your home, a modern, freshly laid patio that offers good additional outdoor space for garden furniture will add up to £2,000 to the value of your property. 
Check out our patio ideas to see what you could achieve in your garden. 
3. Adding a garden fence – but only a substantial one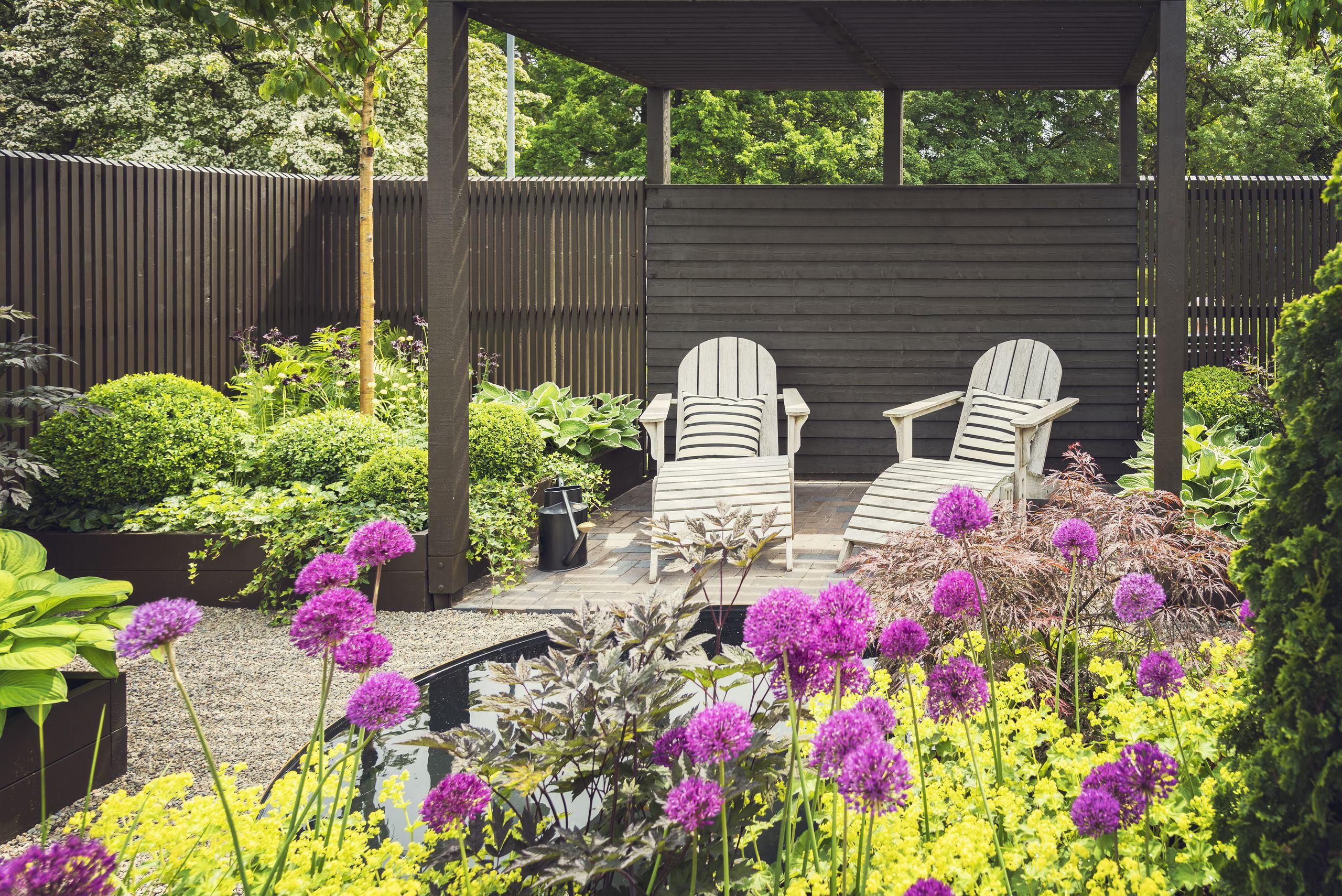 Garden privacy and security are highly valued by prospective buyers, particularly in urban areas where gardens are packed in densely. It's also important to make sure that the fence also looks good and is sympathetic to the character of the garden. For example, a slatted design made from light wood or bamboo will look much better in an informal garden than a solid metal structure. 
Find garden fence ideas for different garden styles in our gallery. 
4. Installing effective garden lighting
We're not talking about fairy lights here, but carefully thought-through permanent garden lighting. Wall mounted or deck lights will add value to your home, as they're perceived to be more difficult to install – and, of course, they cost more than portable garden lighting. 
See the best garden lighting in our buyer's guide.  
5. Adding a water feature
Garden water features are highly desirable, but again, think like your buyer: they will want something they don't think they could (or would want to) install themselves, so a substantial, centrepiece water feature will command a higher house price, where something smaller that just plugs in probably will not. You can also consider building a garden pond – it's quite easy to do and, once established, looks lovely. 
Read more: