Comfy bedding is what gets us excited about going to bed, and the best duvet insert is one of the most important features to ensure your nighttime comfort.
We expect a lot out of our duvet too, in hopes of finding the right level of coziness, without overheating, and there are many different types to choose from.
That is why we have spent countless nights testing various options on the market in our own homes. We've evaluated down duvets that have been ethically sourced to down alternatives made with sustainable materials, and even some pretty-neat temperature regulating technologies.
See our top buys below. Then, if you're in need of the most fashionable sets to complete your bed setup, our guide to the best places to buy bedding covers retailers and brands sure to suit any budget. And if your bed has been a source of aches and pains, or overheating, it may be time to consider one of the best mattresses too.
Best duvet inserts 2023
Why you can trust Real Homes Our expert reviewers spend hours testing and comparing products and services so you can choose the best for you. Find out more about how we test.
It's only fitting that the maker of our favorite sheets, have mastered the duvet too. With three weights to choose from, there's a warmth-level for everybody. While the construction is the same, they vary in fill and feather type. The lightweight has 650 fill of recycled down; all-season is right in the middle with duck down; and the heavyweight has a 750 fill of goose down. Note: goose-down clusters and feathers are typically larger than duck, and thus tend to insulate better, hence the material swap.
Why we love it
I slept with all-season design during the summer and it feels light and not oppressive. With the fan running, I've found that perfect balance of cool and cozy. The fill is evenly distributed and I don't find myself needing to shake it out every morning.
Each duvet is made with soft 100-thread count long-staple cotton in a sateen weave. While some down can have seedy origins, the down is sustainably sourced from Hutterite farms and DOWNMARK (opens in new tab) certified by the non-profit Down Association of Canada. For those nervous about allergies, the fill has been rated hypoallergenic, and the cover is treated with Ultra-Fresh Antimicrobials to keep odors at bay.
Good to know
The all-season design does not give off the overtly full look of a heavier fill duvet, but it fills out nicely within my duvet cover. For care, it's recommended to spot clean or dry clean only.
Down alternative can still feel every bit as luxurious as traditional down, especially when Saatva gets involved.
Why we love it
Beyond a good first impression thanks to the impeccable gift-worthy and plastic-free packaging, the thick organic cotton percale is complimented with a unique blend of 3D down alternative and sustainable lyocell fill for a cloud-like loft, that was also. perfectly uniform throughout the blanket, thanks to the baffle box construction. We also appreciate that it's Fair Trade Certified.
While tested in June, it proved to be exceptionally comfortable despite the hot summer temperatures, though according to Saatva, it's warm enough for mid-winter, too.
Good to know
Saatva's duvet is available in one weight: all-season. Also, our tester reported that there was a noticeable smell straight from the box, but it disappeared with a wash (something we recommend before using bedding anyway). Luckily, it's easily machine washable, though did take quite a while when tumble-drying on low.
Quince has quickly wiggled its way into our hearts and carts with its all-star lineup of high-end bedding at unbeatable prices, with an emphasis on sustainability. Their pricing transparency such as material, labor, and shipping costs is unparalleled. How do they do it? They work directly with factories, some of which also produce for some of the most popular home brands
Why we love it
Once looking past the fantastic price (under $200 for a queen), we're looking right at the construction. Made in the US with white down that meets the Responsible Down Standard, this cozy and plush duvet is compared to designs from Brooklinen (our top pick) and Parachute. It has the features we require out of a duvet, such as corner loops and baffle box construction, and is machine washable.
Good to know
Some reviewers noted that it had a subtle crinkly noise when shifting about. Our reviewer said that the insert slid around within her cover, which could have been due to a number of factors like she didn't tie it tightly enough or the duvet cover was just too slick.
Quince also offers a Luxe version (opens in new tab) that mimics the quality of luxury bedding brands like Peacock Alley and Sferra, with a 700-fill power of European Goose down.
If you're after a bargain, well, the Linenspa down-alternative comforter hits the sweet spot, and is a good choice for cold sleepers, guest rooms, or those on a tight budget.
Why we love it
We like that it has eight corner loops to keep duvets in place, which reduces the chances of it bunching or sliding, and the box construction also keeps the fill in place to reduce clumping. It's also easy-care and machine washable. Plus, it's hypoallergenic for those with allergies and sensitivities. FIf you want an extra fluffy look, you can also try an overstuffed version.
Good to know
The blanket is described as light, it only has a 300-fill power, while most duvets on this list have twice that, but the microfiber polyester fill does sleep warm. Recent reviews are very mixed from people who love the fill and feel, to others who found the quality lacking. Multiple reviewers noted that the material pills over time and after washing.
Hot sleepers, we can't forget you! The Slumber Cloud Lightweight Comforter is simply the coolest option thanks to Slumber Cloud's exclusive ClimaDry™ by Outlast fiberfill has that down-like feel but also regulates heat and moisture as you sleep.
Why we love it
The aforementioned ClimaDry by Outlast material was developed by NASA, and is designed to regulate the temperature, humidity, and the microclimate of your bed to keep your body cool and adjusted. It's proactive to prevent your bedding from having to wick away moisture. And after taking it through the summer months, we can attest, that it works. All the fill stays in place with a baffle box square construction and the cotton cover is incredibly soft to the touch.
Good to know
It's only about a quarter-inch, so it's not for people who seek tons of loft. That doesn't mean it's not plush to the touch, which it totally is, but lightweight and airy when you slip underneath. If you want an even cooler layer, Slumbercloud also offers a Performance version (opens in new tab), which swaps the cotton shell for a Tencel design, and a loftier fill.
On the opposite end of the spectrum, are sleepers who want to be cozy and warm. Riley's Extra Warm Goose Down has a lofty 750-fill power for maximum warmth.
Why we love it
We're after good design, and when it comes to this duvet, it checks all the basics: RDS goose down, soft cotton sateen cover, and sturdy baffle-box construction. The five-year warranty is a good sign that Riley stands behind its product, and it's a product you'll hold on to for years to come. It's also warm without being overbearing, making it great for colder temperatures. If you're concerned about being too warm, you can opt for the 700-fill all-season instead.
Good to know
We love this duvet, and lots of others do too; so much that it sometimes has stock issues. At publishing, all sizes were in stock in extra warm, but the all-season had some sizes unavailable. Also, while the duvet is machine washable, Riley recommends using a front-loading, commercial washing machine to avoid overloading your home machine.
With sustainability and breathability at the core of the Buffy brand, the Buffy Breeze Comforter is made with Tencel-Lyocell aka Eucalyptus for both its outer shell and fill.
Why we love it
This material is superior in breathability to both cotton and polyester. The 300-thread count sateen weave shell is crisp and smooth to the touch. while the Tencel-Lyocell fill is shredded for more opportunity for air to fill through, while mimicking the feeling of a down comforter. Not to mention, it sleeps exceptionally cool.
It features the typical features you look for in a duvet including corner loops and a wavy, stitched design to keep the fill in place.
This vegan comforter is fully biodegradable and compostable, so a few years from now when it's time to refresh, you can rest comfortably knowing it won't sit in a landfill.
Good to know
Our only downside to the Buffy Breeze is that its care treatment recommends dry cleaning.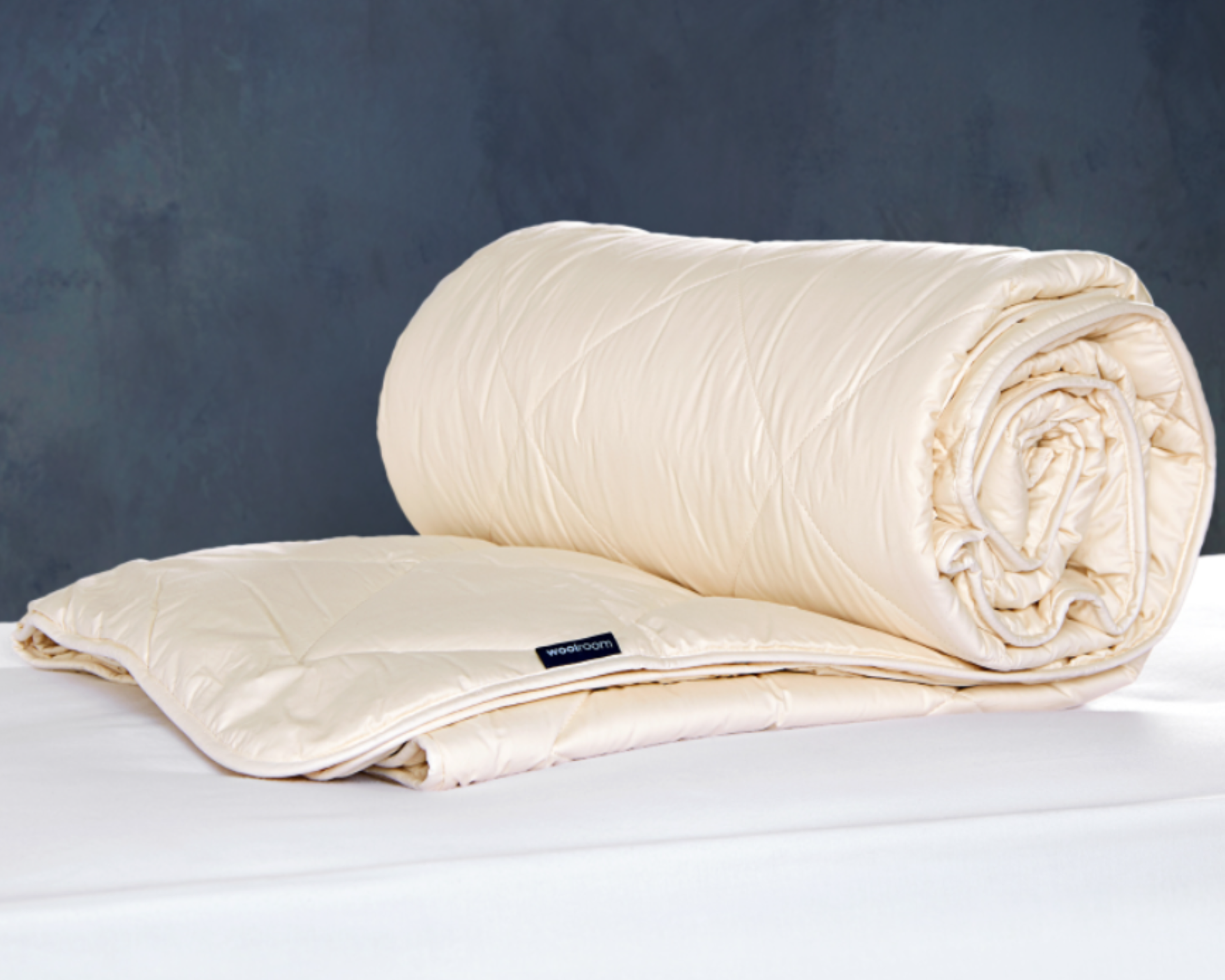 This isn't your grandma's scratchy wool coverlet. Woolroom is here to break the stigma on wool, and to be honest, they make a pretty good case. Their wool duvets are sustainable (and naturally biodegradable), temperature regulating, a natural flame retardant, hypoallergenic, mold, mildew, and dust mite resistant. The wool is also fully traceable back to the farm the sheep live on.
Why we love it
Woolroom is the first to debut a wool collection that is both organic and washable. Available in three weights, it's made of 100% organic, washable, and traceable British wool encased in an unbleached 300 thread count organic cotton cover. The duvet is not necessarily fluffy like down, but it achieves the right mix of breathable and insulating, no matter the season.
Woolroom also uniquely identifies the appropriate temperature of your bedroom by helping you decide which weight to choose. For instance, the medium weight as being the most suitable for rooms that are between 60 and 70 degrees.
Good to know
Despite being machine washable, it has some particular care instructions, including washing on a wool cycle with a wool detergent and then line dry.
How we choose the best duvet inserts
The Real Homes' review process is editorially independent and not influenced by any third parties. All our reviews are based on the real-life experience of using these products at home. The products are given to us free of charge. Due to the personal nature of bedding, we have been able to keep our samples and invite friends and family members to try out the comforters too. We came to our decisions by considering factors like the quality of construction, warmth options, breathability, and ease of care. In the event that we have not yet tried out a particular duvet, we make our decisions by aggregating others' reviews and experiences and evaluating aspects like construction and value.
For more insight into our hands-on review process, refer to our Real Homes review guidelines.
What to consider when buying a new duvet
Duvet insert vs comforter
The terms duvet and comforter are often interchangeably used as they both have a quilted design filling, but a comforter is used on its own while a duvet is intended to go in a cover. They're typically differentiated by loops on the corner of the duvet to keep its cover in place.
Beyond the aesthetic pleasure of getting to choose a duvet cover at your whim without having to invest in its base, a duvet insert lets you get personal about the fill type and weight, whereas a comforter may only be available in one fabrication.
A duvet also can be washed less often than a comforter, by simply taking off the cover.
Meanwhile, for a comforter, the entire design is a single and convenient piece – a part that many people do like. Sometimes, duvet inserts will slide around within the cover, especially if the ties comes undone.
Fill power
What is a fill power?
Fill power refers to the volume of the down, and is equal to the number of cubic inches one ounce of that particular type of down fills. Higher fill power numbers indicate greater loft and insulating efficiency.
And what fill power is best?
Typically we like to see a fill power between 600 and 800, otherwise, you might find yourself not warm enough, and the bedding may not have that lofty, fluffy look many of us are after. Bedding made with high fill power down is lighter in weight than an equally warm one made with lower quality down.
Warmth level
Many manufacturers offer their duvets in different warmth levels or weights, the most common being light-weight, mid-weight, heavy-weight, or all-season. There's no official standardization in the US as to how warm or cool these duvets actually are, while our British counterparts use the TOG, a thermal rating that denotes the warmth level.
Those in warmer climates or who generally sleep hot will want to select a lighter weight design, while cold sleepers and those in cold climates will do best with something warmer. Sometimes people will prefer to have a lightweight duvet during warmer months and switch to a heavy-weight or all-season when it gets colder.
Duvet fillings
There are many duvet fillings to choose from: natural materials like down, feather, cotton, silk, and wool, or synthetics like microfiber and polyester. Each feels different to sleep beneath. Here's a rundown:
Natural duvet fillings are an investment but feel luxurious to sleep beneath. With a high feather content, natural duvets such as down, feather, or wool can feel warm, heavy and enveloping, but are breathable, so you won't overheat. You can check the feather content levels (it's called 'fill power') on the label: the higher the fill power, the warmer it will be.
Synthetic duvet fillings are usually more affordable than feather or down-filled duvets and have a lighter feel. Whether they're made from microfiber or polyester, synthetic duvets are anti-allergy or hypoallergenic – perhaps their most important quality. Another tick in the box for allergy sufferers, is that synthetic duvets can be machine washed and tumble dried, so you can subside symptoms with ease. However, sometimes these materials can be less breathable than comforters with natural fillings, and sleep warmer.
Design
A baffle-box construction is a buzzword you want to see when choosing your duvet. This quilted, grid pattern design, keeps the fill in its place, and evenly distributed throughout the comforter.
There's also the sewn-through method which keeps the fill in place, but it is a less preferred construction as it does leave room for air to escape through and has an overall less lofty appearance.
Size
You need to shop for a duvet that matches your mattress measurements. Too small and you're at risk of not being completely covered; too big and you might feel swamped under layers of material.
Duvets come in the same sizes as mattresses, but sometimes you'll see that sizes work for both a Twin and Twin XL, Full and Queen, and King and Cal King will be combined.
Make sure you check the dimensions before you browse for new bedding for the best bedtime setup.
How to care for your duvet
Machine washable? Most manufacturers say duvets should be laundered every few months. If you don't want to lug yours to a dry cleaner or leave it to the professionals then choose a duvet that's machine washable and tumble-dryer tolerant. Our guide to how to wash a duvet has plenty more advice.