You might have been tempted by the Wacaco Minipresso NS if you're an outdoors person but don't think this should mean you can't have a proper espresso while you're camping, hiking, or taking part in a sports event. Or maybe you want to avoid instant when you're at the office or travelling?
But how does this portable coffee maker stack up against its plug-in rivals when it comes to making coffee? I tested a wide selection of coffee machines to see how much of your worktop they'll take up, how easy they are to use, how quickly they'll deliver your drink, which coffees they'll make, and – crucially – what the brews taste like.
If size matters, then you can browse more small coffee makers we love. Or keep on scrolling for the full verdict of the Wacaco Minipresso.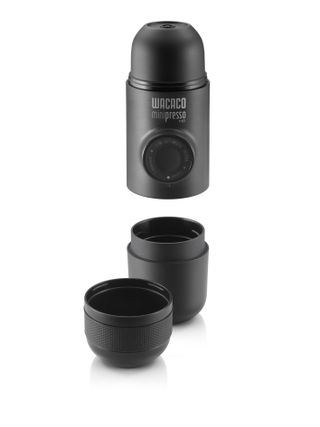 Wacaco Minipresso NS specifications
Why you can trust Real Homes Our expert reviewers spend hours testing and comparing products and services so you can choose the best for you. Find out more about how we test.
Type: Nespresso pods
Pressure: 8 bar average
Capacity: 70ml water tank
Dimensions: H17.5 x W7 x D6cm
Who will the Wacaco Minipresso NS suit?
Espresso devotees who spend nights under canvas or who attend outdoor events, as well as those who don't like the instant at work or in hotel rooms.
What is the Wacaco Minipresso NS like to use?
The procedure is simple, but you do have to put some strength into pumping.
The Wacaco Minipresso NS is a useful extra coffee maker for espresso fans. It's easy to take around with you – as are the Nespresso pods it works with – so you can get your coffee fix even if you're in the middle of nowhere.
Coffee options and taste with the Wacaco Minipresso NS
The Wacaco Minipresso NS has a straightforward purpose: it will brew you a 45ml espresso when you're away from home.
Want a longer coffee? You can buy a separate Minipresso Tank+, which is a larger water container that will allow you to prepare a 100ml espresso, and use it in place of the standard water tank.
The coffee the machine produces has an authentic crema and good taste. For best aroma I'd recommend using your own cup rather than the integral version, which seemed to dull the odour a little.
Brewing up with the Wacaco Minipresso NS
I found making coffee to be a simple process. You need to put a capsule into the coffee maker and screw down the head of the design tightly. Next, you have to add boiling water to the tank and then screw the body of the machine and the tank together. The piston on the front of the machine unlocks with a simple turn, and then it's a matter of pumping the coffee into the cup that comes as part of the machine, or your own vessel.
It takes a little while for any coffee to emerge, and I found pumping quite hard work. While this won't be an issue for many, it does mean the machine won't suit all potential buyers. Holding the machine with two hands is recommended so less arm strength is required.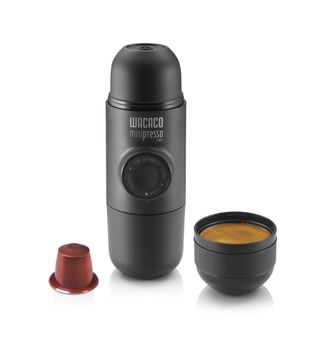 Cleaning and maintenance
Cleaning the Wacaco Minipresso NS wasn't tricky. Of course, because it's a capsule machine there's not a lot of mess to worry about in any case. A brush is provided to clean the cutter area, and some parts can be cleaned under running water, while others may be wiped with a soft damp cloth. Be aware that none of the parts can go in the dishwasher.
Our verdict
At 350g, the Wacaco Minipresso NS won't weigh you down when you're out and about, and neither will the capsules you need for it. It takes Nespresso Originals, and most compatibles, too, so you can get a shot of your favourite coffee wherever you are.
Don't forget that it does require hot water, though. If you're camping you could heat this on the stove, but otherwise in many situations you will need to bring it with you as well. Buying so you can make a decent coffee at work or in hotel rooms? This won't be an issue.
As well as the larger water tank (see above), you can also buy a neat case to keep the Minipresso NS clean and protected when you're on the move.
If capsule coffee isn't, er, your cup of tea, then there's the Minipresso GR which lets you use ground coffee. This would avoid the need to take spent capsules home with you (I've assumed you want to recycle), but does mean you have to pack ground coffee (or even beans and a grinder, fresh coffee buffs) when you're out and about.
How does it rate online?
Those who shopped on the Wacaco site gave the machine an overall rating of 4.8 out of five stars. Buyers found it easy to use, convenient, and were pleased with the brews they made. The drawbacks noted by these reviewers included the need to pump many times to produce the coffee, and the fact that this needed strength.
Amazon purchasers awarded 3.8 out of five as an average rating. Acclaimed were the coffee machine's portability, tasty and authentic espresso, and ease of use. For some, the coffee it makes isn't hot enough, and others found it hard to pump out the coffee.
About our review – and our reviewer:
Sarah Warwick has specialised in homes and interiors for over 20 years. She was Executive Editor of Ideal Home magazine, and has written for nationals, magazines and websites including Real Homes, Homebuilding & Renovating, Grand Designs, Homes & Gardens, Houzz, The Guardian, House Beautiful and Country Homes & Interiors. She put the coffee machines to the test on a variety of drinks, as well as checking out how easy they were to set up, and to clean.