For true coffee lovers, portable coffee makers are a must. Whether you need a catalyst to get you out of your cozy bed or need a cheap pre-workout buzz before the gym — it's an everyday necessity. And some people drink coffee several times a day.
If this is you, you'll know if you're not at home, work, or any other location with a stationary coffee maker to hand, the need for a coffee fix doesn't just go away. And when you're traveling, you may not even know where to find a good cup — or have the time to stop and search for it.
Quick Menu
1. Portable coffee maker reviews
2. Things to consider
3. FAQs
4. Where to buy
5. How we test
Thankfully, there are portable coffee makers that allow you to make a cup of Joe anytime, anywhere, and in almost any circumstance. Understanding that no two coffee lovers are alike, we found a variety of portable coffee makers with various designs and at various price points so you can choose the one that best suits your needs.
Whether you're flying, driving, camping, sitting at your desk, or just walking around the city, these are the best portable coffee makers that are easy to use and carry with you, wherever you go. Once you're home, if you want a machine for countertop use but only have a teeny kitchen to work with, then don't miss our guide on the best small coffee makers.
The best portable coffee makers
Price low-high. Prices are correct at the time of publication.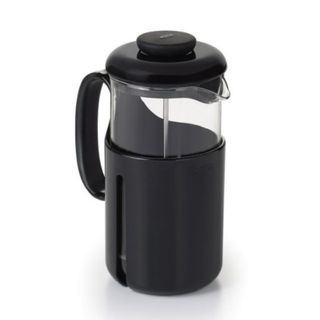 Easy-pour pick
1. OXO Brew VentureTravel French Press
Price: $25.99
Size (in): H9.4 x D6
Weight: 0.9lb
Makes: 32oz
+ Shatter-resistant
+ Easy pouring
+ Large capacity
- No insulated mug
This large container can yield plenty of coffee, and the carafe is made of shatter-resistant Tritan plastic that's also BPA-free. It has a slotted spout that makes pouring more accurate and also serves as a secondary barrier to keep grinds out as you're pouring coffee into your mug or cup. There's also a coffee level window to let you see how much coffee is left.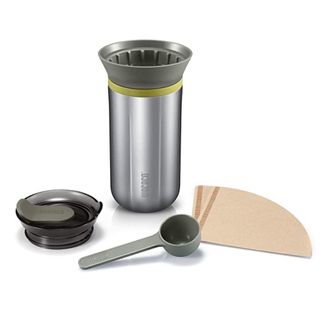 Price: $34.90
Size: H6.65" x D3.52"
Weight: 0.7lb
Makes 8oz
+ Keeps coffee hot
+ Easy to use
+ Affordable
- Not the most stylish
If you prefer a pour-over coffee maker to one that uses vacuum pressure, then this is one for you. The Cuppamoka uses paper filters, so you'll unscrew the filter holder and insert the filter, and then slowly pour water for about 25 seconds. It takes no more than three minutes to brew coffee this way. The Cuppamoka has a 10 oz stainless steel cup that keeps coffee hot for two to three hours and has a leakproof lid.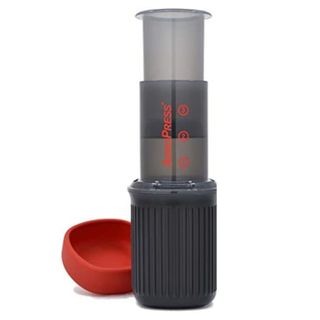 Our editor's favorite
3. Aeropress Go Portable Coffee Press
Price: $39.95
Size (in): H5.3 x W3.7 x D3.7
Weight: 0.7lb
Makes: 8 oz
+ Brews in 60 seconds
+ Variety of coffee types
+ 350 microfilters to prevent grit
- Not the most stylish
With everything you need to make coffee, espresso, and cold brew, in addition to the mug and lid, it comes with a plunger, chamber, filter cap, stirrer, filter holder, scoop, and 350 filter papers. Using it is a simple process — add coffee and water, stir the brew, and then press the coffee into the mug. And the best part is that everything fits neatly into the mug.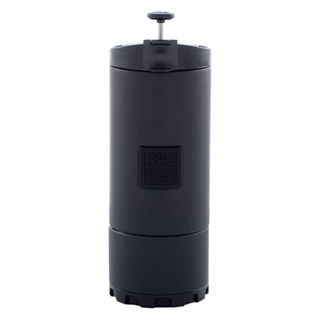 Perfectly-extracted coffee
4. BruTrek OVRLNDR Travel French Press
Price: From $40 (depending on the colorway)
Size (in): H9.75 x D3.75
Weight: 1.42lb
Makes: 24oz
+ Brews 24 ounces
+ Bru Stop technology
+ Sleek and stylish
- Pricier
With a double-walled, vacuum-sealed, stainless-steel exterior, this French press is designed to look good while also being durable. It uses a Bru-Stop press screen that, when fully pressed down, stops the over-extraction of coffee to ensure that it's not bitter. It has a heat-retentive (and spill-proof) lid that also helps to keep coffee hot for hours, and the bottom of the container can be removed for easier cleaning. It's available in four finishes, including this super sleek matte black.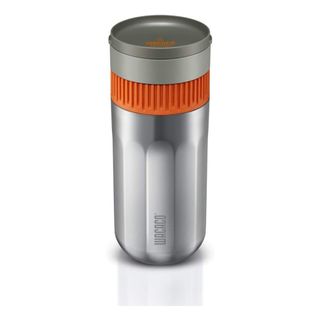 Price: $49.90
Size (in): H7.87 x W3.15 x D3.15
Weight: 0.94lb
Makes: 8oz
+ Keeps hot for hours
+ Doubles as a travel mug
+ Brews quickly
- Not the easiest to use
This hand-powered device is a coffee maker and travel mug in one. It's a pressure brewer which takes a little more effort to make. Fill the water chamber, put the coffee basket in, and let it sink to the bottom. Then turn the ring to create vacuum pressure that pulls the water downward through the coffee grounds. In two minutes, the brew is ready. The 10-ounce stainless steel cup and leak-proof lid can keep coffee hot for three to four hours.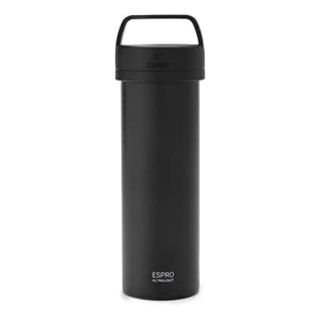 Portable French press
6. Espro P0 Ultralight French Press
Price: $49.95
Size (in): H9.2 x D2.9
Weight: 7.41lb
Makes: 16oz
+ Lightweight
+ Dual filters to avoid grittiness
+ Stylish design
- Expensive to be so small
A lighter version of the Espro P7 French Press, this may be the most portable true French press on the market. It only weighs 7.41 ounces and is made of stainless steel, polypropylene, and silicone. Like the P7, it also includes dual filters to keep grit out of your coffee and when you press the filter, it stops the extraction process. It brews coffee in four minutes and the double vacuum-insulated walls keep it warm for hours. The handle on the lid makes the French press convenient to carry. It's available in six stylish colors and finishes.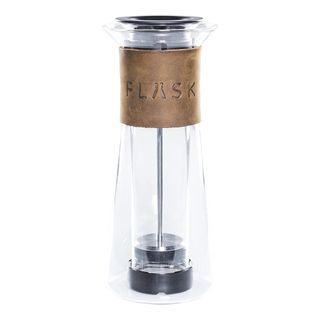 7. Ethoz Flask by Planetary Design French Press
Price: $91
Size: H14.09 x W6.85 x D10.91
Weight: 4.16lb
Makes: 17oz
+ Beautiful design
+ Brew value prevents over-extraction
+ Easy clean-up
- Super expensive
- Delicate
An expensive-looking flask with a price tag to go with it, it's made of borosilicate glass so it's certainly durable, and it has a leather-wrapped handle. It's small enough to be easily transported, however, we would advise that you're delicate with it. The one-way brew valve keeps the coffee from being over-extracted (it brews in three to four minutes), and the brewing chamber base can be removed, which makes it easy to clean.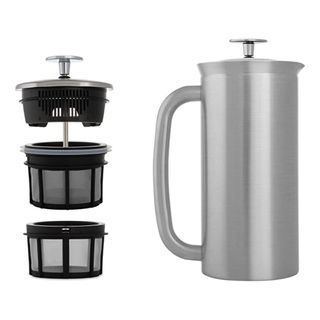 Price: $149.95
Size (in): H10.1 x W4.7 x D6.8
Weight: 2.70lb
Makes: 32oz
+ Insulated
+ Double filter system
+ Large brew capacity
- Most expensive in our guide
Renowned for its excellent French Presses, the Espro P7 is made of 18/8 stainless steel, and the double wall insulation, along with the insulated lid, can keep coffee hot for hours. The handle stays cool and the dual filtration system ensures the coffee grounds stay in the brewer and out of your cup, and pressing the filter down stops the extraction process so coffee isn't bitter. It comes in four finishes for a luxury look. Consider it if you're nearly always out of the house as it's eyewatering close to the $150 mark.
Things to consider when buying a portable coffee maker
There are lots of options when it comes to portable coffee makers, from the abundance of best-selling buys from Amazon or specialty mini-versions made by coffee brands. But don't just pick up the first one you see, as there are a few things to consider first:
1. Type
Think about how you like to brew coffee. Do you prefer pour-over, French Press, pods, or pressure brew? Your answer will help to inform your choices.
2. Portability
The level of portability you'll need will depend on how and where you plan to transport your portable coffee maker. For example, if you just want a coffee maker to use in your home office, when sitting in the backyard, or even when commuting to work on the weekends, most of the selections on this list will do. However, if you plan on using the portable coffee maker when camping or engaging in other types of outdoor activities, you'll likely need one that has a spill-proof lid and is easier to toss in your backpack.
3. Size
Some people are fine after drinking one cup of coffee while others would prefer to drink two cups without having to start the brewing process again. If you're the latter, a larger portable coffee maker would be a better choice.
4. Heat retention
Do you plan on drinking your coffee immediately after brewing it? If not, look for a model that can keep the coffee hot for several hours.
5. Brew time
Most portable coffee makers brew coffee in just a few minutes. However, if you're really impatient, you might prefer one that can brew it in a minute or two.
FAQs
Where to buy
Sick of spending money at coffeehouses? Or getting the ick from single-use coffee cups? You can wake up and smell the coffee by visiting these stores that we know stock transportable coffee makers:
How we chose these portable coffee makers
Here at Real Homes, we like to ensure the products we are recommending have either been tested by members of the team or freelancers. Otherwise, we will only recommend a product with high customer reviews.
We've read the reviews and ratings on all of the portable coffee makers in this guide, and even had some hands-on experience with the Aeropress and think it's amazing. Our tester uses hers in her camper van and finds the compact size perfect for making lovely coffees for herself and her partner when they're on the road.
Otherwise, Terri Williams, who is one of our freelance reviewers, did the rest of the research on portable coffee makers for us.
Terri is based in Birmingham, AL. You can find her wise words everywhere from Architectural Digest to Real Simple and Apartment Therapy. Here's what she has to say about this guide:
"First off, I'm a total coffee junkie, and can't go without my daily dose. So when it comes to finding a coffee maker to take on the go, I was invested in doing my research to make sure I found the best options out there."