I live in an old Victorian terrace house with two terrier dogs, so when I say that dust and dirt are a regular occurrence on my flooring, you can picture the scene. And of course, my cleaning cupboard is stuffed to the rafters with tools to help me get the clean floors I so desire. A mop, a bucket, a sweeping brush, and a vacuum with all the attachments mean it can get a little crowded. This is why I jumped at the chance to review the Ultenic AC1, a wet and dry vacuum that can do it all and on top of that, even self-clean.
The Ultenic AC1 is a 2-in-1 cordless vacuum with an integrated mop, allowing you to easily clean your hard floors. It uses a range of smart technology to ensure a better cleaning performance and to be able to check stats such as how much battery is left or how much water is in the tank. This hybrid vacuum is also a huge time saver, it can be so labor-intensive having to switch cleaning tools when you want to clean your floors, but with the AC1, it's all in one single machine. It comes with a self-cleaning station that also doubles up as a charging dock and storage space for accessories. This machine boasts an incredible 45 minutes of run time (when used on smart mode) and promises edge-to-edge cleaning, so it can even get into those tight nooks and crannies.
I seriously put this vacuum through its paces over a three-week period. I used it at least once a day, although often it was multiple times per day. My downstairs living space has a combination of tile, wood, and vinyl flooring, so I was able to test it out on multiple surfaces. I tested every function of this vacuum, from straightforward mopping to sucking up spilled milk. But with someone as clumsy as I am and two very muddy terriers, can this hybrid vacuum really get the job done and possibly make it onto our list of the best cordless vacuums?
TLDR: What we thought of the Ultenic AC1
The Ultenic AC1 is a two-in-one vacuum that will leave you in a state of shock after just the first use. No matter how clean you think your floors are, this machine will find dirt that you didn't even know was there. If you have hard floors, it will eliminate the need for multiple tools and instead mop, vacuum, and suck up any liquids in one compact machine. And even better than that, this machine will also clean itself at the end of a cleaning session. If you want sparkling floors with little effort, then the Ultenic AC1 will become your favorite home cleaning gadget.
Testing the Ultenic AC1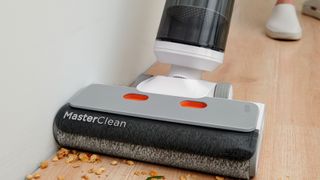 Reviewed by
Reviewed by
I write a lot of reviews, so when it comes to gadgets and tech, I make sure that I test each item thoroughly. I act as though I've bought the product myself and look at it objectively to ensure I find all the best features to share with you. I tested the Ultenic AC1 as though it was my only means of vacuuming and mopping the floors for three weeks. I made sure I put it through its paces just as I would if I were using my own equipment. Ultenic has been kind enough to gift me the AC1, and I can honestly say I'm thrilled about it, and it's now become one of my favorite household gadgets.
The techy stuff
Model number: AC1
Battery run time: 45 minutes
Charge time: 4 hours
Cordless: Yes
Number of settings: 4-in-1 multifunctional modes
Bin capacity: 1 liter
Water tank: 1 liter
Suction power: 15 KPa
Weight: 11 lbs
Accessories: Cleaning brush, cleaning solution, docking station, spare roller brush, HEPA filter
Dimensions: 27.8L x 24.2W x 113.1H cm
Noise level: 76 dB
Recommended surface: Hard floor
App support: Yes
Unboxing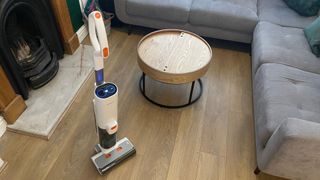 This product ships from Amazon, so you get a box within a box. The outer box, I have to say, is massive and completely unnecessary. The amazon delivery driver even called us to say he didn't think it would get through our front door. Of course, it did, but as a warning, you'll need to be home for this delivery with how large it is.
That aside, the actual box was very compact, and apart from one or two plastic coverings, everything was recyclable. My first impressions were that it didn't look that expensive. I think that was because it arrived in a pretty plain box, so it didn't have any of the gloss and high-end design that other products in this price range have. But when I opened up the box, I was blown away. Everything was neatly packed, and the machine looked very futuristic. The vacuum does come in sections but piecing them together isn't at all complicated. All you need to do is insert the handle, attach the roller, attach the clean water tank and the dirty water tank, and you're ready to place it on the dock for its first charge.
Inside the box is everything you could need to get started on cleaner, brighter floors. Aside from the main unit, the box contents included the storage/charging base, a removable battery, a spare roller, a cleaning brush, and a bottle of lemon detergent.
Who will it suit?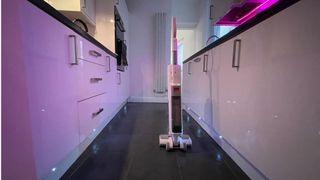 The Ultenic AC1 is such a good all-around machine that it'll suit almost every household. If you have a lot of carpeted areas in your home then I'm afraid this isn't the one for you. It's designed primarily to work on hard floors such as tiles, wood, laminate, and vinyl.
It works well in a variety of spaces as it has one-liter water and waste tanks, which can cover a lot of ground before they need to be emptied. Pet owners will also be blown away by just how well this lifts pet fur and messes left behind from their dirty paws. Areas around where the dog bowls are kept often have stray bits of kibble and water splashes. Well, these spots were easily cleaned as this vacuum got right into the corners. Because this machine uses a smart sensor to determine what kind of job it should be doing, you don't need to stop halfway and start fiddling with the settings.
It's also a really good option for those lacking in space. The charging station does take up a bit of room, but using this machine cuts down on the need for other cleaning items.
What is it like to use?
Despite having so many functions, this vacuum cleaner is incredibly easy to operate. The front of the machine has just three buttons: the on/off switch, the mode selector, and the self-clean button.
It is also self-driven, which means you don't need to put much effort in when moving the machine around the floor. I will say this was a little shocking because it is powerful. So when you use it for the first time, you need to make sure you have a good grip on it otherwise, it's likely to pull you quite hard. But once you get used to it, it just makes cleaning your floors effortless.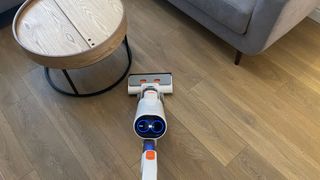 This machine is only for hard flooring. I tested it on laminate, tiles, and vinyl. I was most impressed by its performance on the tiled floor, it really cleaned the grout, and after a few attempts, the tiles looked almost brand new again. It is also great for laminate flooring as you don't want to risk getting that too wet, which can often happen when using a traditional mop. Because this machine mops and then suctions up the excess water, the floors were clean and dry in no time at all.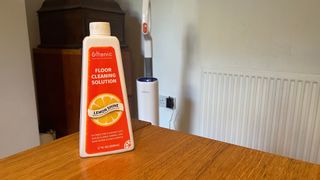 Getting water into this machine is incredibly easy. It just detaches from the main machine, and there's a handy opening situated at the top of the tank to add the water and solution. There are also helpful markers on the tanks, so you won't under- or overfill your machine.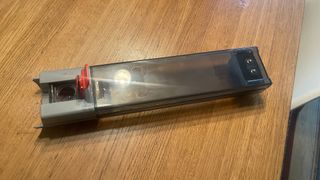 Modes and display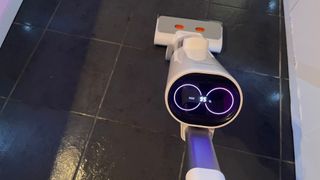 This cleaner has four modes: smart, max, deep clean, and suction. It's super easy to find the right mode, you just keep clicking the mode button until you find the wanted setting.
Smart mode: This is the default mode and is best for everyday cleaning. It will mop and vacuum simultaneously, so it's great for running around the house at any time, as it'll clean your floors and pick up any debris on the way.
Max mode: This does the same as smart mode but with more power. I used max mode most of the time. It does have a slight effect on the battery life, but it is worth it for a deeper clean.
Disinfection mode: If you have pets or children, then you'll love this mode. It's for those occasions when you need a little extra detergent. For example, mud, vomit, or any other little accidents that need disinfecting, this will do the trick. You simply place clean water in the tank with the solution, select the mode, and it'll work its magic.
Water absorption mode: This mode will suck up any spilled liquids or excess water from mopping.
One of the stand-out features of this vacuum is the LCD screen. It's large, bright, and really easy to read and understand. The LCD screen will give you real-time stats of what's going on with your machine. It also comes with voice commands, which are loud, but there is a mute button on the rear of the machine, so you can turn them off if you don't find them useful.
Suction
So there are two things that make a mess in my household: my dogs and me. I'm so super clumsy that not a day goes by without me dropping something or spilling tea all over the place. So one of the things I most looked forward to when using this machine was how well it sucked up liquid. I tested a little bit of spilled milk on the floor and went about seeing how well the AC1 handled the task. The answer: extremely well. I thought that it may push the liquid around but when suction mode was selected the roller just ran right over the milk and sucked it up before cleaning the area with fresh water. It also did a great job of clearing leftover flour after Saturday pizza night, so for spills and liquids it works perfectly.
Using it with the app
I am a huge fan of smart technology and any gadget I can control from my phone, so I was really excited about hooking this vacuum up to the app. It works without the app, but with the app, you get extra features, including controlling how much water is dispensed, what the cleaning status is, and when to change the water or solution. However, I had real problems connecting the AC1 with my phone. It just wouldn't recognize the password on my WiFi for some reason. After several attempts and a very close shave with throwing in the towel, I got it to work. But it meant having to move it to run off the WiFi booster instead of the router, as it doesn't work with dual-band internet. For the levels of statistics you get, it's not really worth it.
Charging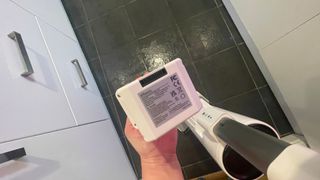 There are two ways to charge the battery. You can place the whole machine onto the docking station or remove the battery and charge it separately in the specified port. This is really handy if you want to purchase a spare battery, as one can continually be left on charge. I preferred placing the machine on the docking station after every use as it was tidier to keep the machine on the dock, and it meant the battery was charged whenever I wanted to use it.
I did leave the vacuum off the charger to test the battery. It lasted nearly two days, and that was with running the vacuum and mop through on max mode around four times. Of course, if you have a larger home or were planning to use it on different floors, you may want to purchase a second battery to maximize the usage time.
Cleaning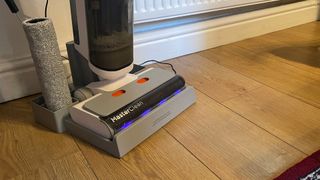 Cleaning your Ultenic AC1 is super easy because it has a self-clean mode. Once you've finished using it, return it to the dock and click the button. The machine takes care of the rest. It first cleans the roller by pushing the dirty water into the waste tank and dries it using heated lighting. It's really that simple. And if you've ever had to clean a carpet cleaner or even a roller brush vacuum, you'll know how overjoyed I felt when I discovered the self-cleaning function.
When it comes to removing waste and dirty water that's also an easy process. The waste tank unclips from the front. It's made up of two separate chambers. One part holds the dirty water, the other is for any solids that it vacuums up. The two are separated by a small metal grid so you can lift the solids out and then empty the water chamber. It's such a unique and easy-to-use design.
I would recommend that you empty this tank after every use, otherwise, when you use the machine, it gives off an unpleasant odor. But because the process is so quick and simple, it's not really an issue to do it each time. Plus, because you can see the dirty water from the front of the machine, it's more of an incentive to empty it.
Storage and maintenance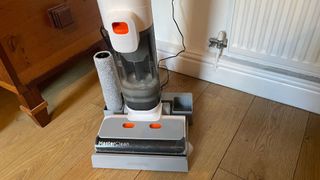 This machine comes with a base unit that is used to dock and charge the battery, which means it takes up a good chunk of floor space. And because you can only charge the battery on the docking station, it is difficult to hide away in a cabinet like other cleaning items.
That being said, it is something that you will use daily or multiple times a day so if you can find a small space for it in your utility room or kitchen, it'll soon become part of the furniture.
The docking station is very well designed. It holds all the accessories and keeps the vacuum upright. Sometimes it is a bit of a struggle to get the vacuum to sit right on the docking station, but the more you use it, the easier that becomes.
How does the Ultenic AC1 rate online?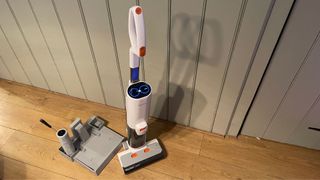 The Ultenic AC1 is a relatively new product, so there are not that many reviews of it in the UK. However, Amazon users have rated it 4.5 out of 5 stars. Many reviewers are impressed by how well it suctions up spills and liquids. Reviewers were also blown away by the self-cleaning function and the suction power on this machine.
Out of the negative reviews, the app was what annoyed people the most, with reviewers claiming it was buggy and unreliable. This is something I found while using it, and in the end, I decided just to delete the app and use the LCD screen to monitor the stats.
How does it compare to similar models?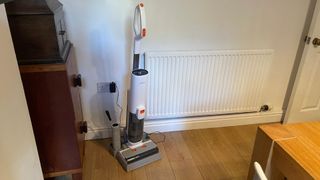 The AC1 is the first of its kind in the Ultenic range, so there are no previous machines to compare this to. However, there are a range of wet and dry vacuums on the market.
The Bissell Crosswave is a great alternative in the same price bracket, The Crosswave will set you back £300 so just £9 less than the Ultenic. Although, unlike the Ultenic, the Crosswave can even clean rugs and has a special setting. But it doesn't quite have the unique design that the AC1 enjoys. There's no separate chamber for liquids and solids, and it doesn't self-clean.
The Karcher FC5 costs £359 and is another wet and dry vacuum designed for hard floors. It also enjoys a similar smart roller technology as the Ultentic and has been designed to shift worn-on dirt. Just like the Ultenitc the Karcher FC5 has a self-cleaning function, but it does recommend machine washing the rollers for better results. The Ultentic also blows the competitors away regarding battery power, with the Karcher FC5 lasting just 20 minutes compared to the 45 minutes of the AC1.
Should you buy the Ultenic AC1?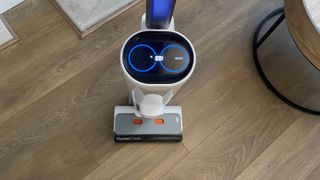 It's really hard not to be impressed by the Ultenic AC1. I mop the downstairs of my home every single day, and I thought my floors were clean. However, just one run over the floors with the AC1 and it told a different story. This machine lifted dirt that I couldn't even see.
This is a must-buy product for people with hard flooring throughout their homes, especially if they share their space with children or pets because dragged-in dirt and spills are light work for the Ultenic AC1.
It does have a few downsides. I find it very noisy, and it's not something you'd do when your roommates or partner has gone to bed, for example. And although you can mute voice commands, they're loud and booming, too.
The app also lets it down. I'm sure the company will work on this, but it's really difficult to connect and just doesn't seem worth the effort.
The other thing is that even though the big selling point is that it's self-cleaning, you do need to keep on top of the maintenance. If you don't empty the dirty water chamber pretty quickly, you'll start to notice a foul-smelling odor. Also, I do wonder how sanitary it is to keep using the same mop roller — even if the machine claims that it has cleaned it.
But would I buy this machine? I would. I think it's a really nifty purchase that eliminates the vast majority of other cleaning tools. Do I think you should buy the Ultenic AC1? Yes. If you're looking for something that will get your floors uber-clean with minimal effort on your part, then this is the ideal solution.
It's not worth it if most of your flooring is carpets or rugs because you won't get the benefit. But if your home is mostly hard floor, then I'm not sure you can afford to say no. There's also something really cool about having a self-driven vacuum. It does all the hard work, you're almost just there as a supervisor.
It's certainly a product that will change how clean your floors are; for that, it's worth every penny.
About this review and the reviewer
Rachael is a freelance journalist based in Newport, South Wales. She lives with her partner and their little dogs, a Westie called Maggie and a Sealyham named Murray. When she's not working, Rachael can often be found checking out the best walking spots with the dogs or attempting to whip up a storm (usually just a mess) in the kitchen.