Find yourself wondering whether or not the Samsung Jetbot Mop is worth the investment? If you're starting to find yourself frustrated over how the best mop can't always hit those hard-to-reach corners on your hardwood or tile floors, I'd say now is a perfect time to upgrade. I first-hand experience this revolutionary machine, and in my opinion: it's worth the hype — and so much more.
Moreover, take that from someone who is highly selective with their home appliances, I too, couldn't believe how magnificent it was when it went to work. It exceeded every single one of my expectations, and I've laid out all the pros in detail below.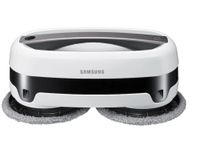 Samsung Jetbot Mop for $229, at Samsung
Designed to make your life easier, the Samsung Jetbot Mop automatically negatives your home, avoiding obstacles as wet spinning pads remove dust and grime
Samsung Jetbot Mop Specifications:
Product Dimensions: 5.75 x 15.5 x 5 inches
Product Weight: 6.29 pounds
ASIN: B086NZHSBP
Item model number: VR20T6001MW
Batteries: 1 Lithium-ion battery included
Battery Required: Yes
Assembly Required: No
Warranty Description: 1-year
Included Components: Two sets of Mops, Remote Control, Batteries, and Charger
Samsung Jetbot Mop: What's included
Main unit
Floor plate
Water supply mop kit
2 Mother yarn mop (Gray color)
2 Microfiber mop (green color)
Remote control (with battery)
Power adapter
Silicone brush
Samsung Jetbot Mop: How to use the machine
Wet mop thoroughly with clean water, then wring water out
Attach the mop pads to the water supply mop kit
Open the rubber cap of the water supply mop kit and fill it with clean water.
Please note: Using the product without water in the water supply mop kit may cause static electricity — water only.
Close the rubber cap of the water supply mop kit and attach the piece to the bottom of the unit. (Pressing down while gently turning side-to-side. You will hear a click when they attach.)
Press the Operations button for two seconds until it beeps, and the light stays on, and then start cleaning.
After using, pour out any remaining water from the water supply mop kit.
Samsung Jetbot Mop: features and functions
Dual-Spin Technology
Designed with a powerful Dual-Spin technology, this machine will effectively clean all tile and hardwood floors. With two pads — spinning at exceedingly high rates — the speed allows this unit to move, turn and clean simultaneously.
Automatic Water Dispenser
When fully charged, the double solution tanks allow the Jetbot Mop to run for up to 50-minutes without any need to refill, dispersing just enough water or water-based floor cleaning solution, to keep the pads thoroughly moisturized while minimizing the amount of drying time.
Smart Sensor System
Smart sensors allow users to clean corners and avoid walls, carpeting, furniture, or objects. Instead, you can use this mop risk-free, and without fear of your unit dropping off steps or stairs, ensuring risk-free operation for your safest clean yet.
Superior Coverage
Get in-between those hard-to-reach corners and surfaces with the Jetbot Mop's spinning pads which are positioned to extend from under the unit so it can thoroughly clean the edges of your home.
Long-lasting battery life
Save time by cleaning for lengthier periods in one go with the Jetbot Mop's high-capacity battery with the capability to mop for up to 100 minutes. You can mop a large floor area, from corner to corner, without the need for additional charging.
Multiple cleaning modes
The Jetbot Mop represents flexibility at your fingertips, with eight cleaning modes. This machine offers Auto Cleaning, Edge Cleaning, Focus Cleaning, Intensive Cleaning, S-Pattern Cleaning, Step Cleaning, 50-minute Cleaning, and Manual Cleaning.
Choose Focus Mode to concentrate on a particular area, or let the Jetbot Mop move around freely on Random Mode. Switch modes from anywhere in your house with the handy remote control.
Hand mode for floor-to-wall cleaning
This mop is so versatile that it lets you clean by hand where other mops can't reach. Here, the hand mode allows you manually clean where you want, completely removing stains on kitchen and bathroom tiles or wipe off marks on a wall.
Samsung Jetbot Mop: Why I love this dual-action cleaner
Easy transportation
The fact of the matter is this: After living in my apartment for two years — and lugging one big and bulky unit up five flights of stairs — these days, I'm selective with which cleaning units I test out.
If I am carrying something up so many flights of stairs, it not only needs to be worth the time it takes to get up said stairs, but it also needs to be sleek and compact, where it's not distributing my apartment's layout. Here, this mop was the perfect example of what I'm describing.
The mop arrives in a small box with a top handle for quick-and-easy transportation. More favorably, it was a comfortable weight to carry, and I never found the need to stop and take a break on the way up to my apartment.
Sleek design
Remember how I said I was against big and bulky items? I meant it, and that's another reason why this mop reigned supreme in my book. After unboxing this unit, I was left swooning over its design. The matte white is not only an impeccable addition to any kitchen aesthetic or decor, but the unit in itself was so compact that I could neatly tuck it away under any couch or inside my kitchen cabinet when not in use.
Simple set-up
Most favorably was the actual set-up in itself: it was non-existent! All that's required is clicking the bottom mop pads into place (and selecting which ones you want to use), and you're good to go.
Noticeable difference
Much like every other person who lives in a small city apartment, I'm always trying to maximize my space by stuffing everything I can into any available corner.
As a result, dirt and grime are easily trapped underneath boxes or bins and go unnoticed for moments on end. Making matters worse, it continues to build up over time, so when I do finally notice it to clean, it's shoved so deep into a corner or edge that's it's near-impossible to get out.
Here: this mop was the solution I've been desperately needing. The dual-action spinning brushes softened the dirt and grime and "flushed" it out of the corner it has previously been stuck in-between, then suctioned it up similar to a vacuum cleaner.
Versatility
I also loved the versatility it offered. This unit came with two different types of mop pads. The Microfiber choice was suitable for richer and longer yarns and had superior wiping performance, making them ideal for full room-to-floor cleans.
Compared to the Mother Yarn pads were 100x thicker than the Microfiber option and ideal for mopping up quick spills and dusting surfaces, making them best for quick clean-ups and the other for longer tasks.
More than one use
Naturally, I saved the best for last: there is more than one way to use this unit. The first is the manual way: turning the machine on, then letting it work its magic on its own.
Secondly, it's suitable for hand-held use and works wonders on bathroom tiles and wall tiles. The dual-spinning brushes will get in-between those hard-to-reach crevices on tiles and leave your walls in pristine condition.
In truth, this by far was by far the best feature this entire machine had to offer, and I loved that it cut my bathroom cleaning routine in half.
Samsung Jetbot Mop: Our verdict
Whether you're looking for a quick solution to picking up dirt, dust, and grim or a longer intensive clean, the Samsung Jetbot Mop offers versatility and precision.
Designed with dual-spinning brushes and offering two different sets of mop pads, this unit will cut your cleaning time in half while also offering versatility. You can let the machine manually run for up to 50-minutes (before this machine needs to be plugged in for a quick charge!), or you can take matters into your own hands (literally) and use it on bathroom walls and tiles.
Plus, it also offers the same suction feature as a vacuum, trapping dirt and debris fast and removing it from any surfaces. In truth: this mop was a complete gamechanger for me, and with its very affordable price of just $229, how couldn't you invest?
Whether you're living in a large family home or a small apartment (like me), the Samsung Jetbot Mop is a worthwhile unit that will make cleaning a breeze and receives an A++ in my book.
Samsung Jetbot Mop: Where to buy?