When I was offered the Russell Hobbs SatisFry Air & Grill Multi Cooker to review I practically leapt for joy. Why? I already had an air fryer, which I *somewhat* overused, but it was quite small, meaning I was confined to cooking side dishes only. As someone who isn't the best cook in the world, having an air fryer has pretty much saved me from eating burnt food for lunch when working from home, and from having boring breakfasts every day, too.
The Russell Hobbs SatisFry Air & Grill Multi Cooker is mighty spacious and it can definitely cope with fast-paced family life, whether you are using it to cook an entire chicken or some frozen fodder for the kids. Equally enough, I've been using it to cook for my husband and me, and being able to put everything in one machine and cook it all together is so convenient. Some of the things we've cooked in this air fryer include croissants, bacon, fish cakes, chips, sausages and even cheese on toast. Did I mention already that it can do more than an air fry? It also has grill, bake, roast, sear, and slow cook settings, as well as a keep warm function.
It's safe to say that this air fryer made it into our ever-popular best air fryers guide, and it's staying put. Here's what else we loved about it...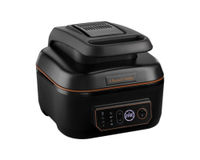 Russell Hobbs SatisFry Air & Grill Multi Cooker | £160 at Amazon
This is the first time we've seen this air fryer in stock for WEEKS. So don't hesitate and buy it now or you'll regret it later.
TLDR: What we thought of the Russell Hobbs SatisFry Air & Grill Multi Cooker
The Russell Hobbs SatisFry Air & Grill Multi Cooker is brilliant in more ways than one. It's great for any household, whether you have housemates who are hoping to stop using their oven or are a family of three. It offers an abundance of features from air frying to slow cooking. All these built-in capabilities mean the air fryer is relatively large, so you will need to empty some worktop space for it. Since it doesn't have a basket, it isn't as easy to get your food out and you might find a few chips have fallen through the grill grates. Still, you'll never need to shake your food whilst cooking. It evenly cooks everything and your sausages and bacon will come out decorated with those satisfying grill lines. After your tummy is full, you need only put its basket and grate in your dishwasher, or you can wash it by hand with ease. The best part? It costs less than 60 pence per hour to run. In a few short words: It will change your life.
Testing the Russell Hobbs SatisFry Air & Grill Multi Cooker
Reviewed by
Reviewed by
Annie is our head ecommerce editor, with years' worth of experience when it comes to reviewing products for your home. She has tested everything from air fryers to hot tubs to vacuum cleaners, and she knows how to spot a product that will last from one that will be used for five minutes.
Annie has been testing the Russell Hobbs SatisFry Air & Grill Multi Cooker since September, and she has used it so many times for cooking everything from breakfast croissants to lunch cheese on toast and fishcakes for dinner. Annie has been cleaning this air fryer in her slimline dishwasher, which it just about fits in, otherwise, she washes it by hand.
The techy stuff
• Weight: 5.4 kg
• Power: 1,745 W
• Dimensions: H28.2cm x W32cm
• Temperature: 65°c to 260°c
• Price per hour to run: 59 pence
• Capacity: 5.5 litres
• RRP: £149.99
• Colour: Black
• Cleaning: Dishwasher-safe drawer and basket, nonstick coating
Unboxing
This air fryer arrived in a box, however, inside it was totally wrapped in plastic. Both the air fryer itself and its basket were covered in plastic, which was a real shame in my opinion.
In order to "set up" this air fryer, you essentially just pop its basket into the machine and pop the grate into the basket. Then, with the instructions in-hand, you're good to get cooking.
How to use the Russell Hobbs SatisFry Air & Grill Multi Cooker
This air fryer is pretty simple to use. Simply press the on button (the one with the circle) and it will light up. It automatically puts itself into air fryer mode, but by pressing the button with the line, you can go through all its modes. Once you've selected a mode, it will ask for a temperature which you can tailor to your needs using the arrow buttons. Then, press the line button again. It will then ask for a time which you can also set using the arrow buttons. Press the line button once more and it'll start cooking. Not all modes require pre-heating, and the ones that do will read 'Pre' on the display. The air fryer mode does not require pre-heating, which we love!
The modes on this air fryer are, from left to right: air fry, grill, roast, sear, bake, keep warm, slow cook (low) and slow cook (high).
Once the air fryer has finished cooking, it will beep to let you know. This beep is a little quiet, just an FYI.
Cooking potatoes and chips
Potatoes are probably (and understandably) one of the most common things that are cooked in an air fryer. We always make sure to cook homemade chips in every air fryer that we test, using the same potatoes and the same prep method every time.
After prepping our Maris Piper potatoes and having a browse through the instruction booklet, I popped the potatoes into this air fryer and spread them out evenly across the grate. I set the timer for XXXX. The instructions that come with the air fryer say 25 to 30 minutes at 180°C but for me, this seemed too long. In the end, they were cooked after XX minutes, no shaking required.
The only annoying thing about cooking chips in this air fryer is that it's a bit of a faff to get the chips out. The basket and grate are obviously burning hot, as is the actual air fryer, so scooping them out will take a little time. Also depending on the size of your chips, some may fall through the grates and into the fat or oil that has been dripping off your food.
With this in mind, if you want an air fryer to purely cook chips, this isn't the one!
I also cooked frozen chips from M&S in this air fryer. They took just 10 minutes at 180°C and they tasted so nice. They were thin chips, bear that in mind, but they really came out well.
I've used this air fryer so many times to cook hash browns and potato waffles, too. I prefer the cauliflower kind but have used it for both potato hash browns and cauliflower ones. It cooks them evenly and in around 12 minutes at 180°C.
Cooking meat and fish
I've used this air fryer to cook bacon and sausages, as per the instructions in the booklet.
Depending on the thickness of your bacon, it should take eight minutes to cook at 180°C. The thing I love about cooking bacon in this air fryer is the convenience as you don't have to stand staring at a pan and risking getting fat spat at you. It also leaves the bacon with griddle lines to make each piece look more appetising, and you know it's a healthier way of cooking it. You might find that you sometimes need to add an extra minute if you like it a little more crispy. Equally enough, one time I did leave the bacon in for a little too long, but it did make it super crispy — perfect for stacking atop your pancakes and drizzling with maple syrup.
Then onto sausages! Whether for bangers and mash or your Sunday fry up, sausages are easy to cook in this air fryer, and you get peace of mind that they are cooking evenly, too. You will have to flip food to get the grill lines on both sides, but this is purely a cosmetic thing. Cooking time will depend on the thickness of your sausages, of course, but you should allow for 15 minutes.
Another thing I have used this air fryer to cook is fishcakes, along with some sweet potato chips at the same time. It was so handy to pop everything in together, and it meant minimal effort and washing up afterwards. Win-win!
Cooking everything else
I've also used this air fryer to cook croissants and grill cheese on toast. I've used it to reheat food and also to cook veggie bits, too. I am yet to use any of the other functions but am desperate to test the slow cook mode, and I'll be sure to update this review once I have.
Russell Hobbs SatisFry Air & Grill Multi Cooker design
Since I've mentioned so many times that you need to clear some countertop space for this air fryer, it only seemed right that I talked about the design of the appliance. It's definitely not something that your guests would automatically look at in your kitchen, but do bear in mind that it comes in only one colour! This was fine for me because the rest of my appliances are black, but for anyone with a bright white kitchen, it might stick out like a sore thumb.
Anyway, this air fryer is unconventional in comparison to most others in the way that instead of having a pull-out basket, you need to lift it up to reveal what's inside. This means that you need to leave enough space above your air fryer to open it as it needs to sit fully back to stay open. This is a little bit of a nightmare, I will admit, and it's part of the reason why I knocked half a star off its rating. I once underestimated the threshold in which it will stay open and it slammed down onto my finger and OUCH. Don't copy me, please! After lots of complaints from my husband and that finger injury, we moved it into a space in which there weren't kitchen cupboards above the air fryer.
The last thing I will comment on about its design is that whilst in use it gets so hot to the touch. I didn't really expect this so touched it one time without really thinking and again: Ouch. Some people say I am clumsy, but you can draw your own conclusions. Just be sure to use it somewhere out of reach of smaller ones and clumsy people like me.
How to clean the Russell Hobbs SatisFry Air & Grill Multi Cooker
This air fryer couldn't be easier to clean. When I first got it out of the box, I assumed because of its size that it would be hard to clean. But boy was I wrong! Simply just take the grate and the basket out of the air fryer and either pop them in your dishwasher or clean them by hand. They're super non-stick so food won't get plastered on.
You can wipe down the machine with a cloth to keep it looking clean whilst sitting on your worktop.
Is the Russell Hobbs SatisFry Air & Grill Multi Cooker right for you?
If you're someone who uses their oven a lot, then this would really be a great investment. Equally enough, it's a great option for families or couples. I'd probably say to avoid it and go for something cheaper if you mostly cook for one. You also need to make sure you have enough worktop space for it to live. It's a super versatile machine so bear that in mind when spending as I do think it's quite a reasonable price considering all it can do.
More top picks
Instant Vortex Mini Air Fryer
If you're looking for something compact
This brilliantly small air fryer comes in four colours, and it's nice and small so it won't take up much space in your kitchen. You can even place it in a cupboard. With a 2-litre capacity, it's perfect for making side dishes — or just for making air fryer chips.

Ninja Foodi Dual Zone Air Fryer
If you want something bigger
Perhaps one of the most popular air fryers around right now, this dual-basket model is great for cooking different foods at the same time at different temperatures and without food touching. It has a combined capacity of 7.6 litres across the two baskets. One side for your chips, the other for your sausages.
If you want something that's easy to use
The Magic Bullet Air Fryer is a brilliant size and a brilliant price. It retails at around £100, but you can often find it on sale for cheaper. It's super easy to use if you want something faff-free, just put your food inside, close the basket, and spin the dial for time and set the temperature. It'll beep once done!
About Real Homes reviews
Annie was sent this air fryer by Russell Hobbs to test in her kitchen and to write an honest review. Annie has been allowed to keep this air fryer so that she can update on its status after six months of use, a year of use, and so on. Annie uses this air fryer several times a week currently, and it has pride of place in a corner of her kitchen.
Find out more about how we review air fryers at Real Homes.