If it's time for a new mattress then you best read our Rem-Fit 400 Hybrid Mattress review.
I've been fortunate enough to put this (already) award-winning hybrid mattress to the test over the past few months to bring you the low down on just how good it actually is. My husband has been by my side most nights during the time we've had the mattress which creates a balanced view on our different sleeping positions, temperatures and motion transfer.
If you're looking to find the best mattress for your needs, you'll find plenty of choice in our guide to the top picks – but don't miss our deep review, below, first.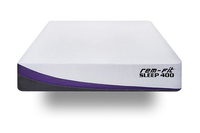 REM-FIT | save 25% off all mattresses
Comprised of no less than five advanced layers of support and comfort, there are THREE award-winning hybrid mattresses to choose from which cater for all shapes, sizes and sleeping positions. And, not only can you get 25 per cent of either of these you can also get 50 per cent of pillows and mattress protectors.
Rem-Fit 400 Hybrid Mattress specifications
Tension: medium-firm
Type: pocket-sprung and memory foam
Sizes: small single, long single, single (UK & EU), small double, double (UK & EU), king-size (UK & EU) and super king
Who will the Rem-Fit 400 Hybrid Mattress suit?
All sleepers, especially side sleepers: there's enough memory foam to sink into whilst the spring provide that extra bit of support;
Memory foam fans: for that (nice) sinking feeling;
Fidgets: you won't even know they're there;
Flats, small homes or larger homes with narrow doorways: it's delivered tightly rolled in a bag, but you may need help to haul it up the stairs
What's the Rem-Fit 400 like to sleep on?
We now all come to expect the new mattresses we buy to arrive rolled and / or boxed (I do, anyway) so when the Rem-Fit 400 turned up rolled and in a bag, it was a big tick from the start. I understand that the Rem-Fit mattresses were once part of the bed-in-a-box clan but since March they are now delivered in this way to reduce the overall packaging used and the need to recycle the box, and I can vouch that it worked for me like a dream.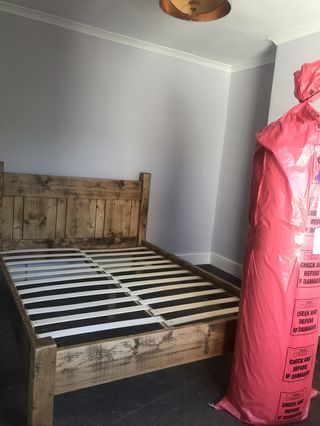 Taking it up the stairs was mega easy when compared to wrestling with the non-rolled mattress type, even when manoeuvring onto the gallery landing, but it is on the heavy side so you may need a little help to navigate the steps. After removing the protective red bag the mattress was wrapped in an additional, clear plastic which kept the mattress tightly rolled. As I began to remove this second layer, the mattress started to unravel (quickly) so I summoned Mr O to come to my aid so we could get the mattress onto the bed frame before it sprung up too much to easily move it. Turns out there's a little welcome pack which I didn't spot until after the mattress was unwrapped but it's something to look out for before you start to unravel your Rem-Fit 400 because it includes a handy tool for cutting the plastic, and some rather interesting sleep recovery information.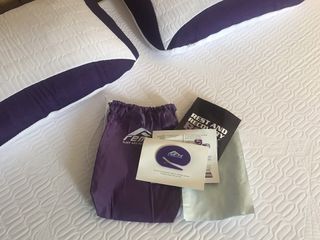 The mattress took just a couple of hours to expand up to its 25cm height, which was fascinating to watch (for a minute or so). The instructions also specify to leave the mattress uncovered in a well-ventilated room for a few hours to allow it to acclimatise to the room temperature. The mattress also gave off a plastic odour which is, as I'm assured by the instructions, safe but it did linger for a few days.
I found night one and the next few nights pretty uncomfortable, but that says more about our old mattress than the Rem-Fit 400. According to the Ts & Cs at Rem-Fit they recommend that you sleep on your new mattress for a minimum of 30 nights to allow enough time for your body to fully adjust, which gives some comforting encourage to pursue (it's worth it, honest). We tested this mattress during the summer months, too, which has been somewhat a mixed bag of temperatures but the mattress – with its open cell memory foam which provides a degree of temperature regulation – coped perfectly. With our wool duvet (cool in summer, warm in winter), cotton mattress protector (for extending the mattress longevity) and the window open we both slept through the nights, undisturbed unless it was to top up my glass of water which I like to keep full at my side of the bed at all times (it's comfort thing).
To get an idea of the motion transfer I was paying more attention to how Joe moves around on it as he begins to stir in the morning (I tend to wake an hour or so before him). Apart from the duvet getting further and further away from me as he rolled to the right hand-side to his back, then to his left hand-side, I wasn't moved from my side. Not even a tremor, although I was fully aware that he was resident. This is most certainly with thanks to the 2000 pocket springs which move independently to support and respond to the different sleeping positions. It's also worth noting at this stage that the mattress will comfortably withstand a total combined weight of up to 40 stone (20 stone per sleeper) because of its high density foam which which sits at the base of the mattress.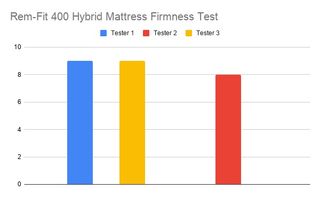 The tension of the Rem-Fit 400 is advertised as medium/firm but I would say that it's more towards the firmer end of the spectrum. It's not rock solid by any stretch of the imagination but to give it a slightly more balanced assessment I asked Joe and my mum, who visited us post lockdown, to rate the firmness on a scale of one to 10. I also included my own rating for good measure. Mum agreed with me that it is pretty firm but Mr O, who is 6ft 4in tall and well built, rated it a peg down. He stressed that it has memory foam which gives it a sinking, yet firm, sensation on top of the pocket springs which is why he scored it the way he did.
The weight test (below) saw my 56lb / 4 stone weight not sink down too much, even on the edge of the bed. In the middle of the bed I measured a 4cm sink, and on the side just a little more to 4.5cm. To put those edge-to-edge supports to the test I placed the weight as close to the edge as I could before it started to tip over, which managed to get to 14cm – that's plenty of room to perch on before launching off the bed. These similar readings are a good indication of the even support across the mattress, plus just how good the foam encapsulated side walls are which don't run the risk of you rolling or falling off the bed when you sit on the edge.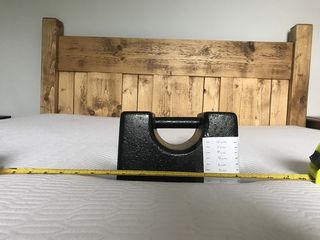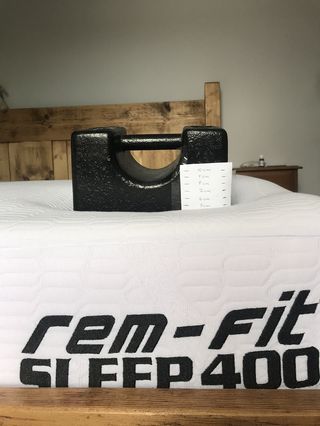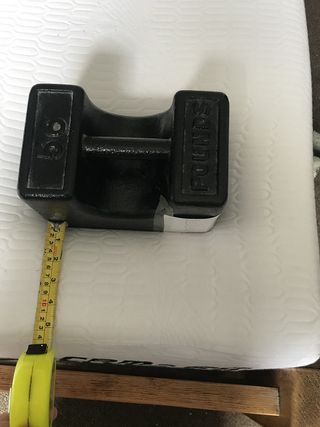 Rem-Fit 400 Hybrid Mattress fillings
The UK brand are committed to giving you the rest and recovery time you need at the end of each day and suggest the Rem-Fit 400 to sleepers who feel they need a little more support during the night. This is down to the five incredible layers which make up the mattress.
The first of the layers is the Re-AX breathable cover which encases the 25cm-deep Hybrid. It's removable and machine washable, too, which will make caring for your mattress a doddle. Then there is the cool open-cell memory foam which is body moulding and temperature regulating which means that there's no need to turn over the mattress, but regular rotation will maintain the appearance of it. And then down to level three are the 2000 premium pocket springs which are 15cm tall to provide tailored back support and comfort.
Foam encapsulates the side walls with edge-to-edge support to ensure a consistent tension across the entire surface of the mattress, which will also help to lengthen the life of the mattress. And then last, but by no means least, the fifth layer is a high density foam which sits at the base of the mattress to provide a robust and extremely strong foundation.
What do you get for your money?
A 100 night sleep trial with no quibbles if you're not completely satisfied; 15 year full replacement guarantee at no extra cost and free next day delivery (when you order before 1pm).
One more thing; if the mattress isn't quite right for you, Rem-Fit will collect it for free and refund you in full. The returned mattresses are then collected and donated to their partner charity, the British Heart Foundation. So there's no need to worry about the afterlife of the mattress you try, which is another tick from us (we like to see sustainable options wherever possible).
Ordering and delivery
It's a pretty standard way of ordering online, and if you order before 1pm on a working day you'll receive your new mattress the following working day for free. Happy days. But, if you want two person delivery, existing mattress removal or guaranteed next day delivery in the morning then you'll need to find up to an extra £50.
How does the Rem-Fit 400 Hybrid Mattress rate online?
There's a lot of love out there for Rem-Fit on Trust Pilot and, from what I've seen so far, on social media. Out of the 968 reviews the mattress brand has scored 4.6 stars (over all) and I've spotted a few five star reviews of the Rem-Fit 400 on page one. Customers speak very highly about how it has improved their quality of sleep and eliminated back pain in the morning. The customer service is first-class, too, with quick, attentive and positive responses even if you do have something which you want to raise.
Is the Rem-Fit 400 worth it?
In a nutshell, yes. Both Joe and I are really happy with this mattress, although it took me a little while to get used to it.
The price is competitive when compared to the other hybrid mattresses, it's designed to support a weight of up to 40 stone and is suitable for all sleeping positions, especially side sleepers (in my opinion). The only gripe which I had with this mattress is the plastic smell which lingered for a few days after unpacking it, but that does fade and honestly now there is no odour.
More on mattresses...