I started my Lumie Bodyclock Spark 100 review back in January when the days were short and my annual dose of SAD was at its worse. I continued to use it every day/night until the mornings got lighter and our mood got brighter.
I suffer from SAD every winter. As soon as they days start to get shorter and the weather darkens, so does my mood – and my ability to wake up in the mornings. So, I was excited to test out the Lumie Bodyclock Spark 100 wake up light. It's the most basic of the models: it's a simple wake up light with optional alarm – others in the range include built in radios and Bluetooth, but are more expensive.
How did it perform, and what useful features did it have that we found positive additions? Read on to find out. Want more? Read our expert buyer's guide to see which buy we thought was the best wake up light you could buy (hint: Lumie does well).
How does the Lumie Bodyclock Spark work?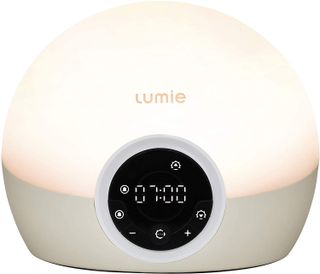 Waking up to light in the morning is the most effective way to reset your internal body clock – and that's what the Lumie does: it provides you with a more regular sleep-wake pattern by mimicking the colours of a real sunrise and sunset using mixed LEDs.
In the morning, that means a gradual 30 minute sunrise that wakes you naturally with light, so you feel properly refreshed and wide awake by the time you reach the final light intensity (which you can set yourself). There's an alarm sound option, too, plus a tap control snooze.
At night, you can unwind with a fading sunset as the light dims over 30 minutes. There's a fade-to-off or fade-to nightlight option, the latter being great for children.
How easy is the Lumie Bodyclock Spark 100 to use?
It is relatively easy to set up the Lumie Bodyclock Spark 100: there are three buttons, as well as a plus and minus to control settings such as time, sound and brightness.
The wake up light setting
In the morning, you can set the final light intensity to a warm glow or bright light. I started off cautiously: using the warm glow setting to wake me up, and I have to say, I quickly experienced positive results on how good I felt in the morning, compared to when I wasn't using the Lumie lamp.
I hadn't wanted to try a brighter setting at first because I thought it would be unpleasant to wake up to, but then I got braver, adjusting the wake up light to the brightest setting – and it was vastly more effective, and I felt even better. The light is designed to resemble natural sunlight, and it really did.
But if you would prefer to start your day with a dimmer, red light, then why not? And this is the point of the adjustable settings – the light intensity you wake up best to is a personal thing. So, I'd advise starting off like I did: being cautious to start with, then experimenting to get the setting that suits you.
The sunset setting
The sunset setting is created by turning the light up (using the plus button), and then pressing the sunset function. Fading light signals to the body to produce melatonin ready for sleep, so the sunset makes you naturally drowsy – at least it did for me. This setting produces a gradual dimming of the bright white light to a pink, an orange and then red light. The whole process lasts 30 minutes, at which point the light turns off completely.
However, if you wish to have some light rather than complete darkness, this button can also be used as a night light function (you just hold use the controls to set the brightness level you prefer).
The centre control
The centre button is used to set time and confirm functions. Additionally, the lamp has a tap-control snooze.
The Lumie Bodyclock Spark 100 alarm setting
The alarm setting is used to set an alarm, as well as to turn it off. When setting the time for the alarm, the lamp gives you an option of how bright you want the light to become from one to five, with the lowest a warm red to orange, right through to bright white that resembles natural light. The device starts to brighten 30 minutes before your alarm goes off, waking you naturally as it reaches full brightness.
Worried the light itself won't wake you up? There's an alarm sound, too. I found the alarm sound unpleasant – it quickly gets faster and more urgent – but then don't we all? Luckily, you can mute the alarm if the light alone is enough to wake you, which is what I have done. The benefit? I wake up naturally and don't have that jerked-awake sensation that's so disorientating in the morning.
The Lumie Bodyclock Spark 100 vs Lumie Glow 150
The Lumie Glow 150 is a similar version to the Spark 100, but with some nice additions that I don't feel are 100 per cent necessary for improving your sleep/wake cycle and relieving seasonal affective disorder. You can, for instance, set sunrise or sunset from either 20, 30 or 45 minutes instead of the 30 minutes the 100 takes. There are also 10 different wake up and sleep sounds, such as blackbirds chirping or tropical birds calling, waves lapping, thunderstorms, steam trains, white noise, 'cafe', crickets, and interestingly enough, goats. That's what an extra £30 or so will get you.
Upgrade again to the Lumie Shine 300 and you get a radio thrown in, too. Again, it'll cost you more, but will save space on your bedside table. There's the Lumie Bodyclock Luxe 700FM with radio and Bluetooth speakers plus low blue light, and the Lumie Bodyclock Luxe 750DAB, which is another step up.
Is the Lumie Bodyclock Spark 100 suitable for everyone?
Exposure to very bright light may not be suitable if you have an eye condition or eye damage that makes your eyes particularly sensitive to light, are taking medication that increases your sensitivity to light, such as certain antibiotics and anti-psychotics, or the herbal supplement St. John's Wort. Speak to your GP if you're unsure.
The verdict
I found the Lumie Bodyclock Spark 100 has considerably improved my morning routine. I have certainly noticed the positive impact of easing into my day with a gradual lightening of my bedroom to natural-looking daylight. As a result, I'm feeling much happier in the morning.
And for these reasons alone, I would really recommend the Lumie to people who suffer from seasonal affective disorder – and to anyone who wants more control over their sleep-wake cycle (particularly if you're one of those heroic workers who gets up while it is still dark or works shifts). It's brilliant for anyone who travels a lot and finds it difficult to adjust to different time zones, too. That said, the Lumie is quite large (H16cm x W19cm x D12cm), so you'd need to leave room in your suitcase.
Would I upgrade to the models with the built in radio? Probably not: I tend to stream music rather than listen to the radio, and I already have a smart speaker... However, if you're a radio devotee and love a lie in with The Archers, you might want to upgrade to one of the models above.