Just going to put it out there — the Hotel Chocolat Velvetiser has turned me into a bit of a cocoa snob. I've seen how much crap is in chain coffee shop interpretations of the drink, and frankly, it's a no from me. Thankfully, with this chic milk frother, I can make a boujie beverage with the best ingredients.
The company has completely shaken things up... and not with powdered sachets either. Instead of using low-quality cocoa and sugar in a grainy mix, it pouches up proper shaven chocolate (so if you've been tempted to lick your phone or laptop screen, I get it). Once upon a time, chocolate was demonised, but it's now considered a superfood with stress-busting theobromine... exactly what I need after a busy day at work.
I've only ever been able to drink a hot choccy this good from their shop Rabot 1745 in Borough Market. This foodie fondue of stalls brings together all that is good for those who enjoy well-sourced ingredients and scrummy samples.
Let me show you why I vouch for the Velvetiser, and why it's worth spending your money on this gadget made for gourmands!
TLDR: what we thought of the Hotel Chocolat Velvetiser
The Velvetiser comes in some pretty snazzy colours, including satin black, copper, and platinum. From the textured aluminium grip to the double metal jacket to keep things hot, it's silent but oh-so-smooth in looks and functionality. Size-wise, it isn't bulky, and unlike some appliances, you'll want to show this off on your countertop.
For me, the finished product was hot enough, though some might want a warmer drink. "The Velvetiser has been calibrated to serve at the best temperature for flavour, which is up to 68 to 70 degrees Centigrade," says David Demaison, Chocolat chef at Hotel Chocolat. "A few degrees either way is perfectly acceptable, but if your hot chocolate is much hotter, its delicate flavours will be scalded."
Having had it for a week, it seems to be quite a sturdy product, with a magnetic whisk that fits in place (a nifty feature from the maker, Dualit). However, time will tell when it comes to durability, as a small handful of reviews on its site comment on the device breaking before or just after the 12-month warranty period had passed.
Though you can use the Velvetiser with most off-the-shelf chocolate products, the brand (and we) advise that you grab yourself a few single-serve bags, a selection box, or a reusable tub. If travel hasn't been on your agenda this year, take your tastebuds on a journey with Ghanian 85% dark chocolate or Honduras 100% dark chocolate.
Hotel Chocolat says it's "barista-grade" chocolate, but I argue that the description is a massive disservice. The way it straddles between ethical and sustainable with a Saint Lucian cacao farm and British manufacturer is what makes the brand admirable IMO.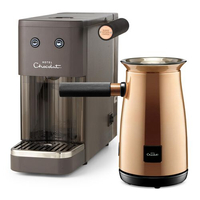 Hotel Chocolat Podster and Velvetiser deal | Was £249.94 (if bought separately at RRP price) Now £99.95 (save £149.99)
Sign up to Hotel Chocolat's VIP club (for free) and get £149.99 off this beverage bundle. The pod machine and milk frother duo is a stylish and compact combo that will look stylish on your kitchen countertop. Comes with two Podcups so that you can share a cup of cocoa with a friend.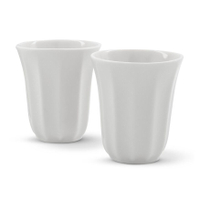 Petite Podcups, set of 2 | £18 at Hotel Chocolat
These chic Podcups are inspired by the cocoa bean itself. A minimalist, off-white glaze highlights the gentle grooves in the side of the mug, and the tapered edge adds an elegant touch. Made from vegan-friendly Noble Bone China, these delicate cups will give your hot chocolate ritual an unmistakable air of sophistication.
Testing the Velvetiser
Reviewed by
Reviewed by
Christina Chrysostomou is our ecommerce editor at Real Homes. Her job is to test small kitchen appliances, including beverage makers. This includes bean-to-cup coffee machines, pod coffee makers, and milk frothers, including this Hotel Chocolat Velvetiser. Her favourite flavour is the Vanilla White. It's buttery, and dotted with specks of Madagascan Vanilla — a stone's throw away from the island of Mauritius where her maternal family is from.
The techy stuff
Model: Satin black Velvetiser
Weight: 1.16 kg
Dimensions (cm): L21.8 x W11.9 x H20.2
Capacity: 240 ml
Unboxing the Hotel Chocolat Velvetiser
From unboxing the product, you can see that Hotel Chocolate has made a conscious decision to limit plastic where possible. Plastic has been swapped for a white cloth covering, which makes it feel rather luxurious from the get-go.
The Velvetiser also comes with two design-led white ceramic cups (worth £20). The design was created by Royal College of Art ceramicist Andrew Wickes, inspired by a preserved cacao pod. He made around 30 different models before he cracked it... if you pardon the pun.
We were kindly sent an Everything Selection variety box which includes 10 sachets of shaved chocolate. It included everything from your standard flavours (milky 50%, classic 70%, dark 85%), to fruity and exotic variants (think blood orange, ginger, and even chilli!).
How to use the Velvetiser
It's as easy to use as it is chic. You can have your hot chocolate at a push of a button. Of course, on first use, you'll want to give it a wash to get rid of any dust and debris from the factory.
Then, all you need to do is fit the three parts together (main vessel, operating unit and whisk), and plug it in. Fill the vessel with your chosen dairy or plant-based milk, pour your chosen flavoured flakes in, attach the lid, and press the button. Hotel Chocolat says that you can use filtered water together with its 100% Honduras for the purest cacao taste.
Alternatively, it can be used to froth milk in the traditional sense to make coffee-based drinks like a latte or cappuccino. Served in my ProCook doubled-walled glass cups this time.
Making chilled drinks in the Velvetiser
If you don't care for warm drinks, come to the cold side. This isn't your supermarket fridge chocolate milk you might otherwise be used to. Instead, you can make various chocolate-flavoured martini cocktails or even a White Russian.
You can also create a standard iced coffee drink by frothing 110 ml of milk in the Velvetiser with your chosen flakes (we recommend something from the Latte Everything selection), then pouring this over an ice-cold glass of milk to create a cool but comforting drink.
Other Velvetiser hacks
Everything is better covered in chocolate sauce. Ice cream, pancakes, fresh fruit — you name it. So instead of buying cheap and squeezy shelf-stable stuff, make your own artisan creation at home. All you need to do is half-fill the Velvetiser with milk, pour in 70 g of chocolate flakes, and press the button.... voila choccy sauciness.

And, if like me you like those posh chilled puds in the supermarket (but have waaayyy too many glass ramekins than you know what to do with), DIY your own desserts for much cheaper.
How to clean the Velvetiser
Dishwasher owners, you might be disappointed to hear that you can't put this in as part of the wash cycle, but it's so simple to handwash. All it takes is a little washing-up liquid, warm water, and a soft, non-scouring sponge. And, if you can't get enough of it (like me), make sure you grab yourself a soft cloth to clean it in between consecutive Velvetising sessions.
Cost comparison: Velvetised hot chocolate vs. shop bought
Of course, there is the upfront cost of £99, but say your buh-byes to your fave barista, because you are the culinary captain now. No long lines, no plastic cups, no drink mix-ups — you steer how sweet your drink is, not the other way round. After all, Hotel Chocolat is famous for its more cacao, less sugar approach. They say if sugar is the first ingredient, it's not chocolate; it's confectionery.
Cost-wise, you'll make your money back on this, and can switch things up every day. Hotel Chocolat even has its impressive Nutmilk chocolate, which is very convincing, even if you don't follow a plant-based diet.
How does it compare to other milk frothers?
We put the Velvetiser up against the competition in our test kitchen. This included the Smeg MFF01 milk frother (RRP £149.99) and the Drew & Cole Barista Frothiere (RRP £59.99).
Using some of the Mince Pie-flavoured chocolate shavings and some oat milk, we set out to create three identical drinks and had slightly different outcomes. Surprisingly, I enjoyed the Smeg variant the most, but only because it felt the hottest. Still, I'd take advantage of Hotel Chocolat's Podster and Velvetiser offer and just make sure your cups are nice and warm before decanting liquid into them.
Salter Chocolatier vs. Hotel Chocolat Velvetiser
Of course, you may remember in November 2022 that we also reviewed the Salter Chocolatier. Below, I tested them side-by-side. You'll see immediately that there is a difference in size, but both hold 240 ml milk. The big difference is that the Salter has four separate functions for thick hot froth, light hot froth, hot milk, and cold milk froth, whereas the Hotel Chocolat has one button that does all the same save for the cold froth. Still, I prefer the colour of the Hotel Chocolat version, the fact I'm using the matching chocolate flakes, and the overall premium look of the Velvetiser.
P.S: Excuse the grubbiness, I'm really putting the "real" into Real Homes here to show you that they both can get a little "fingerprinty" — though these can be cleaned quickly with a soft microfibre cloth.
Is the Velvetiser right for you?
If you want to know what's in your hot chocolate, this machine is for you. Hotel Chocolate doesn't scrimp on its premium flavours either, putting Maldon sea salt in its Salted Caramel and Tasmanian peppermint in its mint-flavoured liquid refreshment. For the even more adventurous, there's a habanero chili version to spice up your life!
The Velvetiser is for those who've ever burnt milk in a saucepan on the hob (and cried over spilled milk) or those who don't want to risk burning milk in the microwave. No having to watch it, no annoying beep — this gadget just gets on with it, to be frank.
Here are more milk frother suggestions:
This milk frother creates a slightly smaller drink and uses just 20g of chocolate flakes, if you're wanting to save money on the gadget, and the ingredients thereafter. This comes with not one, but two detachable and interchangeable whisks for the perfect consistency. Comes with 4 pre-programmed barista styles, including a dedicated matcha function if you're a fan of the Japanese green tea-based drink.
If you want all the innovation that comes with the Hotel Chocolat but aren't fussed about having the cocoa grower's name on the outside of the pot — try this milk frother for size. At £59.99, you still get the patented, removable magnetic whisk to create velvety milk, for £30 less.
We've tried and tested this matt black milk frother and can vouch for its hot chocolate making functionality. With an RRP of £59.99, it's around £30 cheaper than the Hotel Chocolat version and can make cold frothed milk. Great for American-style diner milkshakes.
About this review and the reviewer
Christina is our ecommerce editor who specialises in small kitchen appliance content. As well as testing these in the comfort of her home, she also puts electronics through their paces in the Future test kitchen in Reading, UK. This allows her to be objective and compare multiple products at the same time. She also works alongside Millie Fender, our head of reviews, so that you can get a comprehensive two-person opinion on various features.