Want to boost your outdoor security? Have a read of our Kami outdoor battery camera review.
I've been fortunate enough to test this camera for the past couple of months throughout summer so I can help you choose the best home security solution for you and your family. The main criteria I've been looking out for is how easy it is to set up and use, and how it performs (in all weathers and time of day).
Keep scrolling to read the full review to see if this is the outdoor home security camera for you, but if you want to see more great options check out our best security cameras guide for more top security cameras, for the best prices.
Kami Outdoor Battery Camera specifications
Resolution: 1920 x 1080p HD
Connectivity: Wi-Fi 2.4G Hz
Battery life: up to six months
Waterproof: IP-65
Compatibility: iOS 8.0 and above, Android 4.1 and above
Smart Features: PIR motion sensor
Storage options: Kami Cloud & Local Storage (8-64GB)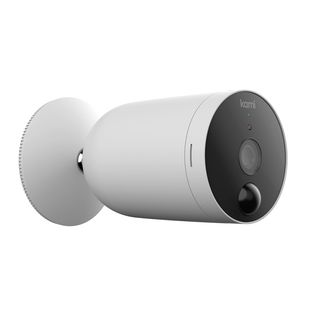 Installing the Kami Outdoor Battery Camera
Before you do anything about installing this garden camera, the four rechargeable batteries will need to be fully charged. These are included along with the charger (and everything else you need) for an easy set up. I left the batteries overnight to charge – when they're full, the indicator light on the charger turns from red to green so you know they're ready.
With the batteries fully charged and secure in the camera, the next part of installation is to pair the camera with your smart device. To do this you just need to download the free Kami Home App and follow the onscreen instructions. You'll need to just ensure that you are within a strong Wi-Fi zone throughout this set up phase which is something to also bare in mind when you come to choose where you locate it. You'll also find that towards the end of the registration process you are prompted to select a Cloud storage plan which starts from £79.99 per year with the first month being FREE. This will give you some more backup options, plus the ability to add more than one camera to the app. If you don't fancy this there's a MicroSD card slot for local storage, or you can opt to have clips of footage saved on the app but this will limit you to just the basic functions.
Being a wireless cam, mounting it is SO easy. If the surface is wooden (as it was during testing) you can just screw the mount directly and attach the camera by rotating it clockwise to secure it. Alternatively, if you do not want to mount it, you can use the included camera stand so you can place it anywhere – even indoors! While positioning it would be best to avoid direct sunlight and any obstructions to the lens. It's also suggested that you keep it within a 33 foot (10 meter) range of the Wi-Fi router so you get the best performance possible, without any drop outs.
How easy is the Kami Outdoor Battery Camera to use?
In short; very easy. The Kami camera can all be controlled using the Kami Home app which is really easy to navigate and make sense of.
In the app you can watch live streaming in Auto, SD or HD – I used HD (High Definition) for the best experience – take screen shots of the footage or create a video. And each time motion was detected a six second clip was recorded, although this can be turned off or scheduled and how much is recorded can be controlled in settings. There's also a group setting referred to as Home and Away which can control whether or not you receive notifications. And two-way comms is possible, also, through the microphone so you can speak and listen to whoever (or whatever) you see on camera.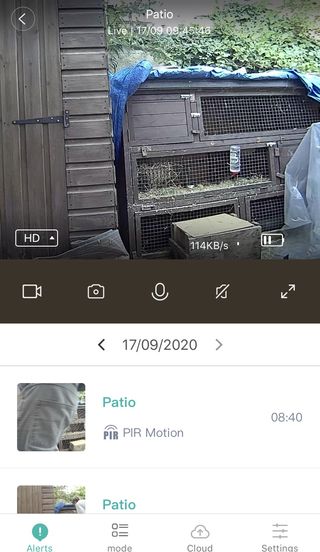 I kept the settings the same, day and night. During the day the footage (as above) was super clear and I could move the screen side-to-side and zoom in, too. At night, the footage is black and white (as below) but this is more than suffice because it means that there's no distracting light to confuse the guinea pigs although, I must say, the addition of a light would act as a further deterrent and it's clear enough in HD to see what activity is going on.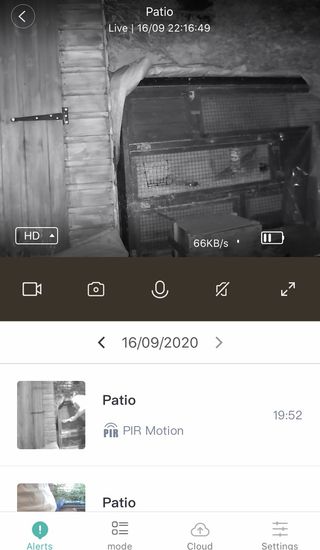 Anything else?
The fully-charged batteries will last for up to six months. You can monitor just how much juice you have left through the app thanks to the handy battery icon seen on the live streaming window.
It's also possible to share the camera feed with friends and family using either the QR code or a YI Account using the app, if you want.
Is the Kami Outdoor Battery Camera worth buying?
Yep! I've been really impressed with this camera and, for the price, I wouldn't hesitate to keep it at the back of my house on a more permanent basis. If you have a large garden, then it's reassuring to know that you can multiple Kami Outdoor Battery Cameras to build your own home security network. This one just missed out on the five stars because of the protruding design which stuck out a little too much for my liking and a lack of siren, but aside from this I wouldn't be without it.
More security camera options: