Countertop dishwashers might not be a brand new invention, but the shrinking size of homes, rise in the number of people renting, and an ambition to save water usage all mean that they've become an attractive prospect for many more people. The HAVA Compact Countertop Dishwasher claims to be able to save you up to 80 per cent more water compared to washing by hand, keeping bills and wastage down.
As a new homeowner with a very small kitchen and limited funds, I was very excited to see whether the HAVA Compact Countertop Dishwasher could solve my woes when it comes to cleaning up at the end of the night. Keep reading to see what we thought and, for more options for compact spaces, take a look at our guide to the best slimline dishwashers.
HAVA Compact Countertop Dishwasher: key specs
Power: 950W
Capacity: 5L
Modes: Normal, fast, soft, baby care, fruit
Noise: 60dB
Dimensions: 16.8 x 16.7 x 18in
Weight: 28.7lbs
Can fit: 4 x bowls, 4 x cups, 8 x plates, 7 x spoons, 7 x forks, 7 x knives
Cost to use UK (October 2022 price cap): £1.06 per Normal wash + dry / £32.24 per month (if using daily)
Cost to use US: (based on 14.80c per kWh): 30.23c per Normal wash + dry / $9.19 per month (if using daily)
Caroline recently became a first-time homeowner and, with limited kitchen space, had resigned herself to a life without a dishwasher. Despite spending her days testing and writing about smart home tech and gadgets for Real Homes, she hadn't considered the possibility of an appliance designed for people like her, so testing the HAVA Compact Countertop Dishwasher was a real eye-opener. The HAVA was kindly provided for review purposes and tested over several weeks in the writer's own kitchen.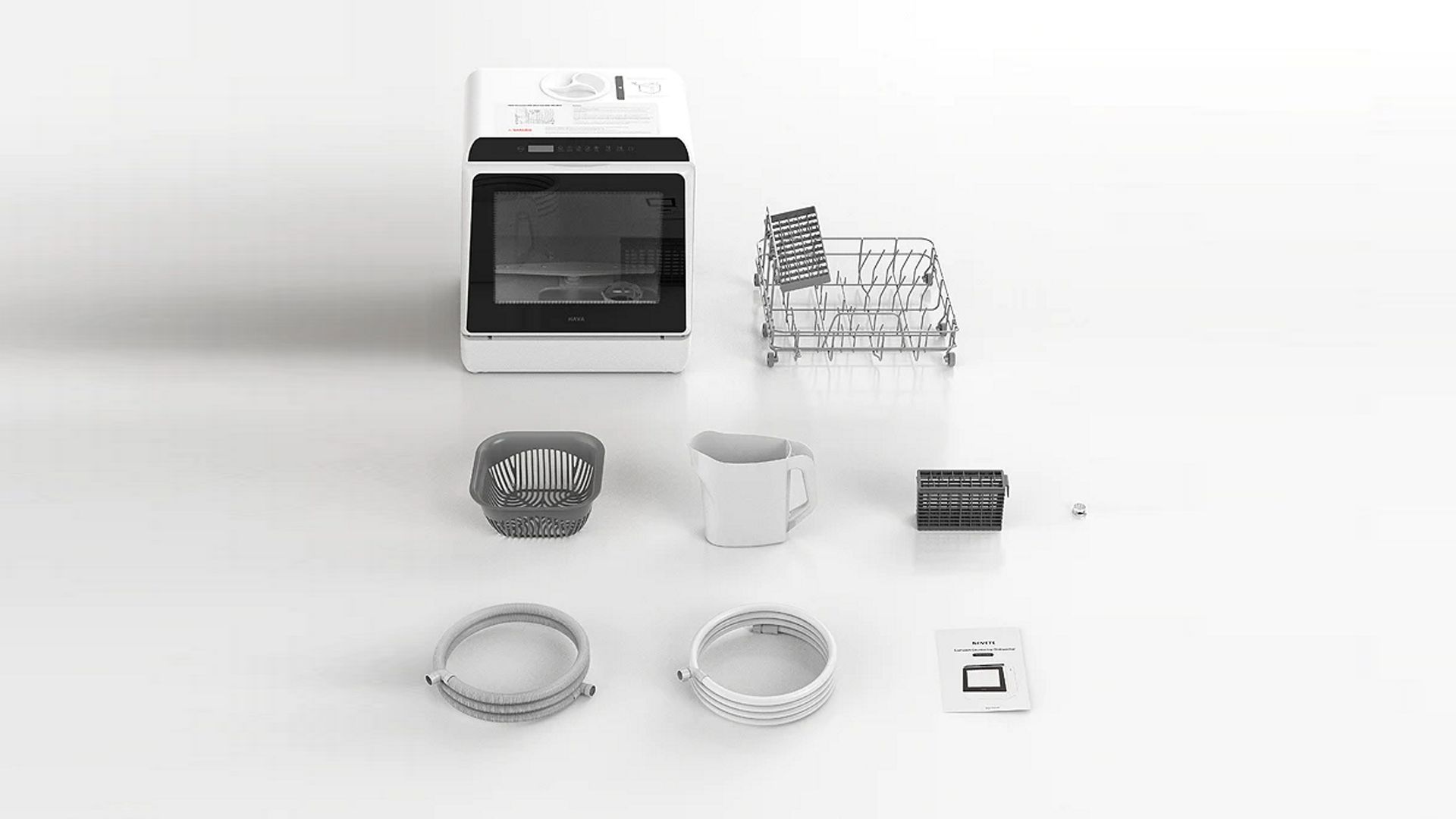 HAVA Compact Countertop Dishwasher: set-up
The setup process for the HAVA Compact Countertop Dishwasher is minimal, with everything you need in the box. The interior tray comes preassembled, as do the filter and the arm. You also get a fruit basket, pitcher, two pipes, and a cutlery basket. We will note that the unit came with a European plug, so we had to buy an adapter before we got started.
Once we found a suitable position for the dishwasher in the kitchen, we investigated the plumbing options. For the drain hose, you have three choices – connect the pipe to the sink drainpipe, the drainage pipe, or simply position it into the sink or other destination (e.g. a bucket). The end of the pipe has a suction cap that we used to fix it to the back of our sink, which worked a treat.
The water supply was a little more of an issue, as the supplied pipe was not the correct size to connect to our tap. HAVA mentions this possibility in its manual and recommends that you purchase an adapter.
Luckily, this is not the only way to get water into the machine. Instead, we opted to fill the tank from the top. The tank takes five litres of water and needs to be filled before the dishwasher will operate, and this equates to almost exactly three pitchers of water using the jug provided.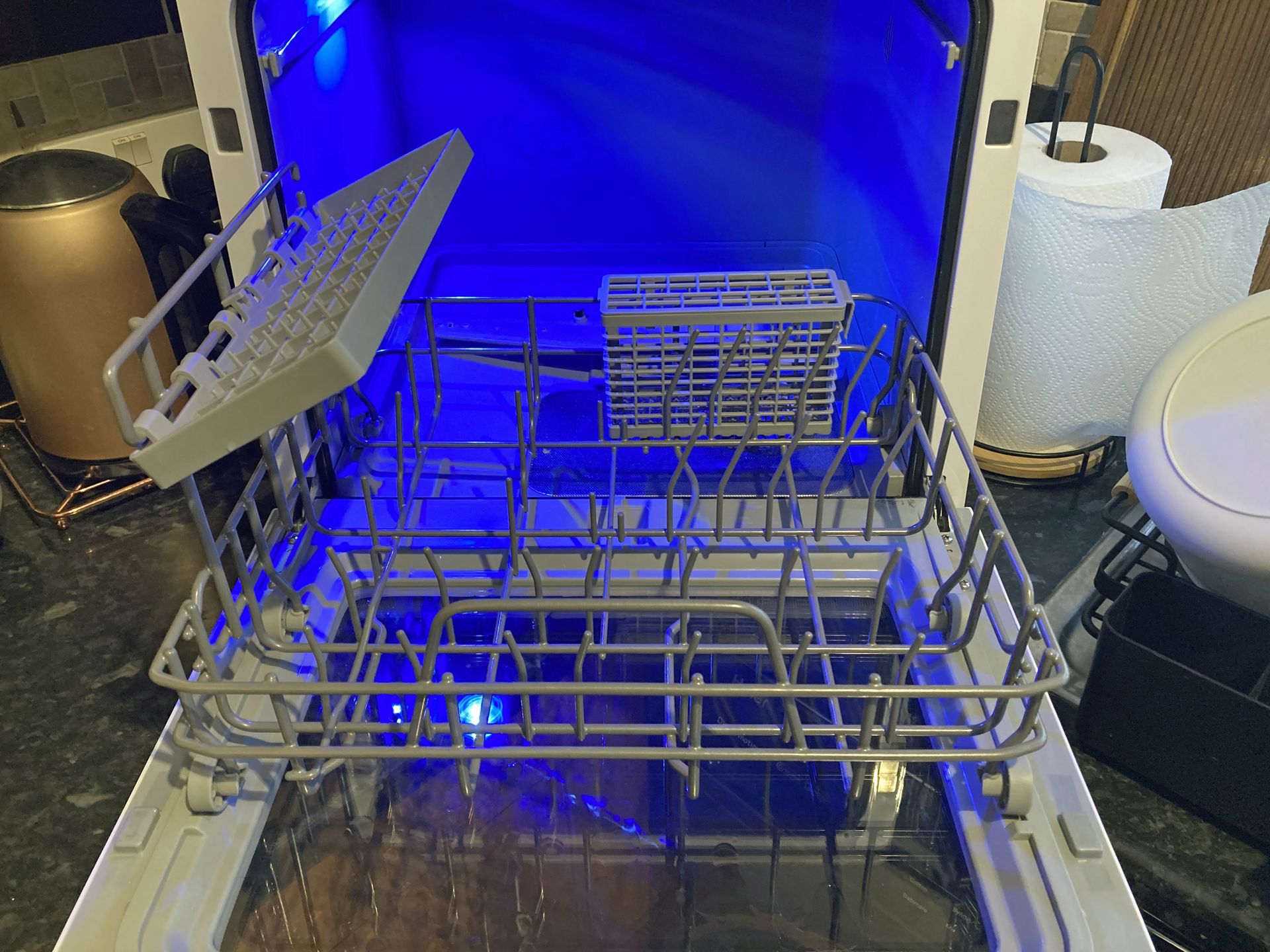 HAVA Compact Countertop Dishwasher: performance
Filling the tank using the jug method is a little more awkward than we'd hoped and gets tedious after the first week. It's difficult to get the water in without splashing it everywhere, though that might be down more to our lack of coordination than the dishwasher's design itself.
There's a small indent for your dishwasher tablet or detergent in the door. This seems a little superfluous since there's no cap, meaning the tablet just drops to the bottom of the dishwasher as soon as you close the door. We worried this would hinder how well it dissolved, but our worries were unfounded as we found no residue left at the end of the cycle.
A useful feature is that the appliance refuses to run if something isn't right and will beep at you until the tank is full enough to perform the job. Once this is done, you're free to choose a mode and press play.
There are five modes, with Normal being the one you (and we) would use most often. There's also Speed, which cuts the run time down to 29 minutes, Soft for dishes that don't need a hard cleaning, Baby Care for washing bottles and other related items, and Fruit for washing your produce.
On all settings, the drying time is 60 minutes, which means a Normal cycle lasts just over two hours. Once the dishwasher is done with its cycle, it will periodically ventilate over the next 72 hours, reducing the chance of smells and more if you don't get to empty the load straight away.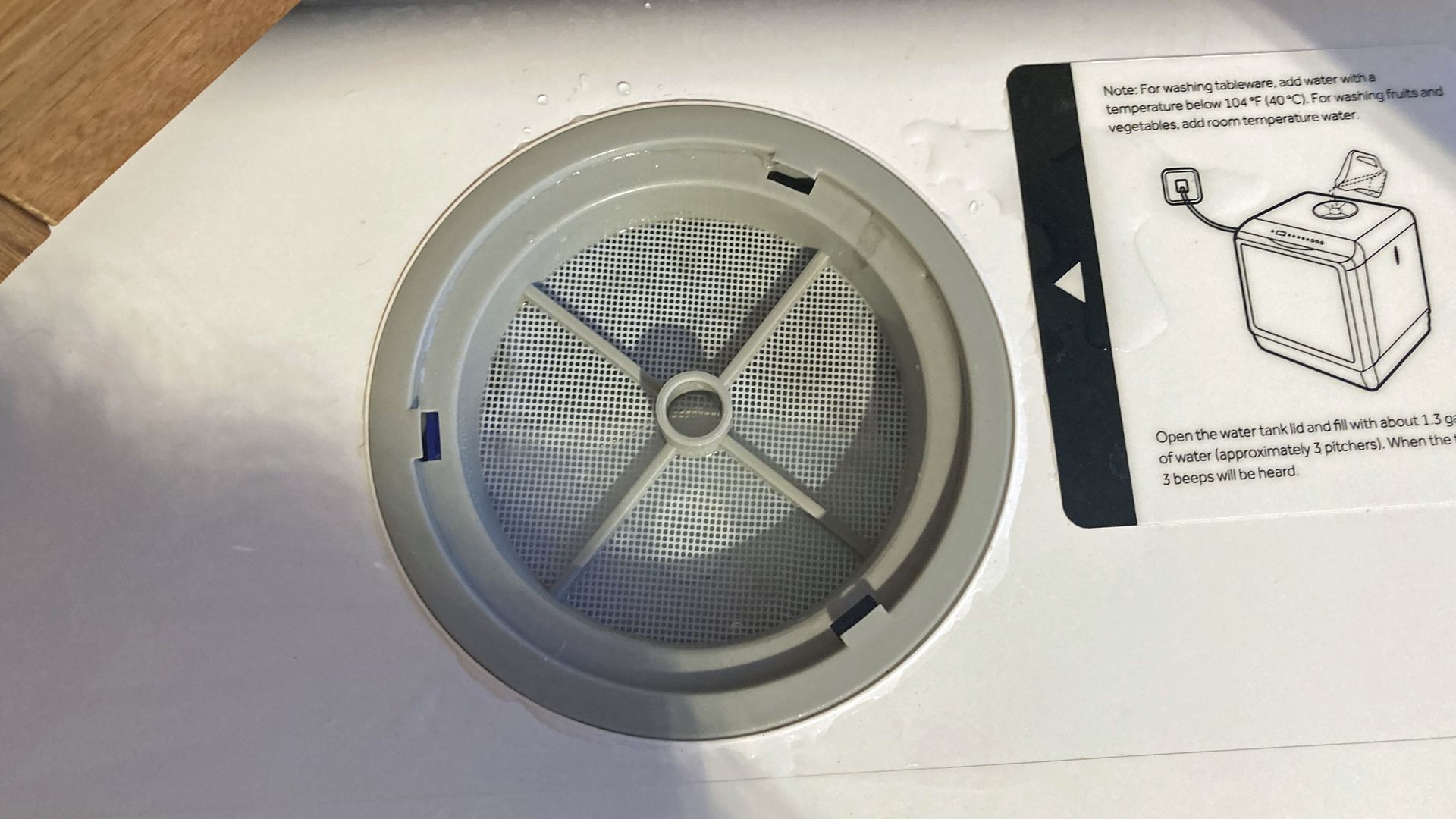 We were thrilled with the results from the HAVA Compact Countertop Dishwasher, with even harder to clean items like tall bottles coming out clean. There's also plenty of room for the dishes of one or two people, so it would be ideal for a single person or couple that don't want or can't fit a full-size dishwasher in their kitchen. Having used it most days over several weeks while testing, we've yet to see an unclean dish.
But it's not just space a countertop dishwasher saves you. People with disabilities or those with limited mobility would benefit from the height of the appliance, making it possible to load and unload it without bending down. This was an unexpected delight as someone with chronic health issues, including back pain and fatigue that makes scrubbing at the sink more challenging.
Speaking of scrubbing, cleaning and maintaining the HAVA Compact Countertop Dishwasher is a doddle. It is recommended you wash the filter once a week but, because the three levels do such a good job, there was little more than some residue that had built up. This, of course, depends on you rinsing dishes of food remnants before you place them in the dishwasher. This might be a little different to how you are used to cleaning a dishwasher, but it is not a big task.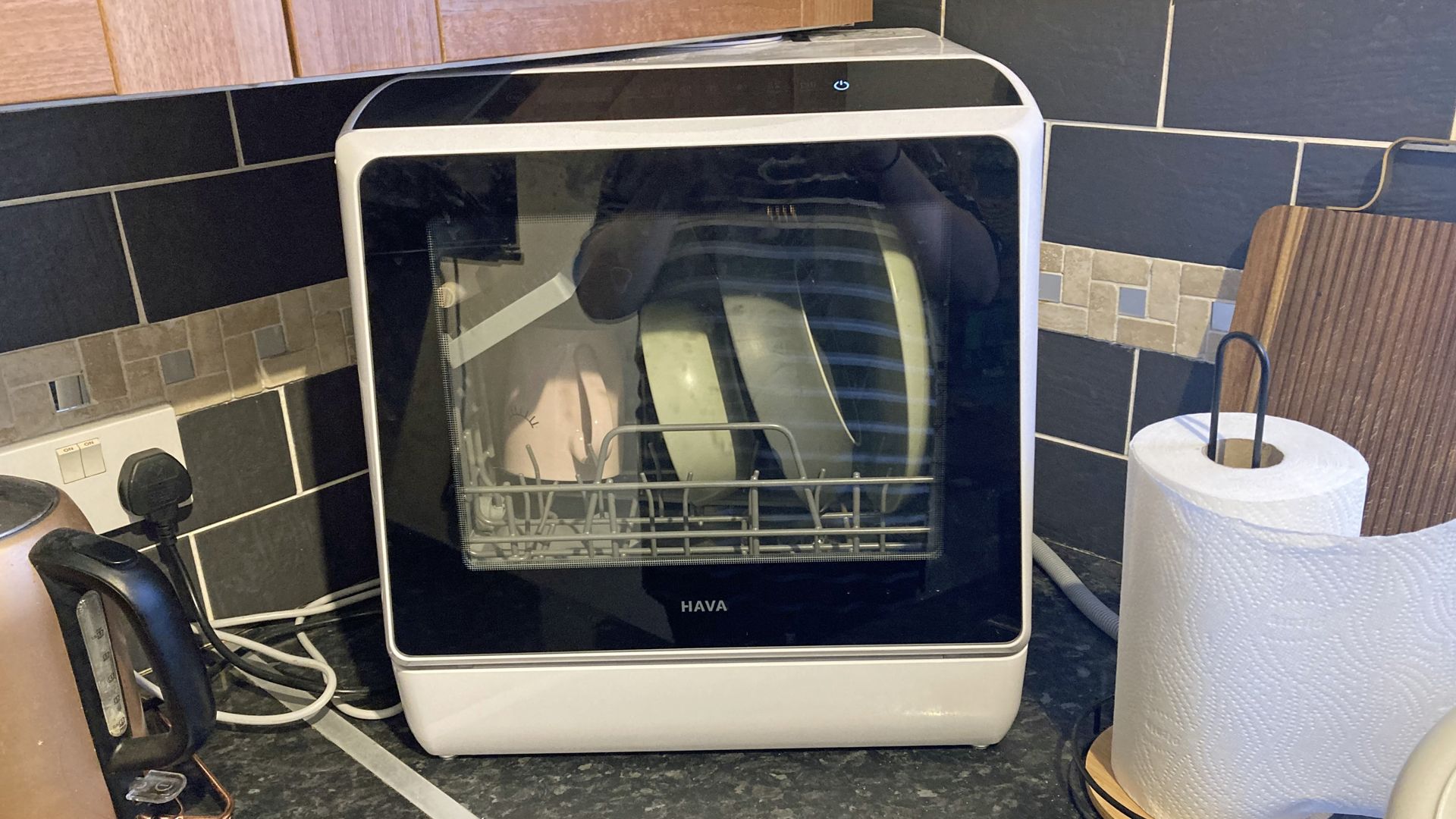 HAVA Compact Countertop Dishwasher: design
The biggest problem we found with the HAVA Compact Countertop Dishwasher was its size, which posed a challenge for our very small kitchen with limited counter space. It's certainly smaller than a full-sized dishwasher, and the number of dishes it can take means that space is being used well, but the average kitchen might struggle to devote enough room to the appliance.
Still, this isn't much of a knock, as those who choose a countertop dishwasher likely do so because of a lack of other options. You don't have to put it on a counter, for example, as it can easily be placed on a cart or even inside a cupboard. It gives you choice, which is great for those with less traditional setups.
We ended up placing ours in the corner of our kitchen, which gets it out of the way but means we need to scoot it in and out when it comes time to fill the water tank. Be aware that there's a small vent on the right side that can't be blocked, though.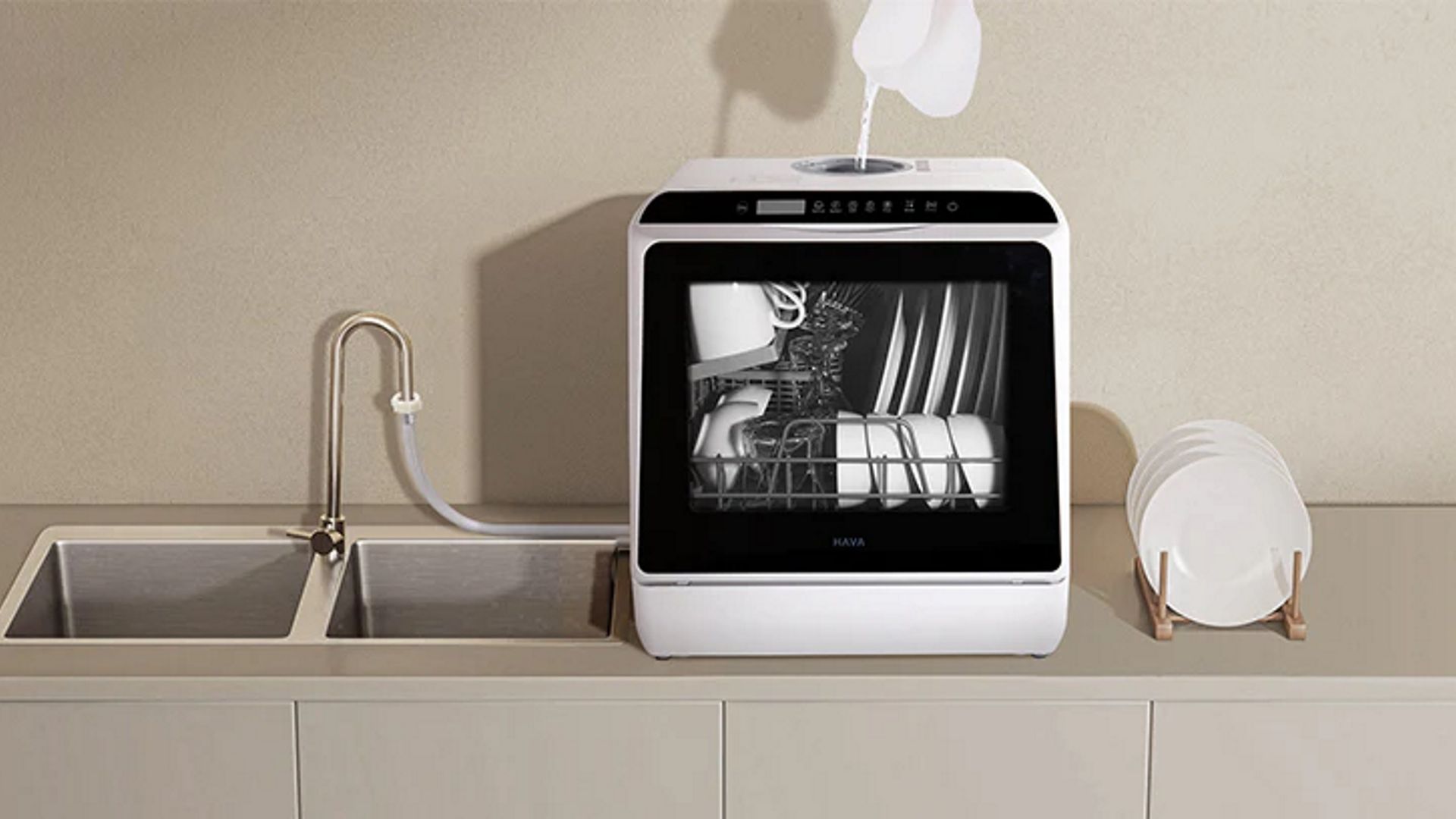 Our verdict: is the HAVA Compact Countertop Dishwasher worth the money?
We absolutely loved our time with the HAVA Compact Countertop Dishwasher, and it exceeded our expectations when it came to convenience and overall performance. We had no problems during the testing period of several weeks and, despite having no experience with plumbing, we could get everything connected quickly and easily. There are some unavoidable extra jobs, such as manually filling the water tank each time, and it's a little bulkier than some might expect. Still, it's been a lifesaver for this new homeowner with limited space and energy.