Have you heard of the Galanz Air Fry Microwave? Up until a few weeks ago, I hadn't, and since then, my entire outlook on microwaves has changed.
Previously I had opted for a highly-rated option on Amazon, and it worked wonders. I could boil for tea and heat meals in seconds and never burnt my popcorn, so I was content with my choice. That was, until I tested this new-and-improved choice. Now? I can't ever see myself going back to those "old" ways.
Once I unboxed this microwave and set it on top of my countertop, I couldn't not be impressed at first glance, given all the bells and whistles this version offers. It's an air fryer, convection oven, and microwave, all at once and with 900 watts? And, rest assured: it's an efficient one, no less.
Though it's a bit bulky, it saved space in my apartment since it eliminated the need for other machines and gave me what I needed to make everything from crunchy fried chicken to popcorn shrimp. Plus, with an auto-cook and auto-reheat button, I would never fear anything being under or overcooked.
For anyone who's looking for a one-stop-shop? The Galanz Air Fryer Microwave is the machine for you. And if you're in the market for a different home appliance that does it all, be sure to check out our best air fryer buying guide for more options!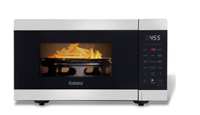 Galanz Air Fry Microwave: specifications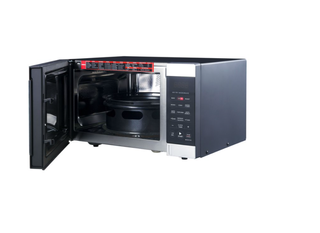 Brand: Galanz
Manufacturer Part Number: GSWWD09S1A09A
Model: GSWWD09S1A09A
Color: Black, Stainless Steel
Wattage: 900-watts/ 0.9cu
Warranty: 1 year
Assembled Product Dimensions: (L x W x H)15.75 x 19.00 x 11.00 Inches
Galanz Air Fry Microwave: features and functions
Galanz has once again proven effective with its thoughtful engineering by bringing users this 3-in-1 machine that can substitute any air fryer, convection oven, or microwave. Here, this 900-watt (or 0.9cu) machine will create delicious dishes with optimum texture and taste.
Extreme versatility
As mentioned, this multifunctional machine will act as an air fryer, convection oven, and microwave. Through combi-speed cooking, it's the ultimate 3-in-1.
Air Fry technology
Are you looking to air-fry your favorite foods with zero guilt? Turn to this revolutionary machine for healthier, crunchy fried favorites that require zero oil! Whip up everything from chicken, shrimp, wings, and even French fries!
Plus, the easy-clean air fry kit provides more frying surface area with better air circulation when compared to any other traditional air fryers on the market. Lastly, this air frying feature does not use microwaves, and instead uses built-in heating elements.
Combi-speed cooking
Faster than either mode alone, the intelligent combination of True Convection and microwave cooking seamlessly creates delicious dishes with optimum taste and texture. Users can bake potatoes, roast chicken, and de-frost frozen entrees at a moment's notice.
True convection
Heated air circulates throughout this machine as food spins 360°, which cooks food faster and more evenly without any hot spots. Plus, you can even broil and bake foods with direct heat – including everything from fish, to chicken, to baked goods.
Auto-cook and auto-reheat
This machine includes six cooking programs and eight reheating programs for easy-use and convenient cooking.
Strategically designed control panels and quick touch buttons
This machine offers pre-designed control panels and quick use buttons to do things such as adjust the time. Add 30 seconds or 1-minute, with one single touch!
What I experienced using this 3-in-1 machine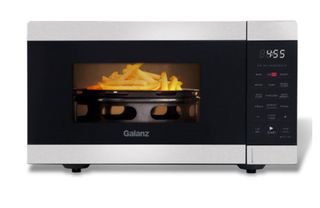 Easy set-up
At times kitchen appliances are difficult to set up and require additional instructions or Youtube videos. Here, this was anything but the case. This microwave was easy to operate once on my countertop, and all I had to do was plug in the cord.
The one thing to point out is that this microwave is heavy and will require a decent amount of space. That's nothing out of the ordinary with a microwave, but just a good thing to note.
Operating this machine
During the unboxing period, I noticed that this machine had removable instructions on its exterior. These instructions provided additional recommendations on how long to cook certain items, and on what setting.
While I'm sure I would eventually get the hang of it and know these pre-sets by heart, I kept the clear tape-like instructions and posted them to the wall for the first few weeks of testing.
For the most part, I had zero issues understanding how to work this machine. I could easily de-frost chicken and air-fry artichoke hearts, but the one difficulty I did have: figuring out how to boil water for my tea.
Laughably, it took me longer than expected, and the solution was manually setting the microwave for 3-minutes (which you can do by pressing the 1-minute button three times).
Suitable for all users
As someone who isn't the best cook, this machine streamlined any shortcomings I previously held. It doesn't matter if you're an expert cook or an up-and-coming chef (kidding). I noticed this machine provided enough information on how to go about your regular food routines.
Which in turn, makes this machine ideal for any solo chef short on time or working parent. The instructions are clear enough to make this machine safe enough for older kids or teens to use, too.
The final verdict
In all honestly, this machine exceeded my expectations. After a couple of learning curves, in the beginning, this 3-in-1 has become an absolute staple in my daily routines. It eliminates clutter in my smaller kitchen, adds versatility to what I can cook, and with the press of a few buttons, it can more or less cook your meals with little-to-no work.
Plus, I thoroughly enjoyed not having to waste any time checking my oven to alleviate overcooking and was even more thankful I was not worried about undercooking food either.
Most favorable of all? The price point. This convenient cooker rings in at $109 and is worth every penny.
Galanz Air Fry Microwave: final notes
The Galanz Air Fry Microwave is a sleek machine that is a worthwhile investment for those looking for convenience and peace of mind. It's safe for teen use (parents permitted) and requires little-to-no work on the user's end.
Opt for any pre-set cooking instructions to air-fry fries, reheat entrees, and de-frost last-minute meals in minutes.
To sum up? It's the one kitchen investment you definitely should be making.
Galanz Air Fry Microwave: Where to buy