Ninja Foodi Cold & Hot Blender: Quick Menu
Thanks to this Ninja Foodi Hot and Cold blender, my "crisper drawer graveyard" is a thing of the past. Generally speaking, I'm a bit of a nutrition geek, and while working, I'll often tune into a ZOE Science & Nutrition Podcast on Spotify. One of the regular speakers, Tim Spector says that we need to eat 30 plants a week for a healthy gut. The issue is, I buy the fruit and veg... but often forget about it.
I already know that the best blenders can make hot and cold drinks and dishes from soups to shakes, sauces, and jams. But, I assumed that you need to prep everything in pots and pans before decanting a ready mixture into the jug. Thankfully, this wasn't the case with this small kitchen appliance.

I put the Ninja Foodi Cold and Hot Blender through its paces, in the Future Plc test kitchen and at home to see what I could whip up, plus evaluated how easy it was to clean. Over the course of a week, I made everything from soups to smoothies, and crushed ice.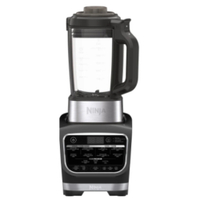 Ninja HB152 Foodi Heat-iQ Blender, 64 oz, Black | $190.90 at Amazon
With 12 automatic programs, this blender chops, sautees, blitzes, and even cleans itself after preparing smoothies, soups, sauces, fondue, jellies, and ice cream mix. It's an absolute workhorse in your kitchen.
Ninja Foodi Hot and Cold Blender review
What I thought of the Ninja Foodi Hot and Cold Blender
Though there can be some improvements made to the jug (read: weight and design), the Ninja Foodi Hot and Cold Blender is an adaptable gadget that serves as a soup maker, blender, food processor, and saute pan. The "one-pot" nature of it means that you can make an array of liquid drinks, dips, desserts, and soups without having a lot of dirty pots and pans in your sink. Though Ninja says you shouldn't leave the device unattended while "cooking," the hands-free programmable nature of it, meant that I didn't have teary eyes frying onions, and I also was freed up from constant stirring and simmering.
Ninja Foodi Hot and Cold Blender specifications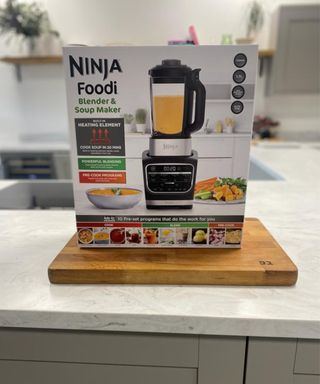 Name: Ninja Foodi Hot and Cold Blender
Watts: 1400W motor / 800W heating element
Capacity: 64 fluid ounces
Size (in): H17.9 x W7.9 x L8.8
Weight:
Materials: BPA-free plastic and heat-resistant glass
Auto-iQ programs: Smoothie, dessert, frozen drink, milkshake, smooth soup, chunky soup, jam, sauce, chop, saute
Manual settings: Blend, cook
Other features: Power button, clean, heat on, keep warm
Testing the Ninja Foodi Hot and Cold Blender
Hey, I'm Christina and I look after the small kitchen appliance content you'll see on Real Homes. I've personally reviewed several of the blenders you'll see on site, including the Nutribullet and Beast Blender, so you could say, I'm a bit of a "whizz" when it comes to smoothies, soups, and dips. Sorry, not sorry!
I tested this Ninja blender at the Future Plc test kitchen. But I wanted to see how I'd get on making more recipes in a residential setting, so decided to take it home to see how it would sit in my small kitchen.
Unboxing and setting up the Ninja Foodi Hot and Cold Blender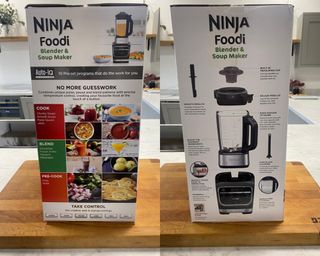 Before using the Ninja Foodi Hot and Cold Blender, you'll want to remove all packaging material and labels from the appliance and separate all parts from each other.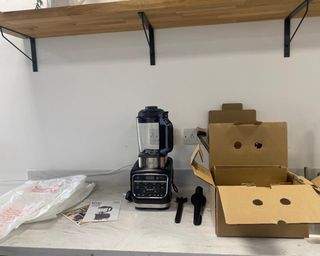 I'm always impressed by how well-packaged SharkNinja products are and how little plastic they use, instead, opting for paper bags. Note, in the United Kingdom (where we tested this item), it's known as the Ninja Blender & Soup Maker.
Second, wash the jug, lid, and accessories in warm, soapy water using neutral dish soap and a handled dishwashing utensil (like this OXO Good Grips Soap Dispensing Dish Brush). This will ensure your hands are kept well away from the sharp blades). Lastly, you'll want to thoroughly rinse and air-dry all parts.
While doing this, I realized that the jug was on the heavy side. Ninja dedicates a whole section in its 8-page instruction booklet to show you how to hold the vessel if it feels weighty. To prevent burns, it also warns you not to grasp the sides or underside of the jug after hot cooking or blending. It strongly recommends that you invest in protective hot pads, or insulated oven mitts and always use the handles to pick up the jug.
Using the Ninja Foodi Blender and Soup Maker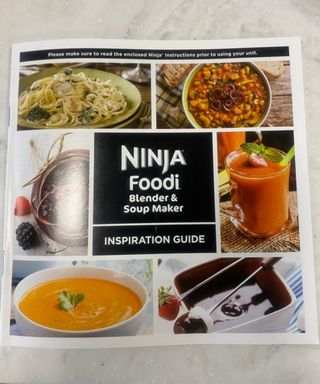 The Ninja Foodi handily comes with this recipe booklet for culinary inspiration.
Making soup
It's worth knowing that Ninja has an 8-step formula for delicious silky smooth soup, so you can create your own concoctions with confidence. I also like that the glass jug has metric and imperial units on it, so you can measure your ingredients out.
Build flavor with butter or oil
Add an onion or shallot(s)
Choose up to three teaspoons of spices or aromatics
Select chop: The blender will pulse to roughly chop aromatics
Select saute: The blender will cook for five minutes to release flavors from aromatics
Choose 460g of vegetables, cut into 1-inch pieces
Choose a 1-liter base of stock, coconut milk or water
Select smooth soup: The blender will preheat to boil, it will then pulse and stir evenly to cook vegetables, after which it will puree them into a smooth soup

Butternut squash soup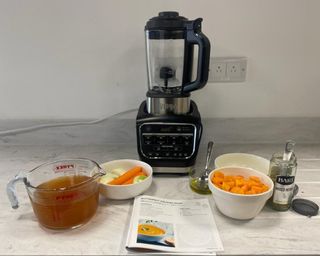 But, seeing as we did this test in the fall, it seemed the perfect opportunity to make use of the Ninja recipe booklet and make an autumnal soup. I'm not going to lie, when I looked at the simple recipe list, I underestimated how much flavor could be produced by eight ingredients (it was nine but one of the team had a nut allergy, so we omitted the cashews from the recipe).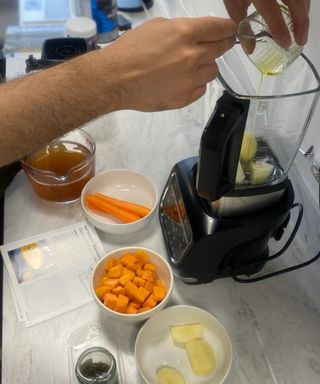 While I did all the chopping and measuring, my colleague Alex David, head of eCommerce at Homes & Gardens, was on hand to assist with operating the appliance, while I took pictures (phone eats first, people!)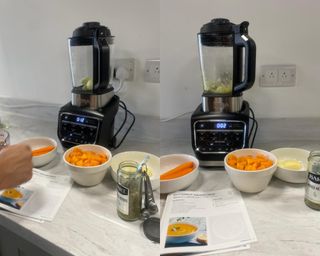 After placing the olive oil, onion, and salt in the jug, we locked the lid into place and selected the "CHOP" function. This roughly diced the onion and coated the allium in seasoning and fat.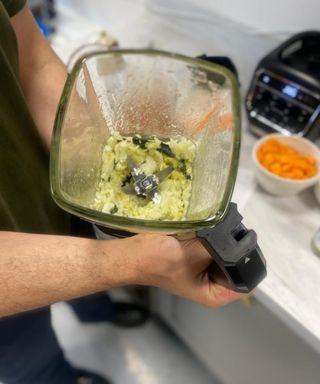 Next, it was time to select "SAUTE". This essentially fried and softened the onion. Visually, the glass jug began to steam up and become hot to the touch. The testing team soon commented on how fragrant it smelt already. To finish, we added the remaining ingredients and then selected "SMOOTH SOUP" which brought to mix to a boil and cooked it down for 30 minutes. Bar some minuscule chunks of carrot, it was lump-free and luscious. All of the team were pleasantly surprised how something so healthy tasted this delicious.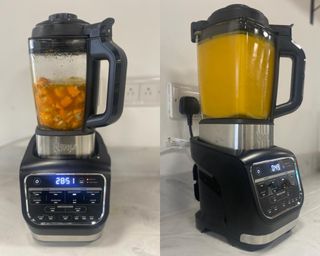 Mushroom soup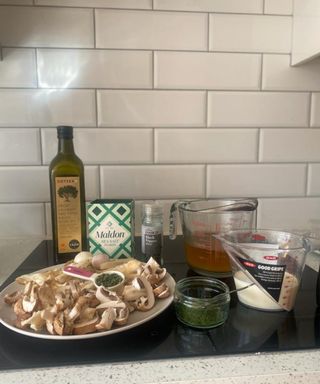 Similar steps were taken to prepare a mushroom soup. Except, this recipe called for shallots, herbs, a variety of mixed mushroom varieties, stock, and heavy cream. While the above soup used the "SMOOTH SOUP" recipe, this cream of mushroom entree was made using the "COOK HIGH" for 14 minutes, before blending on high for a minute. All in all, the process took 25 minutes.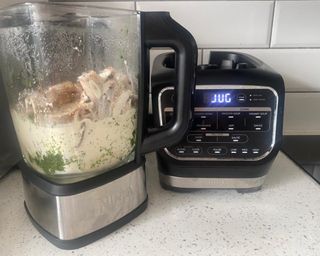 By the way, the Ninja Foodi Hot and Cold Blender is quite intuitive. It knows when the lid has been removed (or not locked into place) and, it can understand when the jug isn't on the base (as pictured below).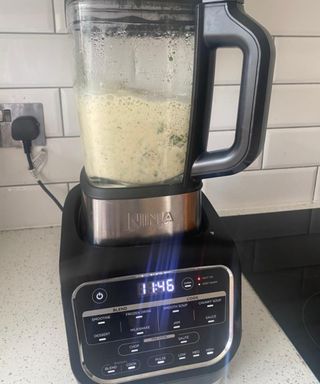 My husband said it was "restaurant quality" and felt "decadent." Note, that he's usually someone who curses when I bring an appliance home for testing, but his complimentary feedback showed that he approved.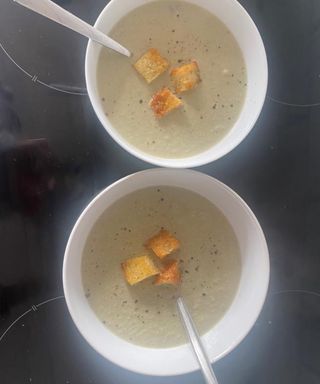 I even used the ends of a sourdough loaf (drizzled in a little olive oil) to make some croutons which really zhuzhed it up.
Leek and potato soup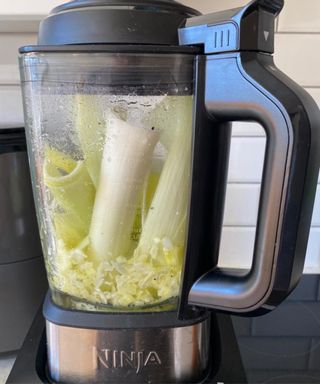 This was the simplest (but richest) of the smooth soups I made. I placed the oil, garlic (peeled but whole), leeks (quartered), and seasoning into the jug. Chopped and sauteed as in previous tests and finished prep using the same settings as the mushroom soup. All in all, I totaled up the cost of making this soup and it came to $2.60 (including 20 minutes of electricity). That's just 65 cents a serving!
And unlike potato soups I've made in the past (blitzed using a hand blender), this wasn't gritty or grainy. In fact, "silky" was my husband's choice of adjective. And an accurate one at that.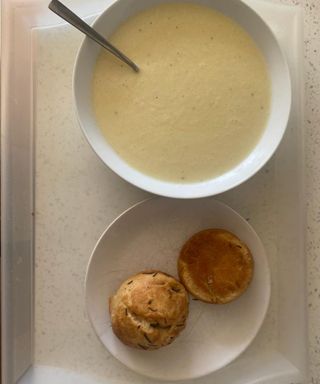 Making a chunky chicken noodle soup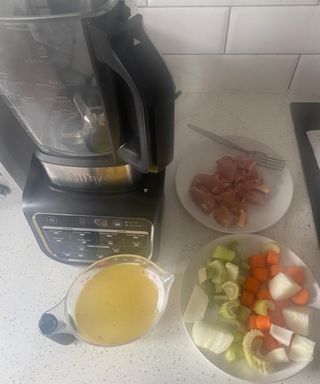 The thought of putting uncooked chicken in the blender did make me raise an eyebrow when trialing this recipe. I had concerns that I was going to have to call in sick the next day, or the texture would be seriously grainy and unappetizing.
On the contrary, the boneless cubed chicken thigh, celery, and carrot remained chunky, and having had 30 minutes of cooking time, I was reassured that I wasn't going to get salmonella from eating raw poultry. The noodles (added T-6 minutes until service) still had some bite. The chunky setting blends less frequently counting down, and pulsing at the 19-minute mark, and again at the 11-minute mark.
Frustratingly, the lid was very hot when adding the dried noodle nest, so if you're looking to add ingredients part-way through cooking, please be careful. Note that I did test the keep warm function while making this recipe, and while the soup did retain its temperature, the soup noodles did go a bit sludgy in texture.
This wasn't my favorite recipe, but it proved that meat can be cooked safely in this soup maker.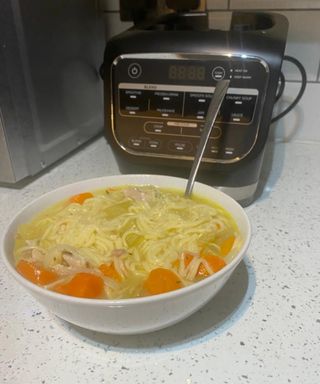 Making a traditional tomato sauce
Confession. Despite going on many cookery school courses, I occasionally cheat and buy some store-bought pasta sauces. But ever since I read Ultra-Processed People: The Science Behind Food That Isn't Food by Chris van Tulleken (available on Amazon), I'm a changed woman. The Ninja recipe uses six ingredients I always have on hand, and if you've got 40 minutes spare, you can whip up six servings of red sauce. Gutted, I forgot to get a photo this time around, but I'll be using the "SAUCE" function to make Alfredo and Arrabiata (extra chili for me!)
Making a smoothie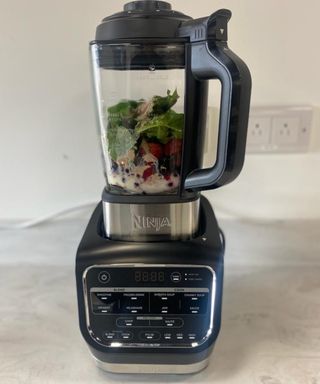 My colleague challenged the Ninja Cold and Hot Blender with his smoothie-cum-protein-shake concoction. In this blend, we used frozen berries, a handful of spinach, a scoop of chocolate protein shake, a splash of unsweetened almond milk, and some powdered creatine monohydrate. All he did was place all of the ingredients in the jug and hit the "SMOOTHIE" setting which blitzes on high for 45 seconds.
I was a little anxious to try this post-gym shake, but I was pleasantly surprised. This vibrant purple beverage was a little on the thick side, but it was mixed well (bar a little protein powder on the side). One drawback is that the tamper doesn't quite reach the edges while you're blending. So you'll need to stop it mid-way to scrape down the sides.
Crushing ice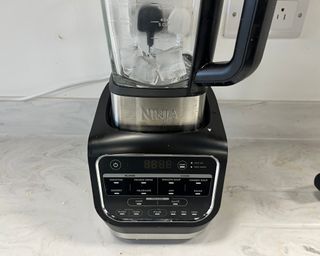 Ice is no contender for the Ninja Cold & Hot Blender. As well as soups, sauces, and smoothies, you can also make cocktails (including a frozen mango margarita and a strawberry and mint froze). However, since I drove to our test center, I went for the teetotal option of crushing a couple of cubes.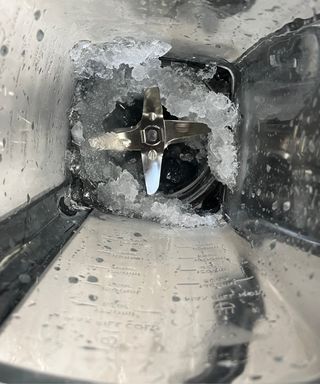 Aside from the aforementioned (and very yummy) tests, the recipe book has instructions on how to make milkshakes, chocolate fondue, "frozen" hot chocolate, peanut butter hot chocolate, sorbet, and even an ice cream made with peppermint ice creams. I'm banking on the last one for the holidays. FYI, to make the frozen desserts, you can pop the jug in the freezer.
As you can see from my bird's-eye view, the ice is blitzed, but not melted (a good sign that the element hasn't gone into overdrive). This method is so much quicker than my previous amateur process of bashing blocks on the countertop!
Cleaning the Ninja Foodi Cold and Hot Blender review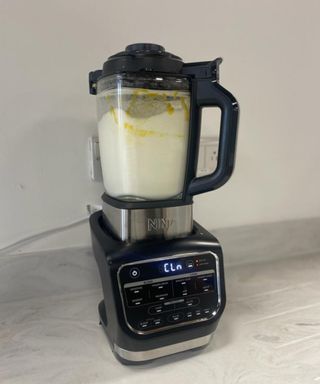 Cleaning a blender isn't my favorite activity, but thanks to technology, Ninja has created an automated cleaning function. This uses a combination of heat and rapid pulses to remove residue from the non-stick coating in a matter of minutes. For best results, you'll want to give the cooled jug a quick rinse and run the program as soon as the jug is comfortable to touch.
This 4-step cleaning program is simple. You fill the jug with 700ml (24 fluid ounces of water) and two small drops of washing-up liquid. Lock the lid into place, press "CLEAN", wait for the program to finish, discard the dirty water and rinse once again.
N.B: Don't use too much soap. I made this mistake and the foamy suds started spilling out at the top!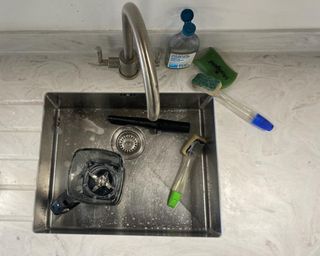 It's common sense to wait until the jug has properly cooled down before cleaning the blender. Once you've separated all parts (jug, lid, tamper, center cap, base), here's how to clean everything:
Hand-washing: Wash the jug, and lid, and tamper with warm soapy water. You can also use the cleaning brush (included) to avoid direct contact with the blades.
Dishwasher: The lid, center cap, and tamper are dishwasher safe.
Motor base: Press the power button to turn off the unit, then unplug the motor base. Wipe it down with a clean, damp microfiber cleaning cloth (try Mr. SIGA on Amazon)
Good to know
As well as taking you through safety instructions, parts, features, getting started, care, and maintenance, the booklet also covers error messages and an extensive (but easy-to-understand) troubleshooting guide should the machine malfunction. If you require replacement parts, these are available to order via Ninja's website.
Where to buy
At the moment, the Ninja Foodi is available online at Amazon, and has sold out at The Home Depot and BestBuy.
Should you buy the Ninja Foodi Cold and Hot Blender
If portability isn't a priority, consider the Ninja Foodi Hot and Cold Blender. When working from home, I'm often tempted to hit the main street for a *cough* overpriced smoothie or carton of soup. Considering some juice bars charge at least $7 for a small cup (before add-ons), I'm saving a lot of money (and don't have to deal with single-use plastic or mushy paper straws).
Cross-referencing the Ninja Foodi Hot and Cold blender with our KitchenAid K400 Artisan blender we tested in 2021, there are some similarities. These both can tolerate hot ingredients but also have the same Achilles heel. The fixed blades mean they are both difficult to clean, but both have a dedicated cleaning program to overcome this issue.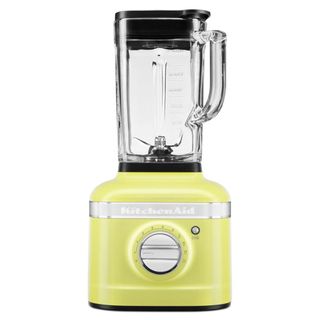 Blends hot ingredients
KitchenAid K400 Artisan blender
Price: $289.99
Capacity: 54 fl oz.
Thanks to the Intelli-Speed control feature built into this blender, the speed will automatically adjust to suit the texture of your food. Accidents = avoided. With a 54 fl. oz capacity, it'll be able to make enough servings for the entire family, and you may even have some leftovers. Also has a hot setting for soups.
Read our full KitchenAid K400 Artisan blender review.
How we test blenders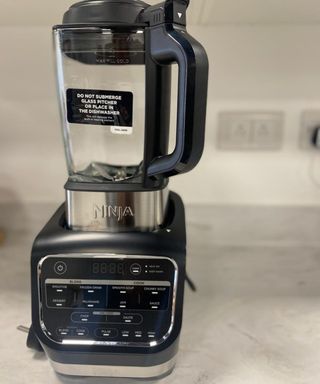 We have a set process for our reviews at Real Homes. As is the case with all products we review, we match the reviewer with the blender.
The Ninja Foodi was sent to me by Ninja, and I tested it out several weeks before writing this review, trying fruit smoothie recipes, protein smoothies, and, a variety of homemade smooth soups and chowders. I tried various ingredients including ice, nuts, frozen fruit, and other smoothie goodies. I tested it for speed, efficiency, and how well it blends across food textures and thicknesses, as well as how easy it was to clean.