The best summer memories always seem to take place around a campfire. Solo Stove makes it easy to replicate the camping experience in your own backyard with its state-of-the-art smokeless fire pit. Even better, during the Solo Stove Memorial Day sale (opens in new tab), almost everything on the site is on sale. Plus, you'll receive a free stand with your firepit.
Solo Stove started a few years ago as a Kickstarter, setting the internet ablaze with their high-end solution for clean-burning fire pits that didn't billow excessive smoke into the air. They explained that the 360° Airflow Design of the double-wall metal structure that draws in air from the bottom and feeds the heated oxygen to the top creates a super-efficient burn that creates no smoke and leaves little to no ash.
This especially caught my interest because I personally love bonfires, but I hate the smoke smell that would permeate into my clothing.
Reviewers also rave about the warmth (sometimes too warm) the fire pits emit, which are great for any chilly nights and have written lengthy comments about its strength, ease of use and clean up, and of course, how little smoke it produces.
The Solo Stove is great for the backyard, camping, or in case of emergencies. You can even use it year-round, even when it's cold to make being outside more bearable. Plus, our favorite part: it doesn't require lugging any fuel, as it runs solely on wood!
Solo Stove firepits (opens in new tab)are available in three sizes: the Solo Stove Ranger, Solo Stove Bonfire, and the extra-large Solo Stove Yukon. The immensely popular fire pits are up to $150 off!
Discover the best Solo Stove for your needs below. But don't wait, the Memorial Day Sale will end soon! Then you can start gathering the fixings for s'mores.
Once you start with the fire pit, you're sure to want to upgrade your patio furniture to create your backyard oasis! You may even have some luck with our guide to the best patio furniture sales.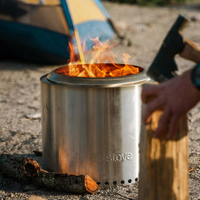 (opens in new tab)
Solo Stove Ranger | Was $269.99, now $214.99 (opens in new tab)
The ultra-portable "Ranger" weighs 15 pounds and is just 13-inches high. Beyond being a good size for small backyards, it's the perfect size to bring to the beach, hiking trips, or even tailgates.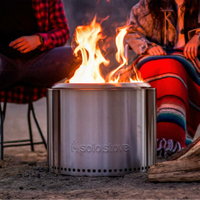 (opens in new tab)
Solo Stove Bonfire |Was $349.99, now $259.99 (opens in new tab)
Save $90 off arguably the most popular fire pit size, the Bonfire. It's slightly larger than the Ranger, weighing 20 pounds and reaching 17-inches in height. It also comes with its own carrying bag.
(opens in new tab)
Solo Stove Yukon | Was $599.99, now $459.99 (opens in new tab)
The largest of Solo Stove's fire pits brings the large bonfire feel right to your back yard. It weighs 38 pounds, 27-inches wide, and 23-inches high, so you'll probably want to leave it put.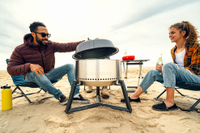 (opens in new tab)
Solo Stove Grill Ultimate Bundle | Was $774.99, now $449.99 (opens in new tab)
If grilling out is your favorite way to spend time in the outdoors, the Solo Stove uses charcoal and brings a communal aspect to grilling burgers and hot dogs. This bundle includes the grill, all the cooking tools, and a stand to make this ultimate summer treat.
Why you should consider adding a Solo Stove to your backyard
Signature 360° Airflow Design™ creates a super-efficient burn that creates no smoke and leaves little to no ash with strategically placed holes in the double-wall structure that draw in air from the bottom and feed the heated oxygen to the top
No fuel required, just wood logs, and it's easy to light
An ash pan catches loose ash and prevents it from clogging vital airflow while also acting as a heat shield to reduce the heat transfer from the firepit to the ground.
Fire ring keeps flames centered and even while vent holes near the top of the burn chamber allow preheated oxygen to fuel the flame
Free shipping and returns (US Only)
Comes with a lifetime warranty