You heard it here first: the sought-after Ring Doorbell is now just £59.99 at Amazon, for Prime Day 2022. Loads of deals actually dropped early, meaning stock could be getting low already so you will want to move fast so you don't miss them. Example A is the Ring Doorbell, which is now £59.99, and example B is the Echo Dot which you can now buy for as little as £19.99. For more deals, browse our Prime Day deals hub.
This offer won't be around for long, and when they are gone they are truly gone. On previous Prime Days, we've seen Ring Doorbells sell out. So, if you're waiting then don't, simply add yours to the basket now and buy it. This Prime-exclusive deal slashes 33 per cent off the price of the best video doorbell, as tried and tested by us.
Only Prime members can take advantage of Prime Day deals, but new members can join Prime for a free 30-day trial now.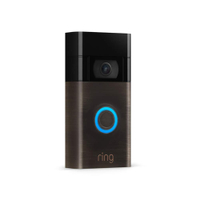 Ring Video Doorbell | £89 £59.99 (save £30) at Amazon
The Ring Doorbell is seriously cheap this Amazon Prime Day, so don't miss out if you've had this on your to-buy list for a while now. Not only does it make answering your door from afar (whether that's upstairs or from your local supermarket) a breeze, but it will ensure you never miss a parcel again.
What do we love about the Ring Doorbell?
You can read our full Ring Video Doorbell review for a deeper insight, otherwise, here are the features that we love about this genius buy.
For anyone with a larger home, or for anyone who struggles to hear their doorbell, you can connect the Ring Video Doorbell to your smart speakers – Echo, Google and more – to control your doorbell with your voice and see who is at your door through a smart device which boasts a screen. So, not only can you hear your doorbell ring from upstairs, but you can answer it from there, too.
You can download the Ring app to see a live view from your phone, wherever you are, and to talk through your doorbell to whoever is at your door. It will also notify you of any motions around your front door and record footage so that you can check on the kids when they are coming in from school.
The best part? It's wireless and the battery lasts for months, and it comes in your choice of bronze or nickel. Once it's up, it can't go anywhere, though even for renters it's convenient as you can take it down when you move.
You might want to also buy the Ring Chime whilst you're there and plug this in somewhere in the middle of your home. Perhaps at the end of a hallway or in a kitchen as this will mean that your doorbell will chime actually inside your home, as opposed to just through your phone or Alexa.
Browse more Ring Doorbells...