Looking for a cheap and easy portable grill for entertaining outdoors this Memorial Day? This grill deal from Amazon is now just $25, with a neat $14.80 discount applied before you check out. Not only that but this grill from Cuisinart is equipped with a spacious cooking surface, and it's also completely portable, so even if you don't have a backyard for barbecuing, you can take it along to a cookout or a park to soak up the summer.
This grill is one of many deals that will be flooding in this weekend as part of the Memorial Day sales. You can expect to see discounts on all range of outdoor buys including furniture this coming Monday, May 30, which is the best time to scoop up a bargain in the summer months. Retailers like Bed, Bath & Beyond, Lowe's, and Best Buy have already launched their deals for Memorial weekend, with this grill deal being one of the standout early picks from Amazon.
Of course, now is the optimal time to find the best grill for your backyard, just as the summer unfurls. You can choose between an excellent versatile portable grill, like this one, or amp things up with a gas option. Rest assured if your budget is small, if you don't often use your grill or if your yard is on the compact side, then this $25 steal is your best bet. The best part? It comes highly recommended with a rating of 4.3-stars out of 5 from more than 14,000 reviewers.
Don't miss this portable grill deal at Amazon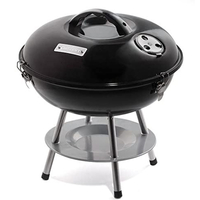 (opens in new tab)
Cuisinart CCG-190 Portable Charcoal Grill | $39.99 $25.19 (save $14.80) at Amazon (opens in new tab)
This grill is the perfect deal for the summer, with a compact portable design that will enable you to cook wherever you like. For those on a budget, you won't find a better grill deal for less than $30.
Why should you buy this portable grill deal?
The benefits of a portable barbecue like this one are wide-ranging, from the versatility of where you can grill to the ultra-affordable price tag. Investing in a grill can be very expensive, but a smaller portable model is much more sustainable and cost-effective than turning to disposable versions.
This particular model has a dual venting system to allow you to choose your preferred cooking style, whether that's a searing heat or a slower grill. For safety and convenience when you're traveling, there are also three handy locks. And don't forget that an easy clean-up is enabled by the accessible ash tray too.
It comes in two colorways including black and a stylish red option to stand out in your backyard. It weighs only 2lbs for easy transporting, whilst its lid locks on for safety purposes. It has an ash catcher for safety and ease, to keep your deck or patio clean as you cook, too.
More grill deals to browse ahead of Memorial weekend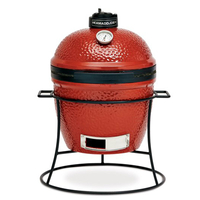 (opens in new tab)
Joe Jr. 13.5 in. Portable Charcoal Grill | $499.99 $299 (save $200) at Walmart
(opens in new tab)If you're looking to spend a little more on the investment that is your next grill, you can't do much better than this Joe Jr model. It's portable and made of ceramic, to lock in moisture, flavor, and heat.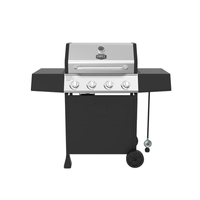 (opens in new tab)
Expert Grill 4 Burner Propane Gas Grill | $197 $174 at Walmart
(opens in new tab)This gas grill is now at an excellent price for well under $200, with the capability of fitting in 25 burger patties at one time. It has wheels for storage and space for warming as well as cooking too.