While we're not convinced that anyone really enjoys changing their bedding, for some, it's a task met with such disdain that it very rarely gets done – as we've reported before. And we're not just talking about the lazy students you know; the bedding changing procrastination epidemic is more commonplace than you might imagine.
Ideally, we should all be changing our bedding at least once every two weeks to ensure good hygiene – most of us spend at least eight hours a day between the sheets, after all – but the reality is that, for most, this is rarely achieved. And we can't blame any of you – who enjoys grappling with an uncooperative duvet cover anyway?
In a bid to help make the process of changing bedding easier, household favourites M&S has launched a range of Supremely Washable Duvet and Pillow Sets (opens in new tab) which can simply be thrown in the washing machine along with the fixed covers as necessary.
The sets dry within a day, ready to go back on the bed that night. So, not only are you getting clean duvet covers and pillowcases, you're getting the chance to clean your duvets of whatever allergy-inducing nasties lurk within (dust mites, we're looking at you. Or we would be if we could see you). What's more, there are some pretty stylish designs – from dots and florals to plains – on offer. We're sold.
So, whether you're reading this with a corking scarlet flush because you know you're guilty of bedding related crimes; have an elderly relative who struggles to change their bedding, alone; or are sending a teenager with questionable washing capabilities off to uni this September, this could be just what you've been looking for.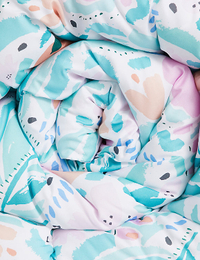 (opens in new tab)
Supremely Washable Floral Printed Pillowcase & 10.5 Tog Duvet | £39.50 – £57.50 (opens in new tab)
Complete with a handy bag, for easy storage, this pastel printed duvet and pillow set is perfect for guests, students, or those with a love of florals.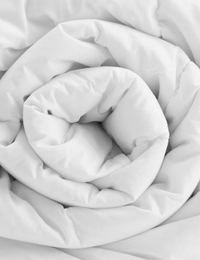 (opens in new tab)
Supremely Washable 7.5 Tog Duvet | £24 – £39.50 (opens in new tab)
Like the clean and calming feel of white bedding? Us too, but it does require regular washing. This is where a handy, washable duvet comes in handy.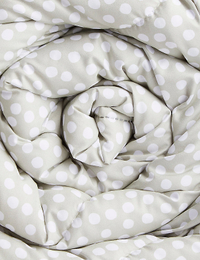 (opens in new tab)
Supremely Washable Spot Printed 10.5 Tog Duvet | £39.50 – £57.50 (opens in new tab)
We're big fan of this stylish polka dot number, which would make a stylish addition to many a bedroom scheme. Available in pink, too, if that's more your vibe.
Looking for more housework hacks?