Most of us have been spending more time at home than ever before in response to the pandemic, and while that was not so bad in the summertime when getting fresh air or hosting socially distanced outdoor dates in the backyard or on the patio were easy, with winter on the horizon it means cutting your living space down quite significantly—or perhaps turning to a patio heater.
With more and more people scooping up patio heaters to extend the life of their outdoor space while in partial lockdown, it's becoming more difficult to track down a patio heater at all—but here are a handful that we managed to find in stock. If you're hoping to squeeze in a little more time outdoors, you might want to consider picking up one of these—and fast!

(opens in new tab)
Garden Treasures Stainless Steel Floor Standing Patio Heater | Currently $256 (opens in new tab)
This floor standing patio heater by Garden Treasures is a great option for anyone looking to add a blast of heat to their backyard or larger sized patio. The stainless steel heater can easily heat up to 200 square feet during the colder months and is entirely weather resistant.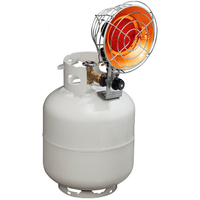 (opens in new tab)
Avenger 15,000 BTU Propane Standing Patio Heater | Currently $33.99 (opens in new tab)
Looking for something a little more economical and space saving? This low cost outdoor heater rings in at just $33 but can easily heat up a moderately sized patio. The powerful device can run for about two days on a single 20 pound propane tank.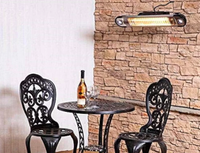 (opens in new tab)
Alcott Hill 1500 Watt Electric Patio Heater | Currently $106.99 (opens in new tab)
Ideal for covered outdoor areas like garages or patio decks, this electric patio heater is the most aesthetically pleasing of the bunch—but it still offers serious heating. The wall or ceiling mounted device offers three different settings so you can continue using it well into winter.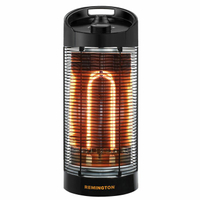 (opens in new tab)
Remington 1200 Watt Electric Tower | Was $85.99, now $82.99 (opens in new tab)
Currently on offer for $82, this indoor/outdoor heater is a great option for anyone hoping to find a dual-purpose design that can be easily totted inside and outdoors. Weighing in at just six pounds, this compact heater is the ideal size for smaller patios or garages.
Keep reading: