Got some last-minute Christmas shopping to do? Chill, there's still time. And if you have got a coffee lover on your list, you can tick them off right now because we have found the perfect gift – the Nespresso Aeroccino...
So what exactly is a Nespresso Aeroccino? Well, it's a life-changing milk frother (we have one in the Real Homes office and can vouch that life-changing is no exaggeration) that massively ups your coffee game. It allows you to make barista-style drinks like lattes and cappuccinos from the most boring of instant coffees. It's also super practical too, easy to clean and compact in design, plus it's so straight forward to use, stick the milk in and whiizzzzz.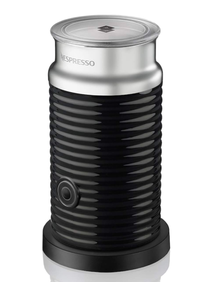 (opens in new tab)
Nespresso Aeroccino 3 Milk Frother | £73.25 (opens in new tab)
Yes, we could waffle on about this milk frother forever, but alas, we are now craving our own frothy creation so we will just quickly let you know that you can still order this on Amazon in time for Christmas, right up until Sunday 22nd (standard delivery) and you have until Monday 23rd for next day delivery.
More brilliant Christmas buys: