If you share a bed with someone who prefers to be cooler rather than warmer at night, or vice versa, then this eve sleep duvet could be the solution to your sleep woes. We can't say that we've seen something like this before (certainly in the UK, anyway) so it's pretty revolutionary. And if seeing is believing that this duvet could help to avoid having two duvets instead of one piled on top of you for warmth or sticking out a leg stuck from the covers to cool down, then it's seriously worth your consideration.
As a matter of fact, eve sleep have recently released some research which you'll find interesting. From those 2,003 surveyed in the UK at the beginning of the month (February 2021), a whopping 8 out of 10 adults (86 per cent) say they have trouble sleeping generally and the research has found that one of the top reasons behind disrupted sleep are being too hot or cold at night (51 per cent). It's an astonishing result which has seen a rise in sleep divorce with nearly 1 in 2 often sleeping apart because of their bedtime habits with an average of four nights per week of sleeping separately.
So THANK GOODNESS for this new duvet. But wait up: 'what's so great about it?' I hear you ask. Well, the duvet – known as the yin yang duvet (opens in new tab) – has a split tog which means that one side is wonderfully warm and the other is light and cool. The warmer side has a luscious 10.5 tog and the lighter, cooler side is 4.5 tog. You can tell the difference between the different sides thanks to a handy label which appropriately uses a sun icon to signify warmth and a snowflake for the cooler side. Its pure cotton casing with 233 thread count will keep both your temperatures balanced overnight. And the rather delightful Aerelle Softflex hollowfibre fill is easy to keep plumped-up for a snuggly, cocoon feel.
It really does bring together the best-of-both worlds. No more uncomfortable sleeps on your best mattress, hurrah. Want to know the best bit about this fab new duvet? It's on an introductory offer for Valentine's Day, which is pretty apt timing. Yep. Right now when you buy the yin yang duvet you can save up to £22 (that's 14 per cent!) on sizes double, king and super king. They will always try to offer free delivery, too, although some areas may get charged which will be made clear at checkout so you're aware. Happy days (and nights).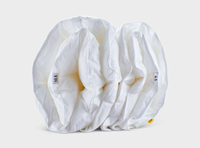 (opens in new tab)
the yin yang duvet | from £116 (save £19) at eve sleep (opens in new tab)
Enjoy sharing the duvet at night without getting too hot, or too cold, with this fab NEW option from eve sleep. It's available as a double, king or super king so all bed sharers can benefit. It comes with a 2-year warranty but if you change you're mind you can return your order within 14 days if it's unused and in a re-sellable condition. Offer ends 15 February 2021.
Why shop with eve sleep?
Eve are a UK company who create simple, beautiful products to enhance everyone's sleep. Comfort is at the top of their agenda when they are in the workshop and they use only a range of bespoke materials from floatfoam to plush velvet, to ensure that whatever product you're buying it is premium, cosy and super comfortable.
eve sleep are also taking it in their stride to be FSC (forest stewardship council) certified and they refurbish or reuse all the used mattresses which are returned to them. Every mattress matters to these guys so when you buy an eve mattress, all eventualities have been carefully considered because to them, every mattress matters.