Looking for things to do without leaving the house? With more of us taking care to social distance, or even self isolate, we'll be spending more time at home than ever before. And while it may seem appealing for the first day, or two, you might be surprised how quickly you become restless or run out of things to do, especially when the kids are off school.
So, in a bid to make the best of the situation, we've rounded up a list of things you can do at home to keep yourself occupied. There are options ranging from virtual museum and gallery tours to movie marathons, self care evenings and more, so you're sure to find something that suits.
For more advice and information, check out our health hub page.
1. Stay active
One of the most important things you can do during a period of self isolation is ensure you stay active. Not only is it good for your physical heath, but it can help you maintain good mental health during what, for many, is a challenging time.
Keeping active doesn't have to mean high intensity training, either. Find inspiration for easy home workouts in our guide. Or, check out some of our favourite YouTube workout channels below:
2. Go on a virtual tour of some of the world's greatest galleries
Galleries and museums are often a go-to for parents on the hunt for budget-friendly (or even free) days out with their kids. But just because many of these public spaces are closing their doors to guests, it doesn't mean you can't enjoy their offerings – it'll just be a slightly different experience.
In fact, you may not be aware, but many museums and galleries offer free virtual tours which you could enjoy with friends and family if you're looking for a little bit of culture to brighten up another day indoors.
And if you have little ones, why not get out the paints, or colouring pencils, and encourage them to have a go at recreating some of the masterpieces on show. Alternatively, there are a few artefacts they could try making with clay, or play dough.
Some of our favourite virtual gallery tours include:
3. Give your home a proper de-clutter
If you're going to be spending more time at home, at least make it a space that you enjoy spending time in. Decluttering your home can have a massive impact on how calming your space feels, as well as helping you clear your mind. Plus, the likelihood is that it's a job you've been putting off for a while.
We'd recommend you work room-by-room, going through each and every item in order to establish what you do and don't need. Create a bag for charity, a bag for recycling and a bag of things to dispose of. Then, shop online for some good quality storage and watch as your cluttered home becomes your haven.
4. Have the ultimate movie marathon
Watching a film is a pretty obvious option for those self isolating. But rather than slumping in-front of your laptop, or watching whatever happens to be on TV, why not make it more of an event?
We're talking dimming the lights, drawing the curtains, setting up the sofa with plenty of cosy blankets and stocking up on some classic cinema treats. If you're looking to go all out, you could even invest in a projector and enjoy watching films on the big screen.
5. Try baking something new
Who doesn't love baking? Not only is the process fun – especially with someone else – but you'll also get to enjoy the fruits of your labor once you're done. Browse some of our favourite recipe ideas below for some fresh inspiration:
6. Draw up a treasure hunt
This one will require a little more creativity, but we promise it's worth it. Perfect for little ones, a treasure hunt will have them racing around the house in a bid to find clues and, ultimately, treasure! Depending on their age, come up with rhymes and riddles to lead them from one clue to the next for a game that could last hours. And if you don't have kids, why not draw up a treasure hunt for your other half...
7. Colour co-ordinate your books for the ultimate interiors update
We've all seen those perfectly colour co-ordinated book shelves all over Instagram, but up until now you may not have had time to create your very own rainbow inspired shelf. Well, that's all about to change.
Take an hour or so to sort through your books – donating any that you know you'll never read again/have no emotional attachment to – then carefully reorder to create an aesthetically appealing corner in your home.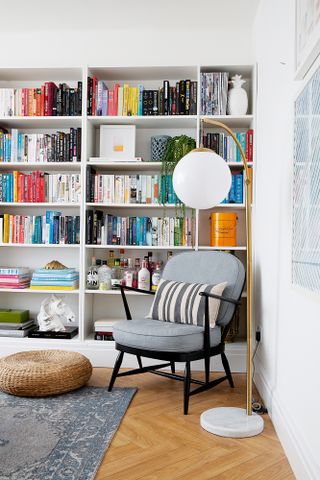 8. Build a fort
Building a fort is so synonymous with childhood, and we're slightly obsessed with bringing it back. For the kids, of course...
Whether as a space to watch a film, read a book, or just sit and chat the night away, forts can be created with nothing more than a spare bed sheet, plenty of cosy cushions and a string of fairy lights. Enjoy!
9. Have a home spa evening
Everyone loves a beauty treatment, be that getting your nails done, putting on a face mask, or taking a nice long bubble bath. And what better time to show yourself some extra love than when you're forced to stay indoors? Order essentials online, then kick back with a large glass of red and you'll wake up feeling completely refreshed. You could also employ your partner for a foot rub, if they're willing...
10. Make some plant babies
Populating your home with houseplants is a great way to bring the outdoors in, and we think we could all use a bit of that right now. But rather than buying new house plants – though you're also welcome to do that – why not have a go at propagating the plants you already have? It's easier than you think to create little plant babies. Plus, with all the time you'll be spending at home, you're less likely to forget to water them.