So you are in the market for a new laptop, or a new smart phone or a bigger TV. You've got your eye on a model that costs the equivalent to a new car, or a new house in certain parts of the country. As you hunt online for the best deal you find a fantastic deal for a fraction of the price; the only issue is it's been used. Do you risk buying your tech from a Facebook group called 'Things for sale around Croydon' only for it to break down after a couple of months' use? Probably not. But lucky for you there is a third option. Refurbished tech.
And no, 'refurbished' isn't just another word for 'used'. Refurbished goods are products that another person has bought and then, for whatever reason, decided to return. Prior to resale, the item is checked by the retailer for functionality, and minor adjustments or fixes might be made – it might be given fresh packaging, or a new battery, for example.
It turns out that as a nation we are finally clocking on to the fact that we could all really save some money by buying refurbished tech. In fact, eBay found that throughout this month, a refurbished tech item was bought every 30 seconds – they have even dubbed February 'Refurb-ruary'. Clevverrrr.
Top refurbished tech products on the site include smartphones, appliances, laptops and MacBooks, however it's iPhones that are the most popular, with eBay reporting that 21 refurbished iPhones are sold per hour in the UK. In the last four weeks, the online marketplace sold 12 Apple products every minute, with 20 per cent of these being refurbished. Samsung is also another popular refurbished brand purchased on eBay, with 14 per cent of its products bought in the last four weeks being refurbished.
Tempted by the thought of cheaper tech? There's some essential homework you should do before entering the refurb world.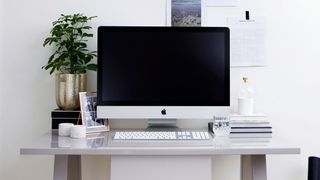 Ian Montgomery, co-founder and managing director of XS Items Ltd, an eBay outlet that specialises in refurbished items recommends that, 'Although price is often the deciding factor for many when buying refurbished tech, it's important to do your homework and consider product quality, warranty and accessories, to ensure you get an all-round good product.' Here are his top five tips for buying refurbished tech:
1. Always check the seller information
Make sure you carefully read seller feedback and ratings before buying an item. This information should give you a good overview of what to expect from the product and service.
2. Know the grading of the item
Many sites offer different grades or levels to indicate the device's condition and appearance. They generally use a rating system to indicate what kind of shape the devices is in. Industry grading ranges from A (pristine) to D (faulty or damaged), so make sure you check the grading to understand the condition of the item.
3. Check the warranty
Certified sellers on eBay will offer a 12 month warranty, meaning they have confidence in their products. Look out for items which come with warranties so if you have a problem with it, you can be reassured that you'll receive a refund or replacement product within the time stated.
4. Check if there are accessories included
Because some items may have been previously used before being restored to pristine condition, or received in damaged packaging, always look out for what kind of accessories are included in the sale. For example, when it comes to home appliances, always make sure that all accessories, such as blades for food processors and water tanks for coffee machines are included. It's also important the manual comes with the product, too.
5. How to easily find refurbished tech
The best place to head to on eBay is the refurbished tech hub, however if you have a specific item that you're after, you can try various search terms, such as 'refurbished', 'reconditioned', 'remanufactured', 'refreshed', 'recycled', 'repaired', 'recertified' and 'like new'.
Read more...