Designing a small space is no easy feat, which is why Real Homes created its first-ever So Chic Awards this year.
The competition was dreamt up so we could help our readers find the best and chicest furniture, appliances, decor, gadgets, home fragrance, and cleaning products for your small space. Whether you live in a compact apartment, small house, minuscule dorm, or an actual tiny home, these picks are just as functional as they are stylish.
We've browsed through tons of applications and determined that these 12 winners are worthy of taking up space in your home — no matter how tiny. From compact single-serve coffee makers to smart fragrance diffusers, take a look at the products that have earned the title of best in our So Chic Awards.
Meet the judges
We tapped our editor-in-chief, head of ecommerce, deputy editor, and ecommerce editor to decide which products are fit for small spaces.
As the global editor in chief of Real Homes, my aim is to help our community design homes that feel authentic, real, and functional. Though we all love aspirational images and celebrity houses, my team and I are motivated to create content that makes sense for your lifestyle, needs, and interests. I'm a small-space dweller myself and value style and function, so I was thrilled to come across these picks that fit the bill for both.
I'm the deputy digital editor at Real Homes and am here to bring you the latest decor trends, inspirational ideas, and the best budget-friendly buys. I live in a rented apartment, making the most of small spaces and using accent pieces to make things pop.
I'm Annie, and I'm the head ecommerce editor at Real Homes. Along with covering major sales events, I review home must-haves so that you can buy with peace of mind. Mostly focusing on home fragrance and sleep, as well as a few vacuum cleaners, I've tested pretty much every item you can think of that you need in your home. I live on the outskirts of the city in a two-bed apartment with my husband and my pug, Doug, so I am always searching for compact alternatives and ways to save floor space.
I'm Christina, the ecommerce editor at Real Homes. Along with my super creative colleagues, I create content to help you create a chic home on a budget. I live in a two-bed maisonette with a garage and garden. Consider me your go-to go-go gadget girl! If there's a small kitchen appliance that chops, blitzes, cooks, or blends — I've had my hands on it. I'm here to assess how practical it is, whether it's stylish enough to display, and whether it's going to drain your energy supply or not.
Meet the winning products of the 2023 So Chic Awards
Below, you'll find the winner of each of our 12 categories and why it's worthy of a So Chic Award. Our main judging criteria were:
Functional: We want products that last and work really well. In small spaces, there isn't much room to waste on picks that don't work. We love multipurpose products and items that are top-rated at what they do.
Stylish: Just because something helps you out around your home doesn't mean it can't be cute! We value products that are as aesthetically pleasing as they are effective.
Affordable: Don't get us wrong, we love splurging sometimes, but we get what it's like trying to stick to a serious budget. Products should be affordable for readers just starting out, still living at home, or trying to save their cash.
Sustainable: The planet really matters to us, and one of our pillars at Real Homes is sustainability. Our judges scoped out picks that make a difference, whether that's through the product, packaging, or company efforts.
Work from home hero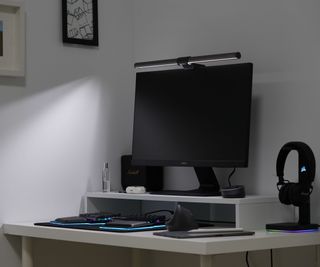 Winner: BenQ ScreenBar Halo Monitor Light
We know the pain of staring at a screen all day. It's unavoidable for most of us, but that doesn't mean it has to remain uncomfortable. This monitor light clutches onto your computer or monitor and provides additional lighting, so you're not squinting and rubbing your eyes every 10 minutes. The "downward-focused illumination prevents glare and reflections, ensuring a strain-free screen reading experience." This isn't something that'll give out in a couple of years either. With a lifespan of 17 years, you can use it from college until you're far along in your career, making it a more sustainable purchase, too.
Small space furniture champion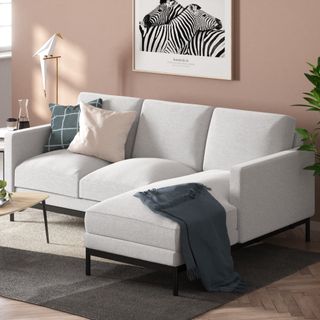 Winner: Zinus Logan Reversible Chaise Sectional
A couch is a vital part of your home, but it's never easy finding one that fits in smaller living spaces. Whether you're a fan of nap time, host movie nights with friends, or prefer to WFH on your couch, Zinus' Logan sectional is the one for your tiny apartment or house. You can arrange the layout depending on what's best suited for your living room, and it's outfitted with green tea-infused ergonomic cushions. Oh, and you don't need tools to set it up!
Compact kitchen must-have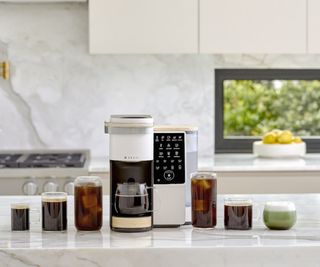 Winner: Bruvi Single-Serve Coffee Brewer
Coffee is a shared love among our team, but most of us can't afford to have a gigantic espresso machine taking up counter space (or most of our budget). That being said, we're not the types to settle for stale, off-tasting brews. Bruvi's machine looks sleek — have you ever seen a coffee maker with bamboo textures? — and meets Golden Cup standards (aka: sustainable drinks, pod disposal, and snazzy features). It has a touchscreen, a large water tank, and super specific brewing capabilities, whether you prefer a less acidic coffee, a strong espresso, or a matcha.
Best bedding choice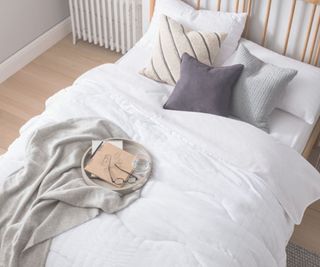 Winner: Night Lark All-In-One Duvet
Finding great bedding is a challenge in itself, and finding storage space for your seasonal sheets and comforters is another. That's why Night Lark's special duvet won our hearts. This option combines a comforter, duvet, and flat sheet, pleasing all kinds of sleepers — including those of us who don't care for the top sheet. It's also washable, which is a huge perk for anyone who doesn't want to deal with lugging their bedding to a specialty cleaner. It dries in an hour and a half, so no more disappointing nights with soggy sheets when you've left it a little too late. The brand is family-owned and B Corp-certified, too — we love it!
Small bedroom superhero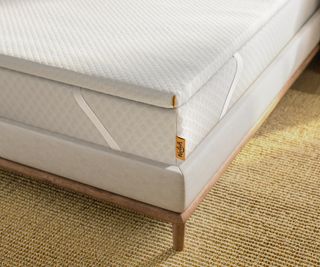 Winner: Nolah Mattress Topper
Not only did Nolah's topper win a So Chic Award, but it's also been ranked as our best mattress topper for back pain. This is a must-have for anyone residing in a dorm or apartment who's stuck with their provided mattress. The two-inch pick comes in two firmness options and is available in twin XL size too for anyone living on campus. The "temperature neutral" construction is ideal for hot and cold sleepers as it'll keep you comfy all throughout the year. The trademarked AirFoam material goes the extra mile when it comes to relieving pressure, especially in comparison to traditional memory foam.
Best bedroom gadget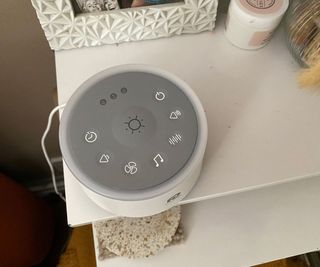 Winner: Dreamegg White Noise Machine
Living in small spaces goes hand-in-hand with noise issues. It could be an annoying next-door neighbor, a roommate who just doesn't get it, or surrounding city noise — regardless, it's not a fun experience. The Dreamegg White Noise Machine will cut it out. Aside from seven white noises, it also has seven fan sounds, 10 natural sounds, and a cozy nightlight. You can set a timer to leave it running until you're fast asleep and the gadget will clock your last settings and remember them. It helps that it's super compact, too, perfect for tiny bedside tables. Our head of ecommerce never slept better after introducing this to her bedroom.
Small bathroom essential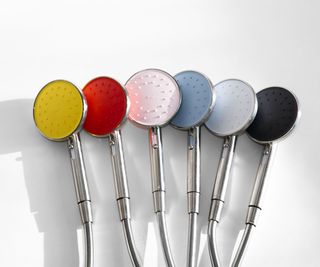 Winner: Hai Infusions Smart Showerhead
Don't underestimate the power of the humble showerhead. As our global editor in chief found, the Hai Infusions Smart Showerhead will completely transform any bathroom, particularly if you're living in a rental. No extensive installation or drilling is needed and you won't need to call a plumber. It comes in six chic colors and despite conserving water, the pressure is top-notch. Users can effortlessly slide between a mist or rain and the infusion port turns your daily ritual into a vitamin-infused aromatherapy sesh. There's also a little LED light to tell you when the water is warm (and when you've used too much) and you can track your water usage on the app.
Top-notch home fragrance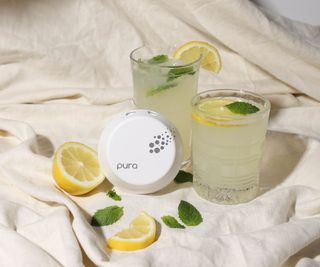 Winner: Pura Smart Fragrance Diffuser
Home fragrance fanatics know the struggle of keeping their candle and diffuser collections at bay. There's just not enough coffee table surface area or cabinets to keep them all in. That's why Pura's creation is so game-changing. Rather than swapping out large vessels throughout the seasons, this smart diffuser has teamed up with your favorite brands to provide the same delicious scents in one tiny gadget. Whether you love Nest New York, Studio McGee, or Anthropologie, you can get the same fragrances wafting through your home with a much smaller footprint. Plug it into the wall and let it do its magic. You can control the whole process through the app, choosing scent schedules, turning on the nightlight, and decreasing or increasing the intensity.
For conscious cleaning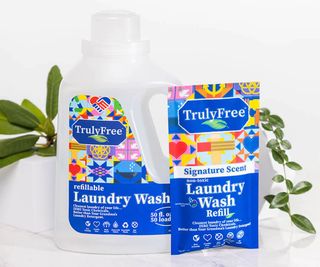 Winner: Truly Free Laundry Wash
Our editor-in-chief Melissa has extremely sensitive skin, so this non-toxic detergent that's free of dyes, bleach, and other not-so-friendly chemicals caught her eye. There's nothing worse than clothes and sheets that cause rashes and reactions. The great thing about Truly Free's laundry detergents is that the brand has a fragrance-free option, as well as an original scent version that's gentler (as the fragrance comes from essential oils). Aside from caring for you, it cares about the planet, too. After your first purchase, you'll get refill pouches to keep more plastic jugs out of landfills. You'll get 50 loads out of one bottle and much cleaner clothes that doesn't come at the expense of the environment.
Small space-savvy decor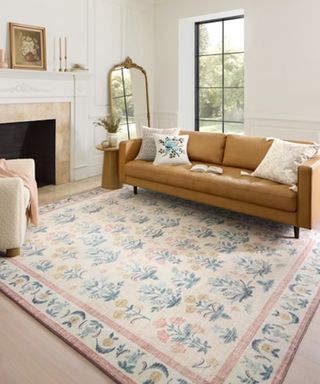 Winner: Loloi x Rifle Paper Company Eden Collection Mughal Rose Blush Rug
We're big fans of Loloi and Rifle Paper Co. at Real Homes, so when we saw a rug collab between the two we kind of freaked out. In a small space or a rental, rugs are the perfect style solution. They don't require landlord approval and they won't cause any damage to your space, but they will boost the overall appearance. The faded floral print will appeal to a wide range of tastes, whether you're a cottagecore enthusiast or a fan of boho. With these colors, it's not something that's going to feel untrendy after a few years either. This is an investment worth making to really spruce up a small space. You also won't be able to stop scooting your feet across the plush CloudPile material.
Wall art wonder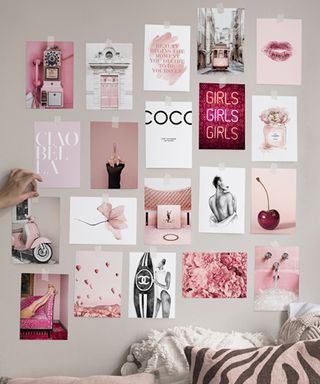 Winner: The Fantasy Collection Wall Collage Kit from Desenio
Decorating your walls is a fun and personal way to spice up your home. But it's easier said than done when you're in an apartment or dorm. Wall collages are hugely popular nowadays, and Desenio's kit wins for being easily customizable, affordable, and ideal for anyone who can't use nails to hang up prints.
Small outdoor space selection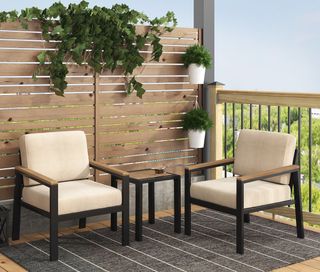 Winner: Zinus Dillon Outdoor Chat Set
You may not be able to squeeze a full-blown couch or dining set on your apartment balcony or compact patio but Zinus' small-space-friendly Chat Set certainly will fit. The armchair pair and table combo are stylish but made for withstanding the elements. Although the cushions are wrapped in weather-repellent covers, they're still incredibly comfy. The set comes all in one box with necessary tools included (so yes it'll fit through your door, and no, you won't have to buy a drill).
---
What are the So Chic Awards?
The So Chic Awards are a competition created by Real Homes to discover the best home products fit for small spaces. The panel of judges aims to choose items that are functional, stylish, and sustainable.