Have you picked up the latest issue of Period Living yet? The beautiful November edition features all the winning projects from the Readers' Homes Awards 2018, along with the stories behind them.
With autumn now upon us, the issue is packed with cosy, inviting ideas for decorating your home, expert heating advice, and inspiration for adding seasonal colour to the garden.
Add that to the usual mix of expert advice, unique lifestyle features, and antiques and vintage content, and you have another issue of your favourite magazine.
See all the winners of the Period Living Readers' Homes Awards 2018
Choosing just five winners from so many strong entries was always going to be difficult. Luckily, we had fabric designer Vanessa Artbuthnott on hand to help select the winning entries in the Readers' Homes Awards.
Showcasing the best in British period home and garden design, we feature the projects in full in the November issue.
Decorate with the latest autumn trends
As the nights draw in, warm up your home with a cosy palette of autumn paint shades. Or, decorate with the latest vintage-inspired dark botanical prints for a midnight garden feel.
Celebrate design icon Charles Rennie Mackintosh
In the first of a new series looking at the influence of design icons over the centuries, Antiques Roadshow expert Marc Allum looks at the work of British designer Charles Rennie Mackintosh, which was largely unappreciated in his own lifetime.
Create seasonal colour in the garden
With foliage on the turn and jewel-like berries glistening in the soft light, autumn is the time to enjoy a crescendo of colours in the garden. Find out how with your essential seasonal plant palette.
Discover salvage secrets of antique fireplaces
Holyrood Architectural Salvage in Edinburgh is home to one of Britain's finest collections of antique fireplaces. Go behind the scenes and find out what to look for when buying, then read Roger Hunt's expert advice for restoring one.
Subscribe and never miss an issue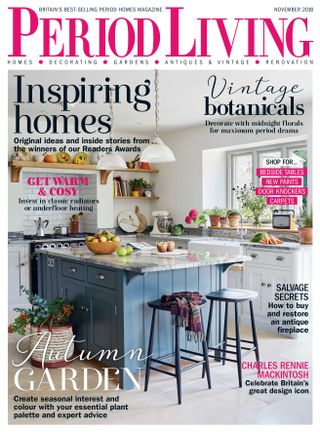 Period Living is a monthly magazine based in the UK, with shipping available worldwide. Subscribe to receive every copy sent straight to your front door.