Have you picked up the latest issue of Period Living yet? The beautiful March edition features 48 pages of period homes and gardens, full of the promise of spring.
The issue also features the latest decorating trends for period homes, along with the expert guide to buying an old house, advice on repairing or replacing original wood flooring and delicious recipes.
Add that to gardening advice, inspiration for exploring Britain's heritage destinations, and essential home buys, and you have another issue of your favourite magazine.
Here's a sneak peek of the highlights (don't miss the gallery below):
Period houses and gardens filled with the promise of spring
Advice for growing a wildflower meadow
Decorate with on-trend sunshine yellow
The expert guide to buying an old house
Design ideas for windows and doors
Repair or replace original wood flooring
Discover Britain's best preserved Arts and Crafts interior
Vintage afternoon tea recipes by Angel Strawbridge
Take a tour of Birmingham's heritage sites
Original ideas for using reclaimed finds
Discover the designs of Charles and Ray Eames
We preview Made by Hand, Cheltenham
See inside an upholstery workshop
Shopping ideas for botanical fabrics, kitchen larders, wall mirrors, clocks and more
Image 1 of 8
Image 2 of 8
Image 3 of 8
Image 4 of 8
Image 5 of 8
Image 6 of 8
Image 7 of 8
Image 8 of 8
Subscribe to Period Living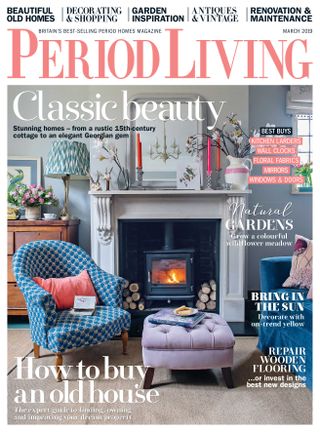 Period Living is a monthly magazine based in the UK, with shipping available worldwide. Subscribe and pay from just £2.50 an issue.