Have you picked up the latest issue of Period Living yet? The beautiful December edition features 38 pages of period homes, which are all dressed for a fabulous, nostalgic celebration.
The special Christmas issue also features the very best decorations and festive looks, along with unique artisan gifts, creative present wrapping ideas, floral craft projects and delicious recipes.
Add that to seasonal advice, the best fairs and markets, and essential home buys, and you have another issue of your favourite magazine.
Here's a sneak peek of the highlights (don't miss the gallery below):
Period houses decorated for Christmas, including the home of VV Rouleaux owner Annabel Lewis
Scandinavian-inspired recipes for edible gifts
Gorgeous festive looks
Unique artisan presents
Creative gift wrapping ideas
How to have a Victorian Christmas
Investing in antique decorations
Make a fresh wreath and gift posy
The UK's best festive suppliers
Original ideas for using reclaimed finds
The 12 essential buys of Christmas
Cold weather fixes to get your home ready for guests
A frosty winter garden
Festive fairs, markets and days out
Image 1 of 6
Image 2 of 6
Image 3 of 6
Image 4 of 6
Image 5 of 6
Image 6 of 6
Subscribe for Christmas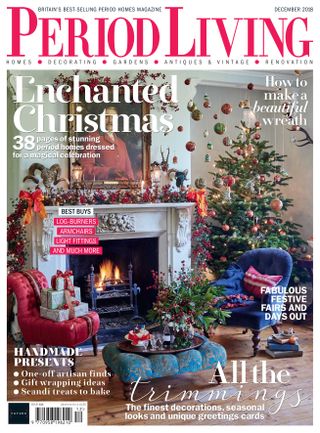 Period Living is a monthly magazine based in the UK, with shipping available worldwide. A subscription, from just £7.50, makes the perfect treat for yourself or Christmas gift for a friend.