The bathroom might be the smallest room in your home, but that's not to say renovating it is any easier than the others. In fact, making decisions is made harder by the fact that most of what you're picking out is pretty permanent, from sanitaryware to storage and tiles.
Heather and Darren Russell found exactly that when they bought Heather's parents' home in 2019. The familiar bathroom was dated, but she hoped it could become a calm retreat while they renovated the rest of the house. Unfortunately, after putting faith in a family friend to revamp it, they had to do it again as there was a gap by the vanity unit, tiles falling off and uneven grouting.
They found Steve and Adrian of Durham Tiling, who came to their rescue. 'They were amazing and carefully got the old tiles off without damaging the fittings,' says Heather. The generous dimensions of the room allowed the couple to fit in a large bath, walk-in shower and vanity unit that shows off their stunning floor tiles.
Read on to find out how they did it. Ready to start planning your own space? Check out our bathroom renovation ideas to get started.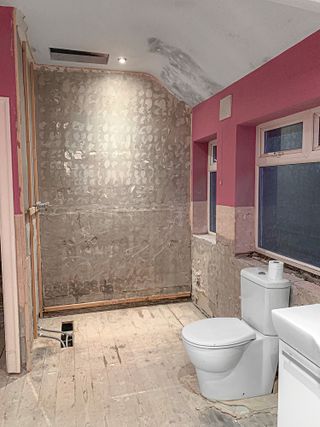 Time for change
Profile
The owners Heather Russell, a project manager, lives here with her partner Darren Young, a civil servant, and their children, Joanna and James
The property A three-bedroom 1930s semi in Sunderland
Project cost £5,480
'The old bathroom was a good size at 2.54m by 2.8m,' says Heather. 'It had large stone-effect beige tiles to half height with fuchsia walls above, chrome fittings and a white gloss vanity unit with a mirrored wall cabinet. As this was where I lived from age 10 to 18, I felt I should chat with my parents and explain that we wanted to make changes so it worked better for our family. They were really excited to see what we did.'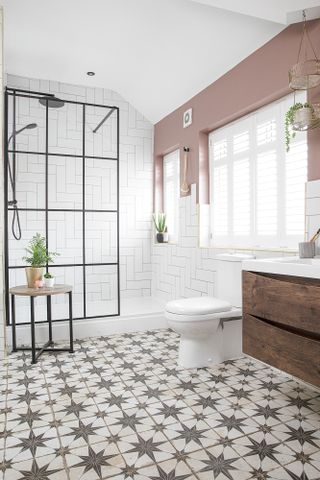 Overcoming challenges
'One of the trickiest things was getting a shower tray to fit between the two walls. The cost of a bespoke one was going to be ridiculous, so we built the wall out slightly at the shower end. If we'd known we were going to do such building work, we probably would've bought a concealed shower, but we'd already got the wall hung shower set.
'The bathroom was first done with concrete-style LVT flooring, but when the brickwork was exposed, the deep grey felt too harsh with it. The second time around we chose a patterned porcelain tile, which we much prefer.'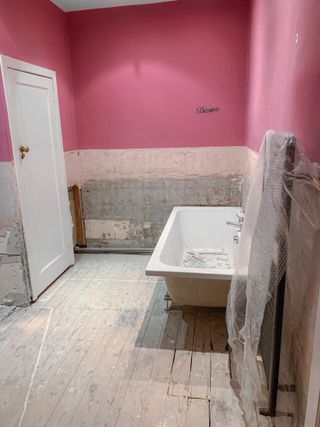 Travel inspiration
'I wanted a hotel-style bathroom rather than anything traditional, so the look was inspired by Pinterest, Instagram and places we've stayed on holiday. Since we were already planning an industrial-style kitchen extension, it made sense to create a similar look in the bathroom, so we picked black fittings.
'Originally I was leaning towards a dark green paint colour, but when we had the walls replastered I loved how it looked, so we went for Sulking Room Pink by Farrow & Ball, which has that plaster look. We're lucky to have a good-sized cupboard that houses the boiler, but when it gets replaced we'll probably create some clever storage with boxes and shelves for towels and toiletries.'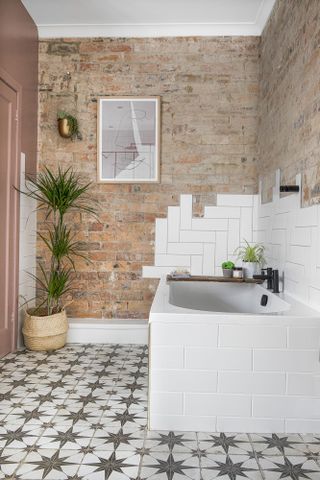 Exposed brickwork
'The exposed brick wasn't planned – it was more of a happy accident. Because the plasterwork wasn't done properly first time round, it was all coming away and the whole wall needed stripping back to brick. The day before it was due to be reboarded, I called the plasterer and said not to bother because I really liked the industrial look.
'We got an acidic brick cleaner and scrubbed all the layers of cement off. Now we just need to finish it off with a sealant. When you're in the bath, it's lovely to see a candle flicker against the natural brick and plants – it's like you're outside.'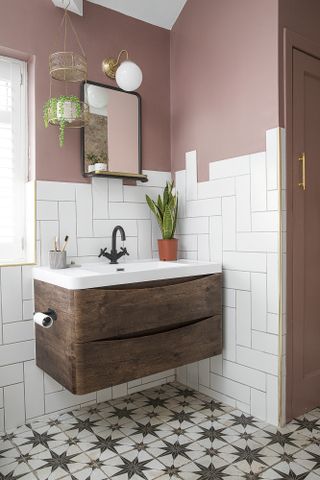 Vanity unit
'Part of the reason I chose a wall-hung vanity unit was that it's easier to clean underneath. A floor-standing unit with more drawers would've looked a bit too boxy – this feels less chunky. Also, I love the floor tiles so much that I wanted to see as much of them as possible.
'When it came to the wall light, I was probably over cautious about making sure it was safe for a bathroom. This Ikea one was really reasonable, it had the right IP rating and the gold echoes the tile trim around the window. An industrial-style mirror with accessories shelf was another must, and this one was a half price bargain at £20.'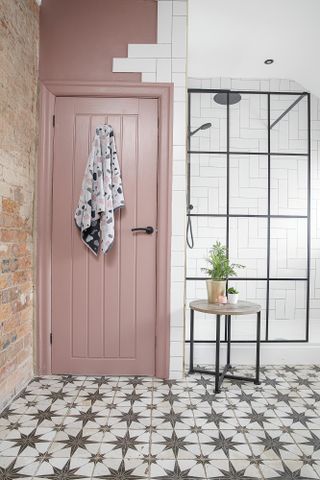 Tiling quandaries
Contacts
Tiling and bathroom fitting Durham Tiling
Painting Glendale Decorators, 0191 584 2772
'At first the tiles were laid in a herringbone formation, but it would've been too expensive to re-do them in the same way. I still wanted something a bit different so I looked on Instagram, where I got the idea for the unfinished look with no trim.
'The tiles aren't the most exciting, but the way they're laid makes a big difference. Our brilliant tiler Steve made a new wooden frame to replace the damaged bath panel, which he tiled over. He also advised against using a darker grout as he knew which shade would work better. We appreciated his input as we didn't want to make a wrong decision and have to redo it a third time!'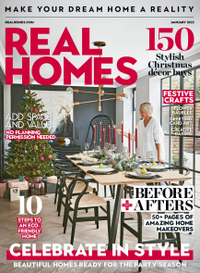 Subscribe to Real Homes magazine
Want even more great ideas for your home from the expert team at Real Homes magazine? Subscribe to Real Homes magazine and get great content delivered straight to your door. From inspiring completed projects to the latest decorating trends and expert advice, you'll find everything you need to create your dream home inside each issue.