Anyone who's started a family in a cramped flat ill-suited for life with a newborn knows the thrill of finally receiving the keys to a child-friendly home. The endless potential a good-sized home offers is exciting for anyone, but especially if you've spent the last months or years living in extremely close quarters. Even when the renovation gets tough (and it will), the end result is worth the tears and tantrums (and not just from the kids).
Likewise, nabbing the keys for their dream house was just the start of Jasmin and Liam's renovation journey. Moving from a one-bed flat, the couple have been hard at work transforming their run-down Victorian terrace, making room for a sizable kitchen diner with a rear extension and adding space upwards with a loft conversion for a cinema room and a brand new bedroom for daughter Molly. There's no doubt it's been tricky at times, but the warm, welcoming and incredibly stylish home they've created is a testament to their hard work, creativity and determination. Over the following pages, Jasmin takes us through her family home room by room and shows us how it's done.
If you're planning on extending your house like Jasmin and Liam, we have lots of ideas and advice on what to do. For more real home transformations, head to our hub page.
Profile
The owners Jasmin Robertson, a PR consultant and blogger (@brickdustbaby), her husband, Liam, a digital sales director, their daughter, Molly, and their French bulldog, Worley
The property A five-bedroom Victorian terrace in Hove,
East Sussex
Project cost £198,500
'My husband and I were living in a one-bedroom flat in Brighton when I became pregnant with Molly,' says Jasmin. 'The three of us shared a tiny bedroom with a double bed and cot squeezed in. We needed more space but struggled to find a house in budget where we wanted to live. A family member had lived in this house for over 22 years and they were struggling with the upkeep. Because of its state of disrepair, they were reticent to sell, but we were up for taking on all the renovations, so we made them an offer.'
'Every ceiling was filled with asbestos, the back wall was crumbling with damp, the kitchen and bathroom needed replacing and the layout need reconfiguring. We rented a flat for six months and got stuck in, replacing the lathe and plaster walls, ripping out kitchen units, and tackling the jungle garden. The asbestos ate into our renovation budget, so we took on the bulk of the work ourselves to claw back some of the costs. We cancelled our social life for the first year! We took a breather from DIY after the first two years and just started enjoying the house, playing with colour – I added the green wall in the kitchen and the darker shades in our dining room – and decorating with plants.'
'We knocked out the side return and back wall to create a large open- plan kitchen space opening out onto the garden. I did PR for a couple of architect firms and picked up lots of ideas for our home. Top of my wish list were folding doors to open onto the garden and a large sociable kitchen island. Because we were on a tight deadline and budget to get the house finished, we moved in before the side-return extension was finished and lived out of our bedroom for weeks. The bi-fold door company wouldn't make the doors for us until we'd made the hole for them, which meant we lived with an opening, covered with plastic for a full 12 weeks while we waited for the doors to be made and fitted.'
'The loft conversion involved a double dormer extension, which has increased the space and value of the property. We released equity in the house to get in the professionals because we knew this was a project we couldn't do ourselves. We started the project in December, which wasn't my best idea – we had the most dusty Christmas. It's completely changed how we use our home – we love hosting movie night here with popcorn.'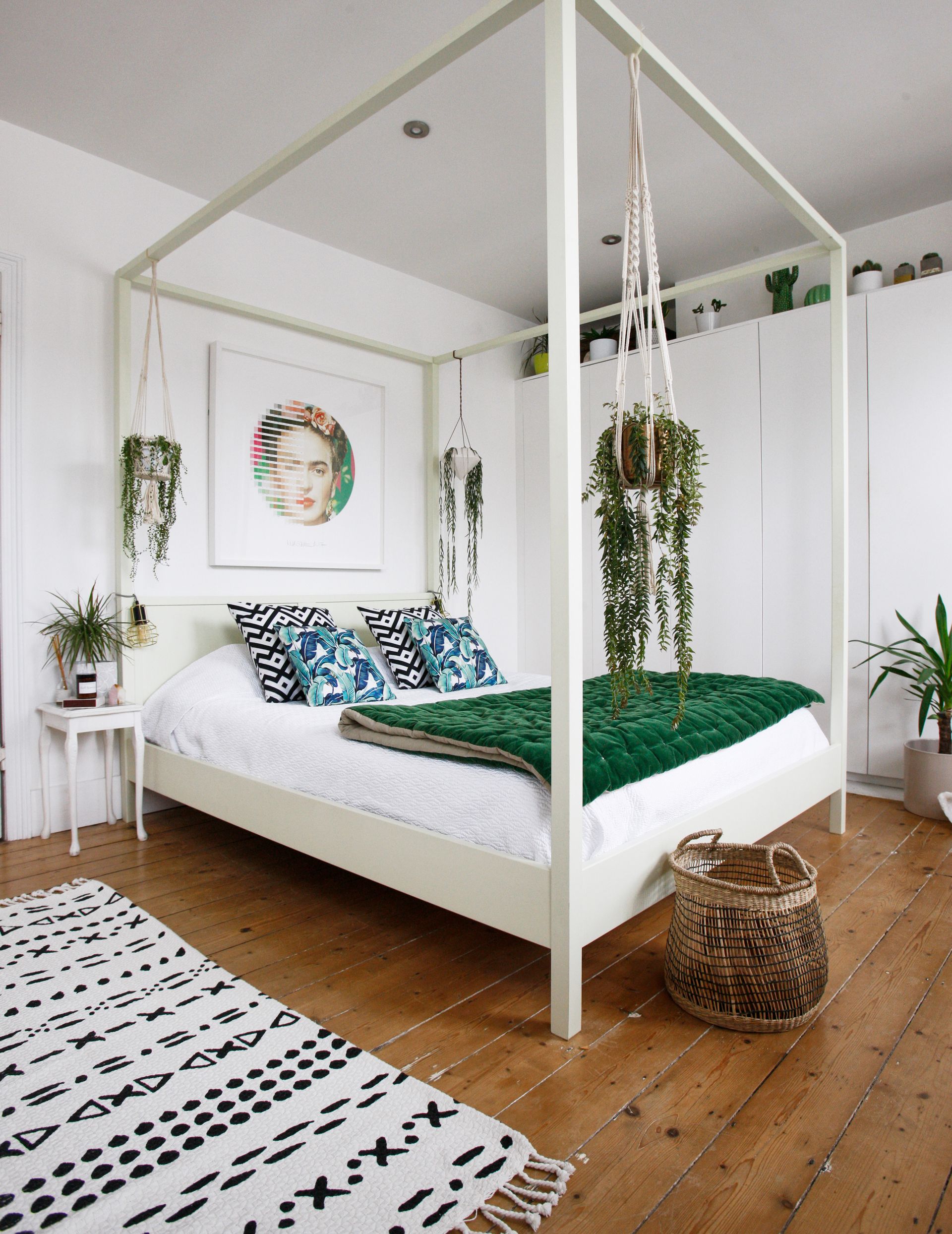 'We shopped around to keep costs low. I found the worktops online for a fraction of the price and made the offcuts into shelving. I spent days hacking the plaster off the kitchen chimney to reveal the bricks but they were shot to bits. I found brick slips to cover them for the look I wanted.
'The kitchen was the first room started and the last to be finished. It's been a work in progress and over time I've changed things. Our style is an eclectic mix of old and new. The light fittings we found in an antique shop. They're from a Japanese fishing trawler and add an industrial edge.'
'We made small compromises as we tackled the house room by room. All the coving was lost when the asbestos was removed, for example, and at the time we couldn't afford to reinstate it, but you have to pick your battles. We've just redecorated the living room in Pink Ground by Farrow & Ball as we wanted it to feel intimate and cosy.'
'We dug out two large palm trees in the garden, which were impossible to cut down. We had to hack them into pieces, then wheelbarrow them through the new kitchen. We built our garden with a huge storage bench at the end. Liam loves sea fishing on his kayak, but we had nowhere to store it. With the large storage bench, we have room to stash it out of sight, and you wouldn't even know it's hidden in there.'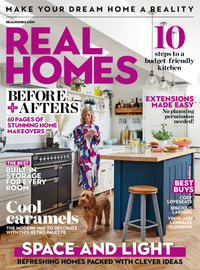 Subscribe to Real Homes magazine Want even more great ideas for your home from the expert team at Real Homes magazine? Subscribe to Real Homes magazine and get great content delivered straight to your door. From inspiring completed projects to the latest decorating trends and expert advice, you'll find everything you need to create your dream home inside each issue.