A commitment to colour takes confidence. A self-assurance about every bright brush stroke that will realise your vision of a look that is pleasing and totally unique to you. Karen Clough and her husband Joe's punchy palette was honed in their first house, where they tested combinations of shades to discover how bold they dared go. When their oldest daughter, Luna, asked for a yellow room, just like mummy's bedroom ceiling, in their new house, Karen was delighted to spread the love of colour. The result is simply joyous, and a bargain to complete as Karen used leftover paint to do it. We quizzed Karen for artistic tips, and to hear how much Luna loved her gift of a creative wall paint idea.
Profile
The owners Karen Clough, a marketing director and design blogger (@karenanita), and her husband, Joe, who works in IT, live here with daughters Luna and Iris, and cat Pebbles.
The house A five-bedroom Victorian semi built in 1886 in Urmston, Manchester.
Project cost Less than £100
1. Start with a blank slate
'The bones of the house are Victorian, however, the previous owner had done extensive alterations. They had gone up into the loft, which is where Luna's bedroom is. However, they were also childminders so the downstairs had been extended to the side to create a nursery playroom. We were told not many people would want to take on transforming it back into a home because it would be such a big job, but we thought while we still have small children and we are saving up to renovate, they might as well enjoy it. The rest of the house was very neutral – they'd decorated to sell so it was all magnolia.'
2. Plan a cohesive palette
'We've always decorated quite colourfully. We often joke that our first house, which we renovated, was our experimental house. We learned what our tastes were and knew exactly what we wanted when we came here. We have our own colour palette that we are comfortable with and that is going to continue to run throughout the house – it's lots of pinks, yellows and blues mostly.'
3. Consult your 'client'
'Luna's bedroom is up in the loft space. The previous owner's teenage son used it as a kind of den up there. It had damask wallpaper that was sort of falling half. When we moved in we actually painted the whole room black – which was quite drastic for a child's room. Luna never slept and we were recommended to use blackout blinds, but we went a stage further and just painted the whole room black and had multicoloured furniture instead. During lockdown we renovated our bedroom and painted the ceiling yellow. When Luna turned six, she said "Mummy, I want a yellow bedroom". Can I have it for my birthday?" So that was the trigger for us to go for it. We have a guest room so we moved Luna in there for about a week. Obviously she requested the yellow, and that it was rainbow-themed, but that was all she knew – the rest was a birthday surprise.'
4. Work with your room's angles
'The bedroom is under quite a steep pitch and the only part that is full height is actually a curved ceiling – I thought that would be the best place to put the rainbow. It was quite simple to do. I used tape to keep the lines straight and then free painted some raindrops at the end, which was a spur of the moment thing. Then I felt like I wanted some rainbow near the bed as well so I just added it in. There is an alcove in the room which used to have a sofa pushed in there. Luna's like any six or seven year old now with all these trinkets and small toys and little certificates that she's really proud of and doesn't want to hide away. We moved the couch under the window and used some wood to create shelves in the alcove, painting them yellow to blend in with the walls. She makes good use of that space for all her stuff and she has autonomy over that. She can see it when she is in bed and reorganise it if she wants to.'
5. Recycle and reuse to save money
'The whole bedroom cost us less than £100 to do. The yellow pain was B&Q's own range and I think it was two tins for £24, and the wood for the shelves was less than £20. The rainbow was done with tester pots I already had. I'd painted the skirting pink when the room was black so I had the pink paint, which I continued onto the door and the wardrobe doors. I also used a tin of Zinzer paint primer which I'd already got. i don't like waste so I wanted to use what we had in – that's also the benefit of using the same colours throughout. We didn't buy any new furniture – we had the sofa from when she was a baby and used to read stories to her on it. We got it from Ikea and it was leftover stock so it was really cheap, but it has held up really well. I got some bedding that was on sale and cost £9.99, and a few rainbow cushions that were from B&M and The Range. That was all that was new – everything else was stuff we already had.'
6. A personalised room makes the perfect present
'Luna was thrilled with it. She had wanted to help, and on the last day of us painting she came and did a few touch ups with me. But most of it was a surprise. She really loved it – she was a bit speechless at first, which is unlike her. She Zoomed the whole family to show it off to everyone as it was in November last year and we were in a sort of lockdown so no one could come round. She'd outgrown not sleeping, so didn't need the black anymore. We have put blackout blinds up though. There is a skylight over her bed and she loves looking at the stars – her name is Luna so she likes that kind of stuff – and she has her own telescope up there. But obviously in summer you need something to keep out the light.'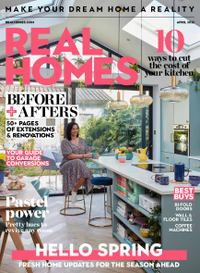 (opens in new tab)
Subscribe to Real Homes magazine (opens in new tab) Want even more great ideas for your home from the expert team at Real Homes magazine? Subscribe to Real Homes magazine and get great content delivered straight to your door. From inspiring completed projects to the latest decorating trends and expert advice, you'll find everything you need to create your dream home inside each issue.